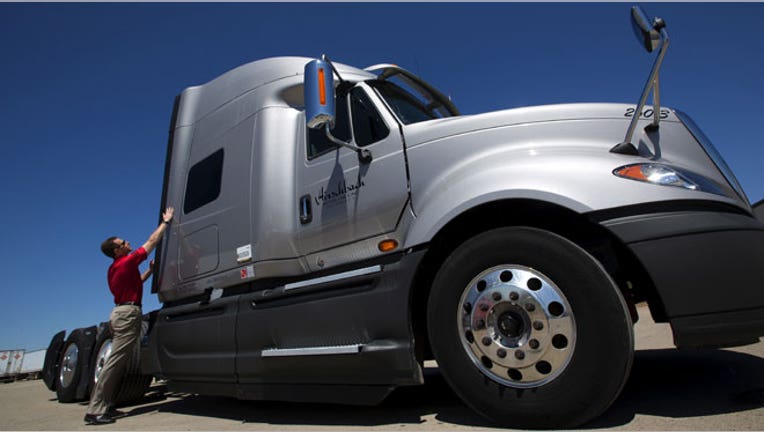 The U.S. Environmental Protection Agency unveiled its proposal for new fuel-economy standards that apply to big rigs and other heavy-duty trucks, marking another step in the Obama administration's push for stricter climate regulations.
Based on a draft released Friday, the federal rules will require that tractors use 24% less fuel compared to projected 2018 levels. Heavy-duty pickup trucks and vans must achieve a 16% reduction.
The pending rules impact large diesel-powered vehicles like 18-wheelers, buses, garbage trucks and heavy-duty pickups. These commercial vehicles account for roughly 7% of all vehicles on U.S. roads but 25% of fuel consumption.
Friday's draft sets Phase II of the EPA's truck rules into motion. Phase I was completed in 2011, covering heavy-duty trucks from model years 2014 to 2018. Phase II will apply to trucks manufactured after that period.
The standards aren't limited to engines. For the first time, EPA regulations will cover tractors themselves and the trailers they haul.
The Phase II rules will be open to public comments before regulators announce finalized details sometime next year. The EPA said its proposal would reduce carbon emissions by 1 billion metric tons and save truck owners $170 billion in fuel expenses over the lifetime of their vehicles.
Diesel engine manufacturer Cummins (NYSE:CMI) threw its support behind the proposal.
"Cummins is committed to continuing to use our technological leadership to develop products that our customers rely on, while also reducing our environmental footprint," Tom Linebarger, chairman and CEO of Cummins, said in a statement.
The trucking industry has largely supported the move to increase fuel economy. But some truck buyers are voicing concerns that EPA regulations could get ahead of available technology, thereby adding too much to the cost of big rigs.
Glen Kedzie of the American Trucking Associations said the regulatory draft meets 14 out of the group's 15 guiding principles, but certain technologies "could prove to be unreliable" in the early going.
"To prevent this, truck and engine manufacturers will need adequate time to develop solutions to meet these new standards," added Kedzie, who serves as the ATA's energy and environmental counsel.
Current estimates say the price tag on new trucks may increase as much as $14,000 to comply with tougher mileage goals. The EPA argues that companies can make up the difference through fuel savings in 18 months. However, firms that haul goods across America will face a short-term hit as it becomes more expensive to invest in fleet upgrades.
"We're fearful the cost and the impact from that cost would exceed the benefits we get," Randy Mullett, vice president of government relations and public affairs for Con-way (NYSE:CNW) told FOXBusiness.com. "We hope that it's going to be a net positive."
Mullett added that the industry will have an opportunity to continue working with the EPA and communicate any challenges that come along.
"We're catchers rather than pitchers in this exercise," he said.
Large fleet owners, such as Waste Management (NYSE:WM) and United Parcel Service (NYSE:UPS), already have switched some trucks to natural gas in an effort to cut back on fuel and lower operating costs.
Waste Management, the nation's largest trash hauler, has more than 4,000 trucks powered by natural gas, reducing diesel use by 8,000 gallons per year.
David Steiner, Waste Management's CEO, said the Houston-based company hopes it can continue its investment in natural-gas trucks in light of the EPA measures. The transition to natural gas "has proven to be good for our customers and communities, good for the environment and good for business," he noted in a statement.
Con-way, America's third-largest freight transportation company, also utilizes alternative methods of cutting fuel consumption. The company has lightened its tractors and installed aerodynamic packages to boost mileage.
Mullett said the industry's overall objective is to use less fuel, thereby cutting "greenhouse gas" emissions, to move the same amount of freight. Rather than expensive requirements for engines, regulators could adjust certain truck laws, including speed limiters and caps on truck size and weight. Those changes would be cheaper for the industry and provide the same result, Mullett explained.
"We hope [the EPA] thinks about this in a holistic way," he continued. "Our goal is the same as theirs: to get a rule that is meaningful. We also want greenhouse gas reduction, just in a way that doesn't break the industry's back."
Last week, the Obama administration rolled out new regulatory measures for aircraft emissions. No such rules currently exist, but the EPA is paving the way for the U.S. to adopt international standards that are due out in 2016.
According to the EPA, U.S. regulations wouldn't affect military planes or small piston-engine aircraft.
Emissions for light-duty vehicles are governed by the EPA's corporate average fuel economy (CAFE) standards, which mandated a fleet-wide average of 54.5 miles per gallon by 2025. By 2016, automakers must produce new cars and trucks that average 37.8 mpg and 28.8 mpg, respectively.
Those CAFE targets, formed under a 2011 agreement, will be reviewed by regulators in 2017. Any changes would take effect from 2022-2025.