Newsmax May Tap Trump to Disrupt $85B AT&T-Time Warner Deal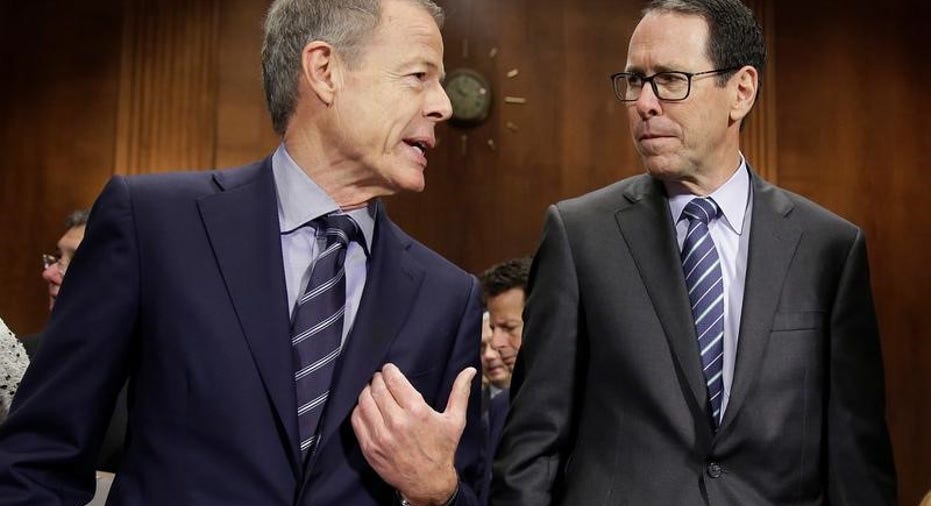 A media outfit with ties to President-elect Donald Trump is making plans to disrupt the planned merger between AT&T (NYSE:T) and Time Warner (NYSE:TWX), charging that the combination will create a monopoly that could silence conservative commentary on the airwaves, the FOX Business Network has learned.
Newsmax, a conservative news and opinion website with a growing television component, is looking to short circuit the $85.4 billion merger as it plans an all-out public affairs war to convince Congress and the President-elect to nix the deal, its chief executive Chris Ruddy said in an interview with FOX Business.
Ruddy is voicing some of the same concerns levied by Trump during his presidential campaign. "As an example of the power structure I'm fighting, AT&T is buying Time Warner and thus CNN, a deal we will not approve in my administration because it's too much concentration of power in the hands of too few," Trump said at a rally in October.
During his successful yet contentious presidential campaign, Trump often feuded with CNN over its coverage. Since being elected president, Trump hasn't voiced an opinion on the merger.
"I hear AT&T and Time Warner have hired most of the meaningful lobbyists in Washington to get this deal done," Ruddy told FOX Business. "But I know Trump has concerns and many in Congress will agree that AT&T has too much power to decide what content Americans can watch."
Part of the allure of the deal, of course, is the marriage of AT&T's cable and wireless distribution services with content supplied by Time Warner, which owns cable news network CNN and HBO.
But Ruddy said given AT&T's size and scope, it has the ability to squeeze out competing voices in favor of what he considers the liberalism of CNN, which will ultimately hurt consumers.
He pointed to his own negotiations with AT&T involving getting Newsmax television on AT&T's DirectTV satellite distribution system. Ruddy said talks between the two sides to have Newsmax get back on the system recently became strained after AT&T announced the Time Warner deal in October.
A spokesman for AT&T didn't return a call for comment.
On Wednesday, the Senate Judiciary Committee's Subcommittee on Antitrust held a hearing on the proposed deal. The committee oversees various federal agencies such as the Federal Communications Committee and the Justice Department's antitrust division, which will render a verdict on the transaction.
Lawmakers at times appeared skeptical about the deal's merits; some appeared to see justification in the notion that the combination will give AT&T too much power as a monopoly to set higher prices for consumers and possibly limit the distribution of content to favor Time Warner's programming.
That said, it was unclear whether lawmakers or even Trump, now that he's been elected president, will expend political capital to kill the merger. At least one witness during the hearing, internet entrepreneur Mark Cuban, said cable companies like AT&T no longer have a monopoly on the distribution of information since consumers get so much of their content on websites like Facebook (NASDAQ:FB) and Google (NASDAQ:GOOGL).
But Ruddy believes he and his team will have Trump's ear on the issue. The two met during Thanksgiving at Trump's Mar-a-Lago Palm Beach estate as part of an informal gathering of people.
Ruddy says he will discuss the matter with Trump at some point soon and he will continue to press key lawmakers on the Judiciary Committee to kill the deal.
A spokeswoman for Trump didn't return calls for comment.