Ocasio-Cortez's role in driving Amazon out of New York City blasted in new billboard
Every New Yorker -- and tourist -- will now know that Rep. Alexandria Ocasio-Cortez, D-N.Y., is being partially blamed for Amazon's recent pullout of its planned headquarters in the city's borough of Queens.
A new billboard funded by the Job Creators Network debuted on Wednesday in Times Square calling out Ocasio-Cortez for her role in Amazon's canceled plans for the new headquarters, known as HQ2.
The billboard -- which will be located on 42nd street near 8th Avenue for one week beginning on Wednesday -- is headlined "Amazon Pullout, Thanks for Nothing, AOC."
The ad goes on to detail the economic consequences of Ocasio-Cortez's part in New York City foregoing 25,000 high-paying jobs and $4 billion in wages and her part in the entire state taking a $12 billion hit in lost economic activity.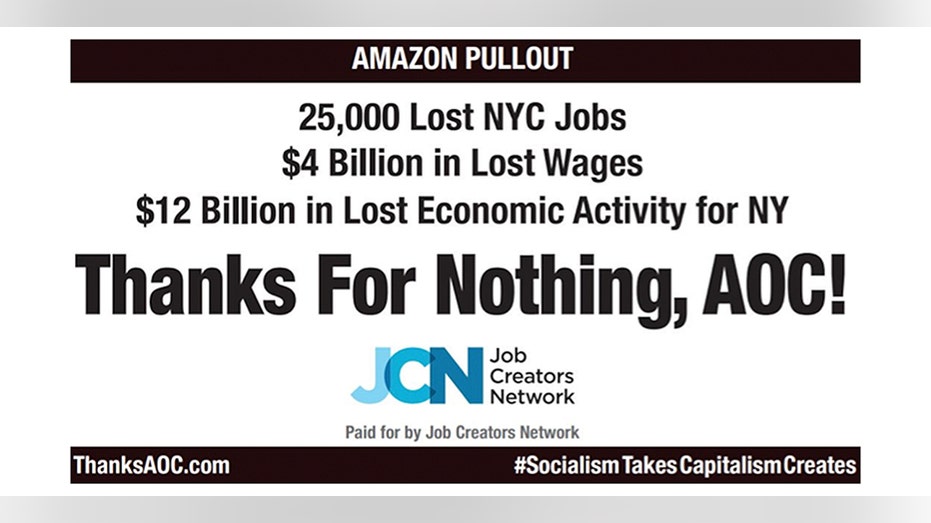 "The Amazon pullout is a perfect example of what we've been saying: socialism takes and capitalism creates," Alfredo Ortiz, JCN president and CEO said in a release on Wednesday.
"The economic consequences of the HQ2 termination gives America a small taste of the harm that is to come if Ocasio-Cortez's anti-business canon comes to fruition and is made federal policy."
Last week, Amazon announced it pulled out of its plan to build a second headquarters in Long Island City following a flood of opposition from city and state officials, including Ocasio-Cortez, who heavily criticized the e-commerce giant for taking massive tax breaks from the state worth an estimated $1.525 billion despite being a "billion-dollar company."
Other incentives for the company included a refundable tax credit worth as much as $1.2 billion over 10 years for the salaries it was to pay workers and a $325 million cash grant from Empire State Development (the state's economic development arm) based on the square footage of buildings it occupies over the next 10 years.
Following the news, Ocasio-Cortez immediately tweeted celebrating Amazon's departure.
In a statement last week, Amazon specifically referenced the lack of support from state officials as one of the reasons it abandoned the project.
CLICK HERE TO GET THE FOX BUSINESS APP
"While polls show that 70 percent of New Yorkers support our plans and investment, a number of state and local politicians have made it clear that they oppose our presence and will not work with us to build the type of relationships that are required to go forward with the project we and many others envisioned in Long Island City," Amazon said in the statement.
The Jobs Creators Network is a nonpartisan organization founded by entrepreneurs like The Home Depot co-founder Bernie Marcus "who believe that many government policies are getting in the way of the economic freedom that helped make this country properous," its website said.