Mnuchin, small business groups clash over tax plan benefits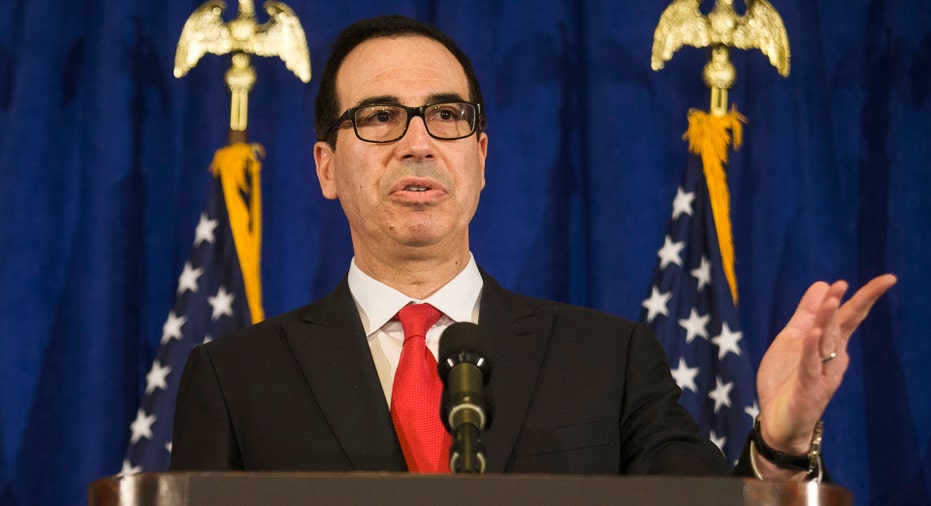 Treasury Secretary Steven Mnuchin has a long way to go to get small businesses on board with the GOP's tax plan in its current form, despite claims he made on Thursday that the newly-released plan would be a boon to their bottom lines.
"Our [tax] system today punishes small businesses and family-owned companies," Mnuchin said during a speech before the Franchise Expo West in Los Angeles, a group of small business leaders. "Hardworking American entrepreneurs are unable to benefit from a lower business rate, making it more difficult to compete and generate economic growth. The plan just released will change this. We are going to make it easier to start your own business and easier to be your own boss.
The Treasury secretary said that lowering the corporate tax rate by a planned 15 percentage points to 20%, in addition to reducing the "pass-through" rate for businesses to 25%, will allow companies to "reinvest into expanding their business and create better paying jobs and more economic growth for our country."
However, after the GOP released the text of its finalized tax plan on Thursday, small business groups were quick to denounce the party's suggested benefits for their sector of the economy.
"This bill leaves too many small businesses behind. We are concerned that the pass-through provision does not help most small businesses. Small business is the engine of the economy. We believe that tax reform should provide substantial relief to all small businesses, so they can reinvest their money, grow, and create jobs," the National Federation of Independent Business (NFIB) said in a statement, adding it is unable to support the House plan in its current form.
Additionally, the founder and CEO of the Small Business Majority said the legislation would significantly increase the deficit without bringing any tangible benefits to America's small businesses.
"Today's tax proposals are being billed by many as 'small business tax cuts,' but as the research shows, they won't actually help the vast majority of small firms," John Arensmeyer said in a statement. "Much can be done to help small firms through tax policy changes, which is why it is so disappointing that this proposal offers virtually nothing to benefit the overwhelming majority of America's job creators. Unless lawmakers make significant changes to their proposed legislation, this rare opportunity for tax reform will become a wasted one."
Arensmeyer added that cutting the pass-through rate would mainly help wealthy individuals because most small businesses already pay a 25% rate and virtually no small business would benefit in the proposed adjustment to the estate tax.
As detailed by the GOP on Thursday, Republicans are sticking with their goal of slashing the corporate tax rate by 15 percentage points to 20%; a change they want to make permanent.
It remains to be determined whether the reduction to the corporate tax rate will be gradually phased in over the course of a few years or whether it will be an immediate, one-time cut.
FOX Business has also learned that the GOP aims to tax repatriated overseas profits at a rate of 5% for illiquid assets and 12% for cash, so long as the company brings back those profits within 8 years.