Mnuchin, Ryan committed to tax overhaul by end of year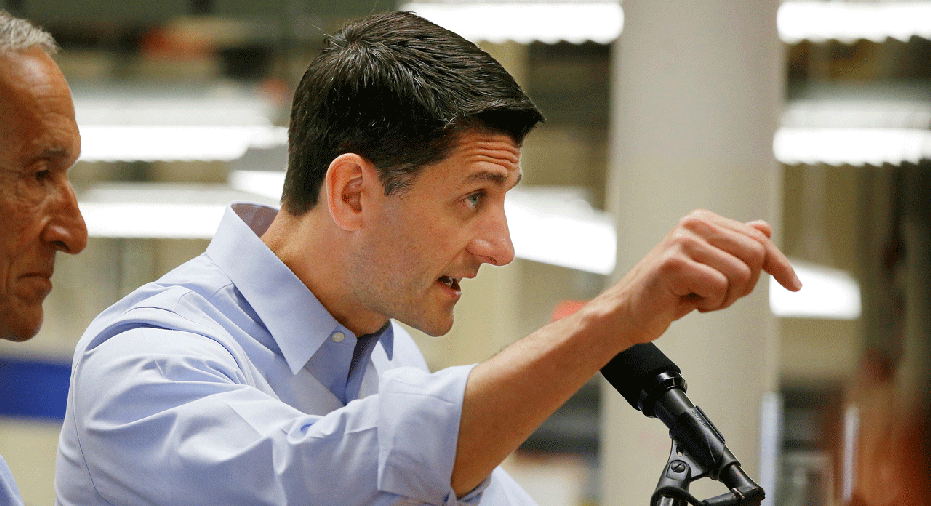 Treasury Secretary Steven Mnuchin and House of Representatives Speaker Paul Ryan voiced confidence on Thursday that Congress will pass an overhaul of the U.S. tax code by the end of this year, a major but elusive goal for President Donald Trump and his fellow Republicans.
"We want America to wake up on New Year's Day 2018 with a new tax system," Ryan said, adding that his goal was to have a U.S. corporate tax rate at or below 22.5 percent, down from the current 35 percent.
"I think it's still very viable to get it done this year," Mnuchin said, calling the tax overhaul his and Trump's top priority. "We don't need to set a specific date. We're going to get this done as quickly as we can."
Mnuchin and Ryan made their predictions a day after Trump reached a deal with Democrats to avert an unprecedented default on U.S. government debt, keep the government funded at the outset of the fiscal year beginning Oct. 1 and provide aid to victims of Hurricane Harvey.
Trump has said he wants to lower the U.S. corporate tax rate to 15 percent from 35 percent. Ryan, in an interview with the New York Times, indicated that a figure that low was unrealistic.
"The numbers are hard to make that work," Ryan said. "He obviously wants to push this as low as possible. I completely support doing that, but at the end of the day we've got to make these numbers work."
"Our goal is to be at or below the industrialized world average - and that's 22.5 (percent). So our goal is to get in the mid- to low 20s. And we think that's an achievable goal," he added.
The White House hopes Wednesday's deal clears the decks for Congress to tackle the tax overhaul, a top Trump campaign promise. Even though Republicans control the White House and both chambers of Congress, Trump has yet to win passage of any major legislation, with Democrats typically united against him.
His administration previously has offered rosy predictions about the timing of a tax overhaul that have not come to pass. Mnuchin in February said the administration was committed to getting the tax overhaul through Congress by August.
Mnuchin and Ryan are members of six-member Republican team that has been negotiating a tax plan behind closed doors for months, excluding Democrats and producing only a few pages of basic principles. The group was meeting on Thursday morning.
Trump on Tuesday urged congressional leaders to make a big push on taxes with cuts for individuals and companies and tax breaks for businesses to bring back profits from overseas.
Republicans are still divided on significant issues such as whether tax cuts should be offset with spending cuts to avoid increasing the federal budget deficit and how much to lower the corporate income tax rate.
In an interview with Fox Business Network, Mnuchin said he was not worried about the plan going off track because of either Democrats or conservative Republicans making their own demands.
Many Democrats have voiced opposition to a tax plan that primarily benefits the wealthiest Americans and corporations.
Asked whether he was concerned that Democrats could use the funding deal struck on Wednesday to make demands such as rejecting any tax cut for the wealthy or pushing for a cut for middle-income earners, Mnuchin said no. He also said he expected some Democrats to back the final tax plan.
On Wednesday, Trump said he would offer more details about his tax reform plan in about two weeks.
(Reporting by Susan Heavey and Doina Chiacu; Additional reporting by David Morgan; Writing by Will Dunham; Editing by Jonathan Oatis)