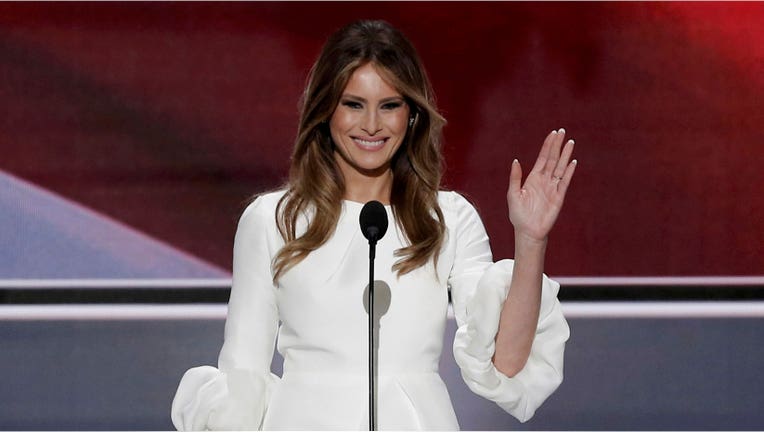 Melania Trump offered a softer, more compassionate image of her husband in her speech to the Republican National Convention, a contrast not just to the rhetoric of the campaign, but an evening of dire warnings about the security of the United States.
"Donald intends to represent all the people, not just some of the people. That includes Christians and Jews and Muslims," she told the crowd, which greeted her warmly.
Her husband greeted her on stage with a brief introduction in which he called her the"next first lady of the United States."
Related Donald Trump Walks Out to 'We Are the Champions' in First RNC Appearance
Melania Trump recounted how she grew up in Slovenia, "worked very hard in the incredible arena of fashion" and she saw "both the joys and hardships of daily life." She became a U.S. citizen in 2006, something she called "the greatest privilege on planet Earth."
"I did not take the freedoms this country offers for granted," she said.
Her appearance followed that of former New York Mayor Rudy Giuliani, who gave a blistering attack on President Obama, Hillary Clinton and Democrats. But Melania Trump stayed away from biting comments.
Her closest moment of criticism came when she said, "Our country is underperforming and needs new leadership." She also said her husband "will never be bought," perhaps a reference to Hillary Clinton."
Instead, in her accented English, she sought to give assurances that Trump was fit for the White House.
"If you want someone to fight for you and your country, I can assure you, he is the guy," she said. "He will never give up, and most importantly, he will never let you down."
She said that her husband "is tough and he has to be, but he is also kind and caring."
"Donald is intensely loyal to friends, family, employees and country," she said.
She didn't offer anecdotes, but said that "kindness, love and compassion" were "the values Donald and I would bring to the White House."
Trump took the stage again with his wife, to the song "We Are the Champions."