McConnell to propose revised health care bill, plan B still on the table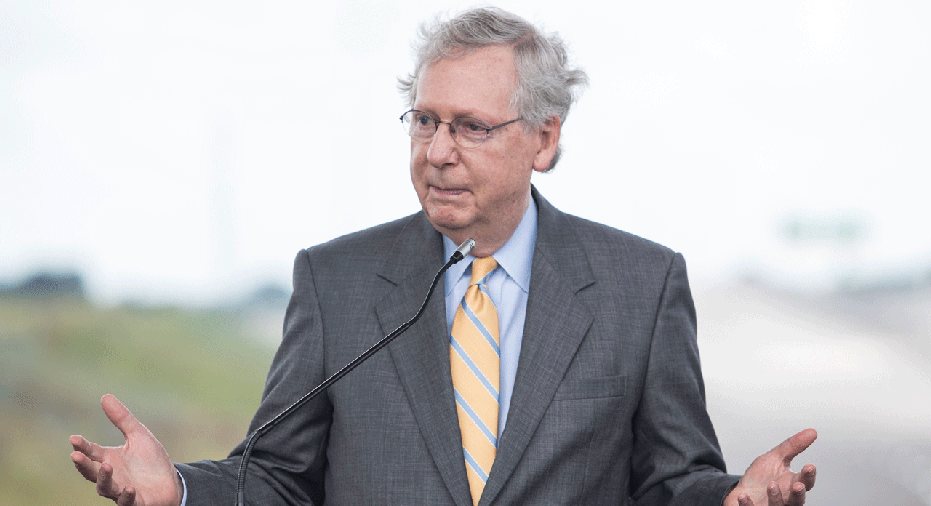 Republican senators left for July 4 recess with no solution for repealing and replacing ObamaCare, but Senate Majority Leader Mitch McConnell (R-Ky.) said he will introduce a revised bill in a week before the party is forced to move on to plan B.
Amid the inability of the party to coalesce around a single plan, the GOP proposed repealing ObamaCare first and then replacing afterward before leaving for recess. President Donald Trump, Sen. Rand Paul (R-Ky.) and Sen. Ben Sasse (R-Neb.) indicated support for this option. However, others in the party have said they would not vote for a simple repeal.
In one of his most explicit concessions that a top priority for President Trump and the entire GOP might fall short, McConnell said Thursday: "If my side is unable to agree on an adequate replacement, then some kind of action with regard to the private health insurance market must occur."
Previously, other Republicans have said that if their broad drive to dismantle much of Obama's law struggled, a smaller bill with quick help for insurers and consumers might be needed. They've said it could include provisions continuing federal payments to insurers that help them contain costs for some low earners and inducements to keep healthy people buying policies — a step that helps curb premiums.
McConnell's comments suggested that to show progress on health care, Republicans controlling the White House and Congress might have to negotiate with Democrats. While the current, wide-ranging GOP health care bill has procedural protections against a Democratic Senate filibuster, a subsequent, narrower measure wouldn't and would take 60 votes to pass.
The broader repeal effort that McConnell prefers would fail if just three of the 52 Republicans vote no, since all Democrats oppose it. He was forced to cancel a vote on the measure last week after far more Republicans than that objected, and he's been spending the Independence Day recess studying changes that might win over GOP dissidents.
"We have an obligation to the American people to try and improve what we currently have. What we do know is the status quo is not sustainable," he said.
McConnell's comments came during a recess that has produced no visible evidence that he's winnowed the number of unhappy Republican senators. If anything, the list seemed to have grown, as Sen. John Hoeven, R-N.D., said he opposed the bill but was vague about changes he'd want.
At least a dozen GOP senators have publicly opposed or criticized the legislation. Many are expected to be won over by revisions McConnell is concocting.
The Associated Press contributed to this report.