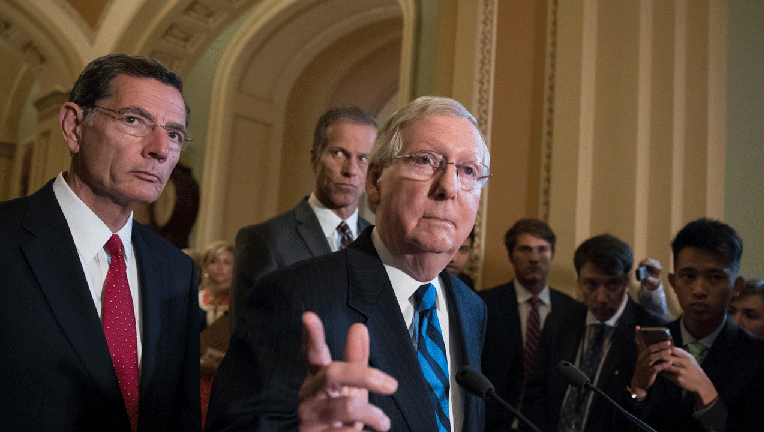 Senate Majority Leader Mitch McConnell (R-Ky.) said Wednesday he expects lawmakers will vote on repealing the Affordable Care Act next week.
Following a lunch with President Donald Trump and GOP senators, McConnell said the Senate will hold a procedural vote next week on moving ahead with a straight-up repeal of Barack Obama's health care law.
While McConnell said most lawmakers agree it would be better to advance a repeal and replace strategy, he is ready to move forward on either measure next week.
In the meantime, Vice President Mike Pence and other administration officials will be on Capitol Hill on Wednesday evening working with senators.
Trump invited all senators to the White House where he pressured them to act on the legislation before leaving Washington for the August recess.
Earlier in the day, President Trump suggested senators shouldn't leave town for August recess unless they act on legislation to repeal and replace the Obama-era health care law.
Trump also says any Republican senator who opposes starting debate on the legislation is saying they are "fine with Obamacare."
Trump and Republicans maintain that the current system is failing and must be replaced. But divisions among Republicans have complicated the task.
Senate Majority Leader Mitch McConnell had delayed the start of the Senate's August recess by two weeks to give lawmakers time to find consensus on the issue.
The Associated Press contributed to this report.