IMF Chief Gets New Bail Hearing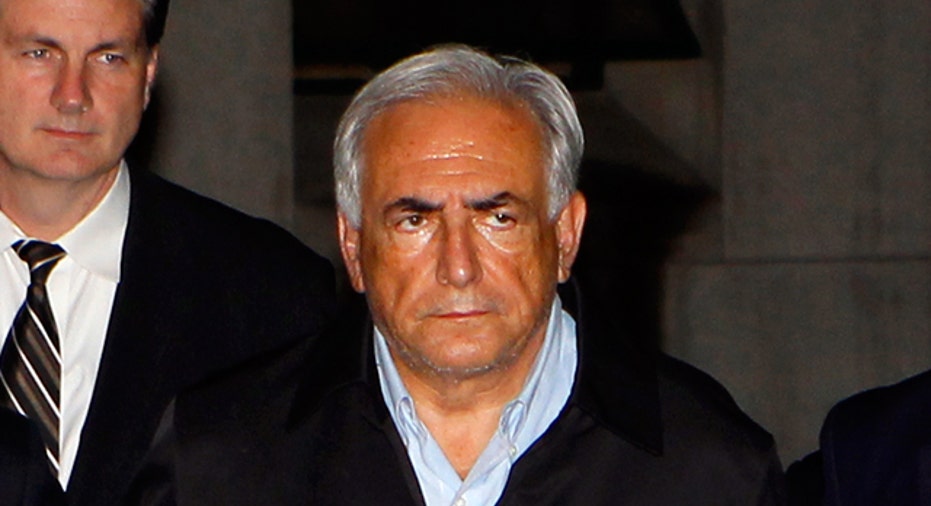 A New York court will hear a fresh request on Thursday to release IMF chief Dominique Strauss-Kahn from custody on bail after he was charged with trying to rape a hotel maid.
Strauss-Kahn has been held at New York's Rikers Island jail since Monday, when a judge denied an earlier request from his lawyer to free him on a $1 million bond. Strauss-Kahn had been considered a leading contender for the French presidency.
"Yes there will definitely be a bail hearing tomorrow," Manhattan District Attorney's Office spokeswoman Erin Duggan told Reuters.
Court documents released on Wednesday included a mug shot taken over the weekend of Strauss-Kahn, who has denied the charges, show the 62-year-old looking haggard, his eyes downcast and his shirt collar open.
The photo may spark new criticism in France, where an opinion poll showed a majority of respondents believed Strauss-Kahn may have been the victim of a conspiracy to discredit him.
The arrest dashed his prospects for the French presidency and raised broader issues over the future of the International Monetary Fund. Developing countries, looking to a succession, questioned Europe's hold on the IMF leadership.
Strauss-Kahn left the Sofitel near Times Square in Manhattan around 12:30 p.m. (1630 GMT) on Saturday and roughly an hour later, hotel security called police to report an alleged sexual assault, a law enforcement source said.
A lawyer for the maid, a 32-year-old widow from West Africa, said his client would testify before the grand jury later on Wednesday. In the U.S. legal system, a grand jury convenes in secret to hear evidence and decide whether to indict a defendant.
The United States, the IMF's biggest shareholder, said Strauss-Kahn was unable to carry on being chief of the global lender from a jail cell, whatever the legal outcome. U.S. Treasury Secretary Timothy Geithner on Tuesday called for an interim chief to be named, saying Strauss-Kahn "is obviously not in a position to run the IMF."
Chile's Central Bank President Jose De Gregorio also weighed in, telling the Financial Times in an interview published on the paper's website that Strauss-Kahn should leave his post as IMF managing director.
"I think he should resign," De Gregorio was quoted as saying by the paper.
European Commission President Jose Manuel Barroso said Europe would naturally put forward a candidate to replace Strauss-Kahn if he were to step down.
Germany, which wants a European to keep the job, said the IMF should deal with its immediate leadership internally and that it is too early to discuss a successor to Strauss-Kahn.
French officials said John Lipsky, the IMF's American number two official whose term ends in August, would represent the Fund at next week's Group of Eight summit in France.
In Strauss-Kahn's absence, Lipsky is temporarily in charge of the IMF, which manages the world economy and is in the midst of helping euro zone states like Greece, Ireland and Portugal.
EUROPE'S TRADITIONAL RIGHT
China, Brazil and South Africa questioned Europe's traditional right to the top job but Europeans said it makes sense for them to retain the post while the Fund plays such a crucial role in helping to ease the euro zone debt crisis.
A European has held the post of managing director since the IMF was created in 1945 and four of them have been French.
Strauss-Kahn is expected to remain in New York's Rikers Island jail, known for gang violence, at least until his next court appearance on Friday, when his lawyers may again request bail. Any trial could be six months away.
He is charged with sexual assault and attempted rape. If convicted, Strauss-Kahn could face 25 years in prison. The woman he is accused of assaulting is an asylum seeker from Guinea with a 15-year-old daughter.
In the only public hint of Strauss-Kahn's possible line of defense, his attorney Benjamin Brafman told his arraignment hearing on Monday: "The evidence we believe will not be consistent with a forcible encounter."
An opinion poll in France, taken before Strauss-Kahn's first court appearance on Monday and released on Wednesday, showed 57 percent of respondents thought the Socialist politician -- who had been front-runner for the 2012 election -- was definitely or probably the victim of a plot.
Seventy percent of Socialist sympathizers took that view, the CSA poll found. Most French media have dismissed conspiracy theories.
The poll findings highlight a cultural divide, with French Socialist politicians and commentators denouncing the public parading of Strauss-Kahn, unshaven and in handcuffs, before he had a chance to defend himself.
U.S. media have criticized the French for a tradition of secrecy on politicians' sex lives and for showing more compassion for Strauss-Kahn than for the alleged victim, whose identity some French newspapers have published.
'RECOGNIZED COMPETENCE'
The French daily Liberation said the IMF chief had told its editors in off-record comments last month that he had just the right qualities to lead France, notably a calm manner, in contrast to conservative President Nicolas Sarkozy.
"Today I fit with everything the French people want -- recognized competence, calm, international experience," he was quoted as having said at an April 28 meeting.
French Finance Minister Christine Lagarde is thought to be interested in the post but her prospects have been clouded by a decision this month by a Paris public prosecutor to recommend an inquiry into her role in awarding financial compensation to a prominent businessman in 2008.
Emerging countries are starting to flex their muscle over who should succeed Strauss-Kahn, who had been expected to leave soon anyway to run for the French presidency.
South African Finance Minister Pravin Gordhan and a senior Brazilian official, who asked not to be named, said the next chief should be from a developing country, pressing a case to give emerging economies a greater say in world affairs.
That sentiment was echoed by Chile.
"Without forgetting that there are people with much merit in industrialized countries, we also believe that there are people in the emerging world fully capable of leading the monetary fund," said Chilean Finance Minister Felipe Larrain.
But Brazilian Finance Minister Guido Mantega said the affair should not be used to press for changes in the way the IMF head is picked, telling GloboNews TV the discussion "is too premature at this point" and Strauss-Kahn was "probably one of the best IMF chiefs that we had in the past years."
Canadian Finance Minister Jim Flaherty also weighed in, saying IMF members were discussing what steps to take. He has declined to comment on media reports that Bank of Canada Governor Mark Carney is being touted as a candidate for the top IMF job.