GOP Senate leaders divided on health care, could delay tax reform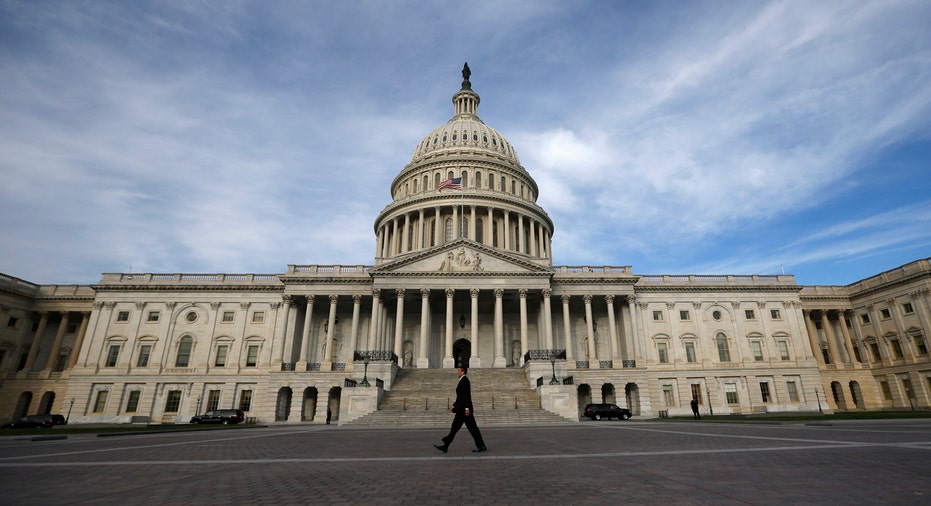 There is a growing divide among GOP Senate leaders over how to repeal and replace ObamaCare, sources told FOX Business on Thursday, which could spell trouble for President Trump's critical tax reform plan.
As the Congressional Budget Office released its report on the American Health Care Act on Wednesday, Republican Senators had already decided to scrap the majority of the bill in favor of their own replacement plan, but there are competing agendas within the conference, FOX Business has learned.
"There's definitely a split within the conference," one Senate source told FOX Business.
The divide could delay the passing of the Senate's health care initiative until August, at the earliest. That in turn could lead to a delay in passing Trump's key tax reform package, according to additional sources close to the Senate.
The growing divide is looking eerily similar to the split that initially stalled the House from voting on the AHCA in March.
The CBO estimated the House-passed bill would result in 23 million people losing health insurance coverage by 2026, while federal budget deficits would fall by $119 billion over 10 years under the bill.
That split revolves around two different views on how to craft the Senate's health care legislation and whether the federal government should be involved with providing coverage for millions of Americans.
"There's a faction that wants to keep ObamaCare largely as is. Then there's a faction that wants to take a more free market approach, repeal more of the health care regulations and let states find other ways to help people who can't afford it," another Capitol Hill source explained to FOX Business.
While it's unclear which Senate leaders are at odds, some lawmakers have publicly shown support for opposing objectives.
Senator Lamar Alexander (R-TN), a harsh critic of ObamaCare in the past and a close confidant of Senate Majority Leader Mitch McConnell (R-KY), recently said he wants to save parts of the 2010 law for the next two years and pass short term market stabilization measures that would effectively delay any major repeal efforts.
"We might have to do some things and authorize some things in those two years that we wouldn't do long-term," Alexander said last week. "And then in 2020, we would hope to have our long-term solution for the people that don't have the insurance", he added.
In a statement to Fox Business, Alexander clarified his position on the issue.
"My own goals for a Senate bill include: 1) rescuing the thousands of Tennesseans and millions of Americans who will be trapped in collapsing  Affordable Care Act exchanges with few or even zero options for health insurance in 2018 unless Congress acts; 2) lowering premium costs, which have increased under the ACA law; 3) gradually giving states more flexibility on the Medicaid program, but doing this in a way that does not pull the rug out from under people who rely on Medicaid; and 4) making sure those with pre-existing conditions have access to insurance," Alexander said.
Meanwhile, other Republican Senators, including Rand Paul (R-KY) and Mike Lee (R-UT), are part of the free market group, insisting ObamaCare should be totally dismantled and more power should be given to the states when deciding whether they need government mandated health care.
"There were many areas of reform considered – repealing regulations, cutting taxes, and introducing free market reforms into the system. The bill so far falls short on two of the three (it cuts taxes). But most importantly it falls short on free market reforms to lower prices and provide better, less expensive health care to millions of Americans" said Paul in a recent Fox News opinion column.
Lee echoed Paul's sentiments in a column for The Daily Signal, saying "Conservatives would like to clear the books of ObamaCare's most costly regulations and free the states to regulate their markets how they wish—even if that means reapplying these regulations to their markets."
In an interview with Reuters on Wednesday, McConnell discussed the Senate's work on health care and tax reform, and the chances of a new bill.
"I don't know how we get to 50 [votes] at the moment. But that's the goal," he said.
While he's optimistic about tax reform, he said health care is turning out to be a challenge. He declined to provide a timetable for producing the Senate's draft proposal or the provisions that he might want to see in their bill.
Spokespersons for McConnell and Lee declined to comment. A spokesperson for Paul didn't return emails for comment at the time of publication.