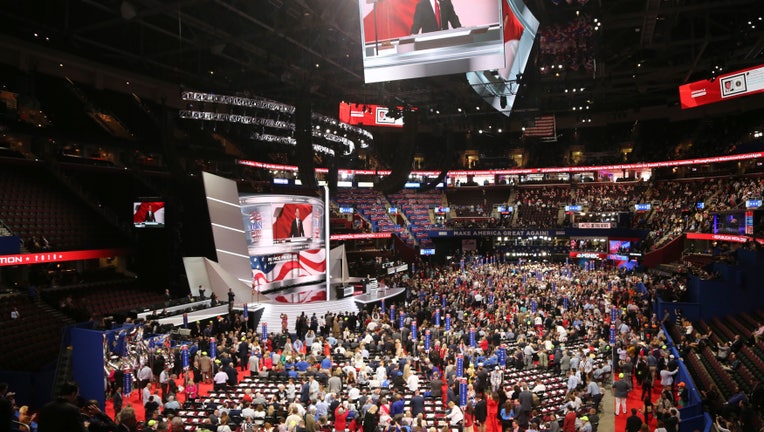 Republicans meeting this week to anoint Donald Trump as their presidential candidate will try to sell the combative businessman to voters as a strong leader who can shield America from the threats of violent crime and Islamist militants.
But a string of senior Republicans worried about Trump's temperament and policies stayed away from the party's convention in Cleveland, which opened on Monday in the shadow of recent racially tinged killings of police officers and black men.
Trump allies will promote what he bills as a tough line on law and order and national security in speeches later in the day.
Sunday's shooting of three policemen in Baton Rouge - a targeted attack that may have been in retaliation for a series of police killings of African-Americans - hung over the gathering.
The theme for the first day of the meeting had already been set as "Make America Safe Again." Trump has sought to position himself as the law-and-order candidate in an echo of Richard Nixon's successful presidential campaign of 1968.
Trump's wife, Melania, a Slovenian jewelry designer and former model, was due to speak on Monday night, joined by her husband on stage, as were foreign policy hawk Senator Tom Cotton and retired Lieutenant General Michael Flynn, a national security adviser.
They were likely to promise that Trump will crack down on Islamic State abroad and toughen up on crime at home if he wins the Nov. 8 election.
Iowa's Republican Party Chairman, Jeff Kaufmann, said that a month ago the top issue for voters in the state was the economy. Now, he is hearing concerns about security, and attributes that to the spate of shootings.
Such concerns might lead voters to choose Trump over Democratic candidate Hillary Clinton in November, he said.
LOOK PRESIDENTIAL
The convention presents a challenge for Trump to show that he can project presidential authority without indulging in the kind of free-flowing, heated rhetoric on immigration, crime and security that fires up many supporters but alienates some voters, including Republicans.
In an indication of how divided the party remains after Trump secured victory in the party's nominating contests, prominent Republicans such as Mitt Romney and Senator John McCain, the party's presidential nominees in 2012 and 2008 respectively, and members of the Bush family are staying away from Cleveland to distance themselves from Trump.
The New York real estate developer has caused controversy and upset U.S. allies with his plans for a temporary ban on Muslims entering the United States and a wall on the U.S.-Mexican border. But at the convention, the party will seek to portray him as a breath of fresh air and a strong leader.
Trump, 70, who has never held elective office, is expected to accept the White House nomination on Thursday night after being formally chosen on Tuesday. His vice presidential running mate, Indiana Governor Mike Pence, 57, will speak on Wednesday.
Clinton accuses Trump of lacking the experience and stable temperament needed to work in the Oval Office.
CLINTON ASSAILS TRUMP
On Monday Clinton, 68, used an address to a largely black audience to cast Trump as someone who would divide the country along racial, ethnic and religious lines.
"Donald Trump led the movement to delegitimize the first black president," she told the NAACP civil rights group, referring to Trump's efforts to cast doubt on President Barack Obama's birth in Hawaii.
"Donald Trump plays coy with white supremacists," she said, accusing him of demeaning women, insulting Mexican immigrants and wanting to ban "an entire religion" from entering the country.
Republicans speakers in Cleveland will accuse Clinton of being responsible for weakening the United States in a dangerous world while she was secretary of state from 2009-2013.
Trump lashed out after the killing of the police officers in Baton Rouge, nearly two weeks after the fatal police shooting of a black man there and another such death near St. Paul, Minnesota sparked nationwide protests. Five policemen were also killed in an ambush in Dallas this month.
In a Twitter message on Sunday, he said Obama "doesn't have a clue. Our country is a divided crime scene, and it will only get worse!"
The Republican convention is being held at the Quicken Loans Arena, home of the Cleveland Cavaliers NBA champion team. Security was extraordinarily tight on Monday, with downtown streets lined by concrete traffic dividers and tall metal fences, measures given a new urgency after an attacker drove a truck through a holiday crowd in Nice, France, last week, killing 84 people.
The Cleveland police union called for the suspension during the convention of a state law, similar to that of many U.S. states, allowing allow licensed gun owners to carry their weapons openly in public. But Ohio Governor John Kasich, a one-time rival to Trump, said he was powerless to act despite the heightened security concerns.
Even gun rights advocates are questioning whether people should be allowed to carry rifles and handguns during expected protests at the convention. Trump backers as well as opponents have expressed concerns about the prospect of weapons being carried in open sight around the convention site.
(Additional reporting by Emily Stephenson, Amy Tennery, Michelle Conlin, Scott Malone, Daniel Trotta and Jonathan Allen; Writing by Alistair Bell; Editing by Caren Bohan and Frances Kerry)