Democrats gain in congressional vote test: Fox News Poll
With five months until Election Day, Democrats hold the enthusiasm advantage -- and that puts them ahead of Republicans in the congressional vote as well.
A Fox News poll released Thursday finds 48 percent of voters favor the Democratic candidate in their congressional district and 39 percent the Republican.  That 9-point lead is up from a 5-point edge the Democrats held in March (46-41 percent).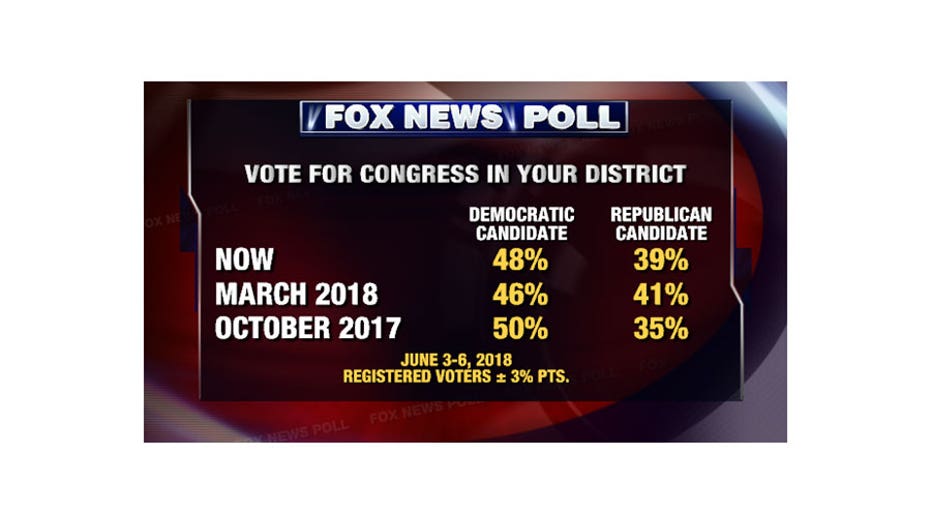 "It is important to treat the generic ballot test as more of a barometer than a forecast, and this poll hints at some reemerging headwinds for Republicans," says Democratic pollster Chris Anderson, who conducts the poll with Republican Daron Shaw.
"Political science tells us the Democrats will need a substantial edge in the national vote, maybe 10 points, to make up for gerrymandering and vote concentrations so they can take the House," says Shaw.
More Democrats (72 percent) are extremely or very interested in the upcoming elections than Republicans (63 percent).
Voters say Republicans can better handle the issues of border security (+14 points), terrorism (+13), and the economy (+5).  Democrats are preferred on climate change (+33 points), health care (+17), immigration (+7), and judicial nominations (D +5).  It's more evenly divided on gun policy (Democrats +3) and international trade (D +2).
There is no clear party advantage on taxes or the federal deficit.
A year ago, the GOP had a 15-point advantage on the deficit.  Now, Democrats are preferred by one point.  That's because fewer voters are saying Republicans can do better.  Last June, 50 percent preferred Republicans over Democrats (35 percent).  Now, it's 35 percent Republicans and 36 percent Democrats.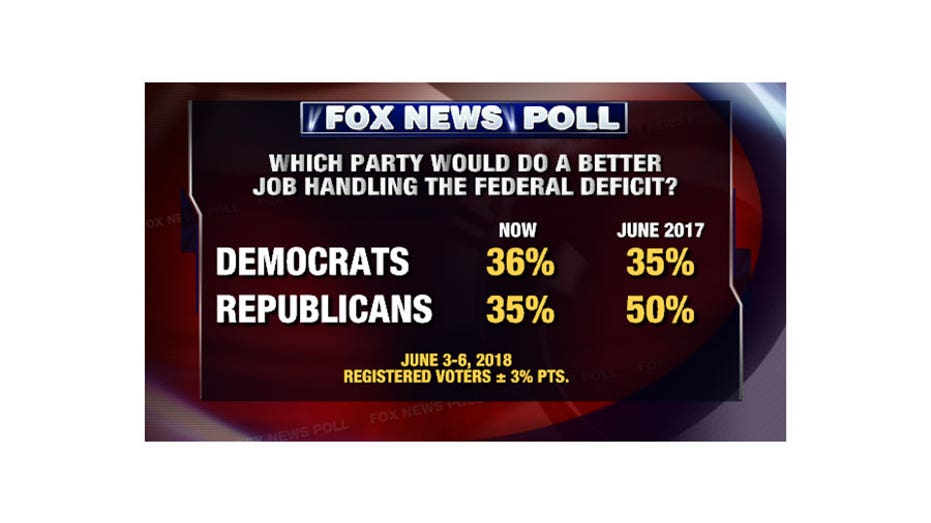 "Republicans will have a difficult time claiming to be the party of fiscal responsibility this fall, and that could hurt base turnout," says Anderson.
Similar story on taxes.  The tax cuts that Republicans passed last December have failed to boost their numbers, as the two parties are seen as equal on handling taxes -- an issue where the GOP traditionally holds an edge.
The tax reform law and Obamacare are both viewed more positively than negatively by voters.  The tax law receives a net positive rating by five points (42 favorable vs. 37 unfavorable), and the health care law by three points (49-46).
On immigration, voters by 71-23 percent favor giving legal status to Dreamers.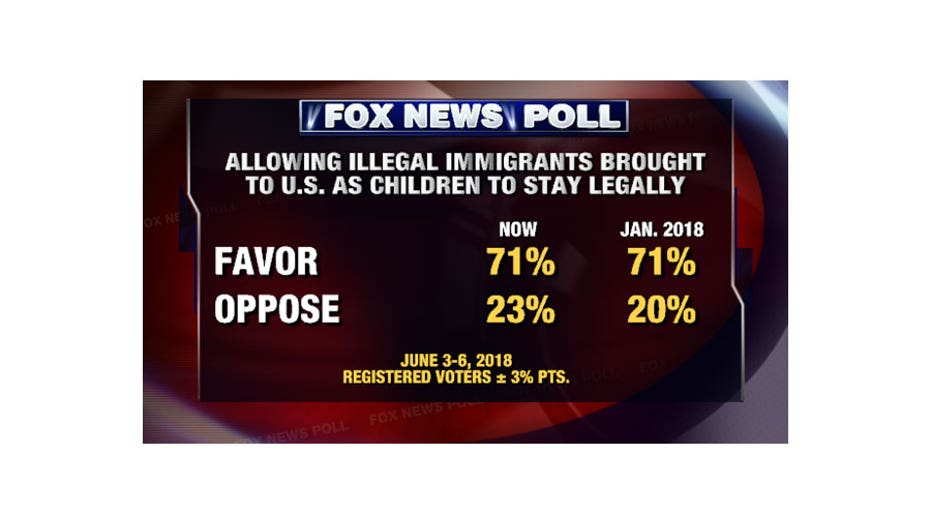 On U.S. border security, by a 28-17 percent margin, voters say it is better today than it was two years ago, while the largest number, 50 percent, says it is about the same as it was in the final months of Barack Obama's presidency.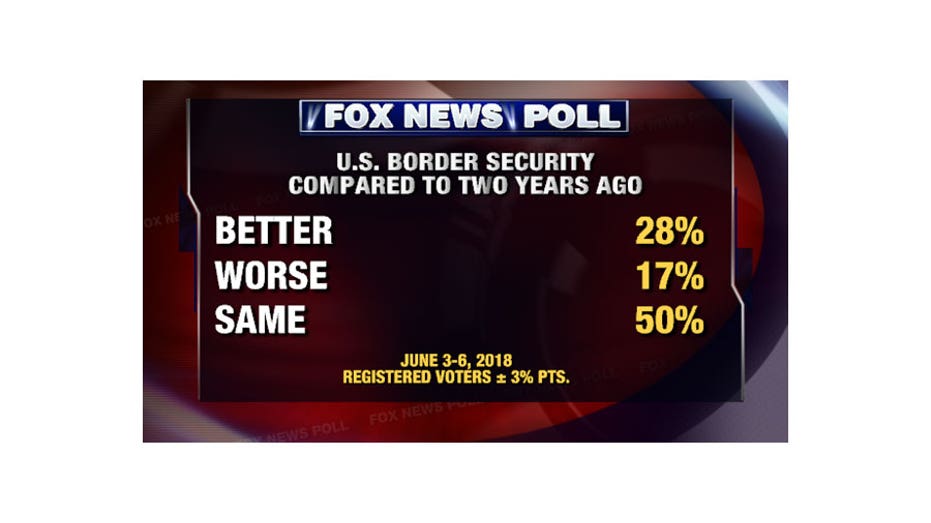 Majorities of Democrats (86 percent) and Republicans (55 percent) agree on legal status for Dreamers, but Republicans (47 percent) are almost four times more likely than Democrats (13 percent) to say border security has improved.
Meanwhile, 4-in-10 independents (43 percent) and 2-in-10 Republicans (20 percent) say it is at least somewhat likely that they will vote for a Democrat in this year's election with the specific intent of providing a check on the president and the Republican Congress.  Among Democrats, nearly 9-in-10 feel that way (86 percent).
The Fox News poll is based on landline and cellphone interviews with 1,001 randomly chosen registered voters nationwide and was conducted under the joint direction of Anderson Robbins Research (D) and Shaw & Company Research (R) from June 3-6, 2018.  The poll has a margin of sampling error of plus or minus three percentage points for all registered voters.