Former Starbucks CEO battles Bernie Sanders' 'billionaire moniker' in defense of American dream: 'I earned it'
Former Starbucks CEO Howard Schultz tells Sanders he 'came from nothing' and his 'entire life was based on the achievement of the American dream'
Former Starbucks CEO Howard Schultz, addressing remarks made by Sen. Bernie Sanders of Vermont, defended his billionaire status at a hearing Wednesday, arguing in favor of the "American dream" given that he himself "came from nothing" and "earned it." 
"You're a billionaire, and they are your employees. The imbalance of power is extreme. And that is why people want to come together to form a union," said Sen. Tina Smith, D-Minn., wrapping up a line of questioning during a Senate Labor Committee hearing on the coffee company's treatment of union organizing.
"Senator, I agree with you that I do not have the right to decide who can vote for a union or not. I was the CEO of the company, and I have the preference and the right to communicate to our people what it is we believe is right for Starbucks," Schultz responded, then noted the "billionaire" comments made by Smith, as well as the chairman. 
"This moniker 'billionaire' — let's just get at that, OK? I grew up in federally subsidized housing — let me finish," Schultz said. "My parents never owned a home. I came from nothing. I thought my entire life was based on the achievement of the American dream. Yes, I have billions of dollars. I earned it. No one gave it to me. And I've shared it constantly with the people of Starbucks. And so, anyone who keeps labeling this 'billionaire' thing…" 
FORMER STARBUCKS CEO HOWARD SCHULTZ TALKS CRIME AFFECTING STORES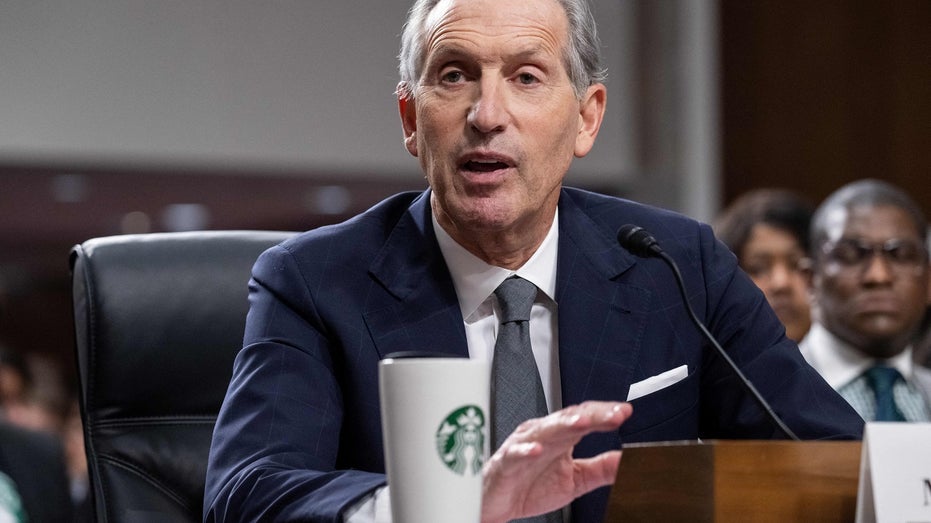 Sanders, interjecting, insisted he was not cutting Schultz off but noted the hearing has time limits. 
"It's your moniker constantly. It's unfair," Schultz told Sanders directly.
"No, it is not. You've had more time. I've been generous with the time," Sanders said. 
"Over the past 18 months, Starbucks has waged the most aggressive and illegal union-busting campaign in the modern history of our country. That union-busting campaign has been led by Howard Schultz, the multibillionaire founder and director of Starbucks who is with us this morning only under the threat of subpoena," Sanders said earlier in his opening statement. "Let us be clear about the nature of Starbucks' vicious anti-union efforts. The National Labor Relations Board (NLRB) has filed over 80 complaints against Starbucks for violating federal labor law. There have been over 500 unfair labor practice charges lodged against the company, and judges have found that Starbucks broke the law 130 times across six states since workers began organizing in the fall of 2021." 
In another heated exchange, Sen. Markwayne Mullin, R-Okla., contended that Sanders himself is a millionaire — a charge the chairman vehemently denied. 
"I'm not trying to defend your company because quite frankly, politically we're at totally different ends of the spectrum, and so the irony of this hearing is actually kind of funny. And I do want to point out some hypocrisy about this hearing with the chairman," Mullin told Schultz. "I take offense to the chairman pointing out that all CEOs are corrupt because they're millionaires. 'If you make a lot of money, you're corrupt.' Yet it's bothering to me because, Mr. Chairman, you yourself have been very successful. Rightly so, glad you have. You've been in office for over 28 years, and you and your wife have amassed a wealth of over $8 million." 
FORMER STARBUCKS CEO DEFENDS LABOR PRACTICES IN SENATE HEARING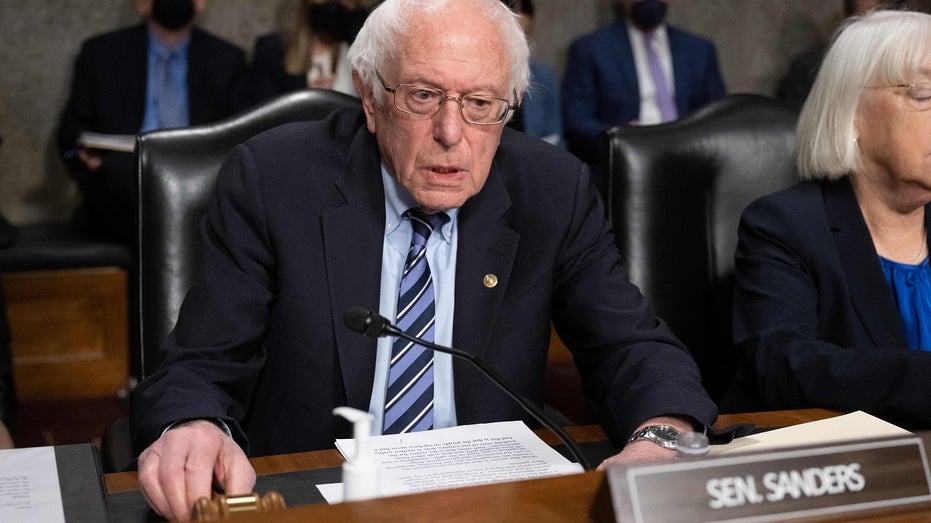 "If you can be a millionaire, why can't Mr. Schultz and other CEOs be millionaires and be honest, too?" Mullin asked Sanders. "Why is it that he's corrupt, and you're not? Why is it that all CEOs are corrupt because they're wealthy, and yet our chairman is wealthy — and I'm glad you are — you're not? The government's role is to create an environment for entrepreneurs. For go-getters, for world-changers, to be successful in life. The U.S. government is designed for people who want to succeed, can. We can go out and achieve anything we choose to. But when you lean toward socialism, what you think is government is the answer and unions are the choice. And if you're against us, then you're dead wrong, and you must be corrupt."
In response, Sanders charged Mullin, "You have made more statements in a shorter period of time than I have ever heard." 
"If I'm worth $8 million, that's good news to me. I'm not aware of it. That's a lie," Sanders said.
Mullin contended the estimate was "accordingly to public records," but Sanders insisted, "You're probably looking at some phony right-wing internet stuff. It ain't true."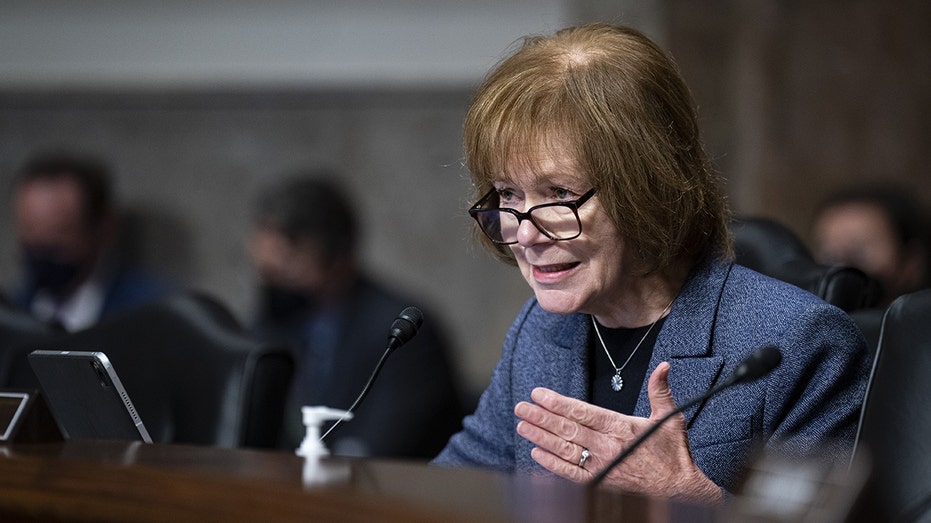 "You're not telling the truth," Sanders told Mullin. "Second of all, you've got no evidence that I have ever said that all CEOs are corrupt. I have never, ever said that… Furthermore, what this hearing is about is whether or not — you talk about being pro-union — what this hearing is about is whether workers have the constitutional right to form a union. The evidence is overwhelming, not from me, but from the National Labor Relations Board, is that time after time after time, despite what Mr. Schultz is saying, Starbucks has broken the law and has prevented workers from joining unions to collectively bargain for decent wages and benefits." 
In his opening statement, Schultz testified that Starbucks baristas earn on average $17.50 an hour, which he noted is more than the minimum wage in the states represented by every senator in the hearing, including in Vermont, represented by Sanders, where the minimum wage is $13.18. Other benefits for Starbucks employees include 100% paid college tuition, which is the first of its kind in American business. Schultz noted that 63% of Starbucks retail managers started as hourly baristas, "underscoring the opportunity we provide for shared growth and success and our employee retention is twice the industry average." 
GET FOX BUSINESS ON THE GO BY CLICKING HERE
"We are 100% committed to fulfilling our obligation as an employer under the National Labor Relations Act and are committed to good faith negotiations on first contracts for each unionized store. A year ago, I came back to Starbucks as interim CEO and concluded that assignment last week," Schultz said. "We are back on the right path and have demonstrated that by $1.4 billion of employee-facing investments that we made this year. Every day we wake up thinking how we can put our people first, put them in a position to win and do everything we can to demonstrate the conscience, the heart and the values of Starbucks coffee company. That has been the Starbucks way for the last 40 years since 1987, when we had 11 stores and 100 employees."