Fmr. Exxon CEO Rex Tillerson Offers Tougher Stance on Russia Amid Grilling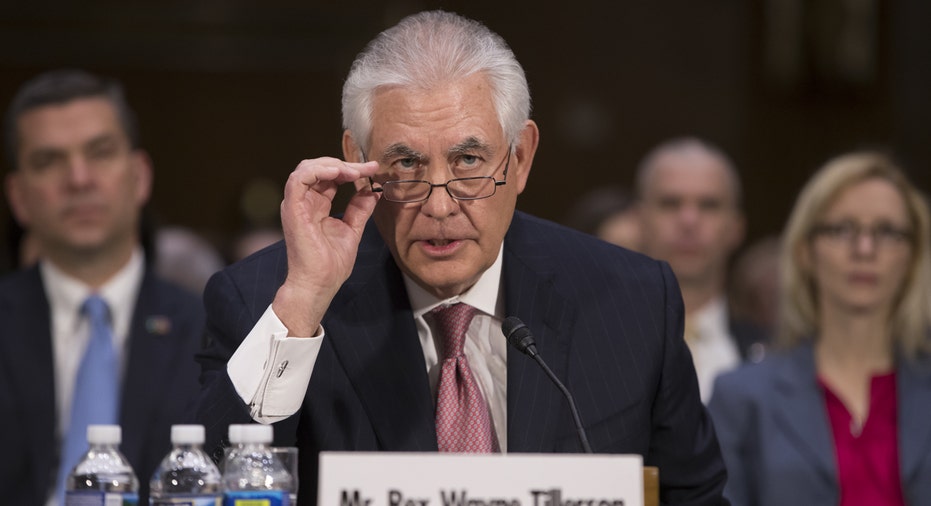 Former Exxon Mobil (NYSE:XOM) CEO Rex Tillerson, President-elect Donald Trump's nominee for Secretary of State, laid out a plan for the U.S. to take a tougher stance on global terrorism and Russia, as lawmakers grilled the longtime oilman in his confirmation hearing Wednesday.
Tillerson, appearing before the Senate Foreign Relations Committee, faced questions over business relationships in Russia and his past skepticism of U.S. sanctions on the country. Sanctions imposed in 2014 derailed a large deal between Exxon and Rosneft, Russia's state-run oil producer, to drill for oil in the Arctic. Exxon estimates that it lost as much as $1 billion.
Sen. Bob Menendez (D-NJ) pressed Tillerson, 64, on past statements on the use of sanctions, arguing that the longtime businessman had made broad criticisms. Tillerson, who earlier in the hearing called sanctions a "powerful tool" to deter actions by countries including Russia, shook his head in disagreement.
"I have not lobbied against sanctions," Tillerson said, later adding, "The use of sanctions…can be a powerful tool as long as they're constructed to be effective."
Tillerson said if confirmed he would keep current sanctions on Russia in place until a long-term strategy is developed. He also said the U.S. should have provided military and intelligence assets to Ukraine in response to Russia's annexation of Crimea in 2014.
In opening remarks, Tillerson suggested that Russia should face repercussions over its alleged covert attempts to meddle in the presidential race. U.S. intelligence agencies believe Russia orchestrated the hack of the Democratic National Committee, an assessment that Trump agreed with during a press conference Wednesday. Also, reports surfaced this week saying U.S. intelligence leaders presented Trump with unsubstantiated or disproven claims of wrongdoing allegedly held by Russia.
"Russia today poses a danger, but it is not unpredictable in advancing its own interests," Tillerson said.
The U.S. should seek cooperation when possible on reducing the threat of terrorism, but "where important differences remain, we should be steadfast in defending the interests of America and her allies," he continued. "Russia must know that we will be accountable to our commitments and those of our allies, and that Russia must be held to account for its actions."
When asked about the threat of cyber-attacks from countries such as Russia and China, Tillerson pushed for a "comprehensive strategy" to combat the threat. The U.S. is vulnerable, he argued, because it has not maintained proper IT infrastructure and defenses.
Tillerson, a 41-year veteran of the world's largest publicly-traded oil company, also addressed his departure from Exxon Mobil.
"I have no reservations about my clean break from private-sector life," he said.
Wednesday's hearing began with supporting testimony from fellow Texan Sen. Ted Cruz and former Secretary of Defense Robert Gates, among others.
Darren Woods, formerly the president of Exxon, has replaced Tillerson as chairman and CEO. Tillerson rose to the CEO position in 2006.
Stewart Glickman, equity analyst at CFRA Research, noted that succession planning was already well underway because Tillerson was due to reach Exxon's mandatory retirement age of 65 in March.
"If this 'Rexit' proceeds as planned, we think XOM is still in capable hands to steer the company going forward," Glickman wrote in a research note to clients.
Exxon shares climbed 1% to $86.79 on Wednesday.