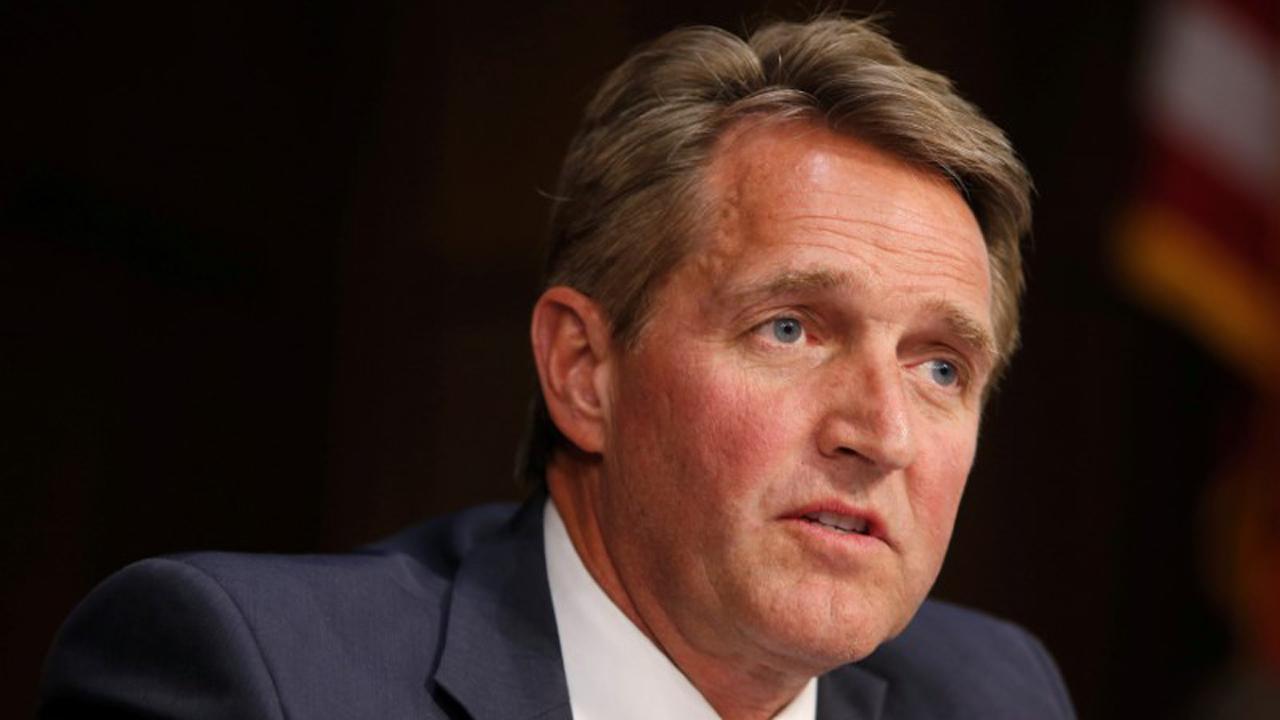 As Sen. Jeff Flake (R-AZ) made his stunning announcement on Tuesday that he will be retiring from the Senate, Jay Heiler, a Treasurer of the Arizona Board of Regents, made it clear that he's leaning toward running for the soon-to-be-vacant congressional seat and that he recently spoke with former White House chief strategist Steve Bannon about jumping into the 2018 midterm election battle.
Heiler told FOX Business in an interview that Flake's resignation has "sped up" his timeline on when he will make his announcement and that he's likely to run for the seat that fellow Republican Dr. Kelli Ward is pursuing. "It would be fair to say that I've been leaning toward running all along," Heiler said.
Heiler also said that he spoke with Bannon last week as he got set to endorse Ward, who up until Tuesday was Flake's main Republican challenger. But Heiler suggested that the conservative firebrand and executive chairman of Breitbart News may have been hesitant to initially support Ward.
"He said that he did not intend that day to endorse Kelli Ward but he did intend to attend her event. He did not use those words (endorse) based on the coverage I've seen and the whole video of those remarks. However, as I told him that day, the attendance that day was billed as his endorsement," Heiler said.
When asked if Bannon could support him instead of Ward, Heiler said, "I understand completely where Mr. Bannon is coming from, but it appears if I run for the Senate, he will be aligned with Kelli Ward."
A spokesman for Bannon did not return calls for comment.
Even if that's the case, Heiler's contempt for establishment Republicans could signal a perfect alternative candidate for Bannon if he were to get into the race and move ahead of Ward in the polls.
"We had a very pleasant conversation, and we agreed about many things, including the general public disdain for the present American political class that we both perceive and both share in," Heiler said.
He's already looking to reach out to potential campaign donors, including his friend and conservative mega-donor Foster Friess, who told FOX Business on Friday that he will not be supporting Bannon's candidates that are against GOP leadership.
When told that Heiler is hoping to make him a contributor to his campaign if he announces his candidacy, Friess said in an email, "No surprise Brian, I am on everyone's donor list."
Heiler has experience working in government. In 1992, he was the chief of staff for Arizona Gov. Fife Symington, who was forced to resign in 1997 following a conviction on charges of extortion and bank fraud. The conviction was later overturned.
His life outside of the political sphere is a mix of different paths. He co-founded the Great Hearts Academies in 2004, a K-12 charter school that operates 28 campuses across Arizona and Texas. In 2011, Gov. Jan Brewer announced that Heiler would be joining the Arizona Board of Regents, the governing body of Arizona's public university system.
Ward was elected in 2012 to serve in the Arizona State Senate and ran unopposed for the same post in 2014. She tried to take on Sen. John McCain (R-AZ) in the 2016 Republican primary and was eventually defeated.  She made controversial remarks in July when she said she believed McCain should step down following the news that he had been diagnosed with brain cancer.
"I hope that Senator McCain is going to look long and hard at this, that his family and his advisers are going to look at this, and they're going to advise him to step away as quickly as possible," she said then. "So that the business of the country and the business of Arizona being represented at the federal level can move forward."
For Bannon, Flake's demise in the Senate was a victory for him and his anti-establishment political movement. A close ally of Bannon's told FOX Business on the condition of anonymity, "It was proof we've got them on the run. We're all encouraged and energized by it."
Bannon has continuously taken on Flake and others within the Republican Senate leadership since he left the White House, including when he endorsed Ward in Scottsdale, Arizona.
"It's an open revolt, and it should be," Bannon said before introducing the former state senator. "These people hold you in total contempt … They think you're a group of morons." He went on to inform the Arizonans that Jeff Flake "probably in his gut … doesn't like you," and that the GOP establishment wanted them to "shut up." More recently at the Values Voter Summit, he declared a "season of war" against GOP leadership.
Tensions between Flake and President Donald Trump have also been brewing since the start of the new congress and continued through Tuesday when the lawmaker from Arizona took on the president during his address on the Senate floor.
"Mr. President, I rise today to say, enough," he said. "We must dedicate ourselves to making sure that the anomalous never becomes the normal. … We have fooled ourselves for long enough that a pivot to governing is right around the corner, a return to civility and stability right behind it. We know better than that. By now, we all know better than that."