Fannie, Freddie Former Execs Could Lose Bubble-Era Pay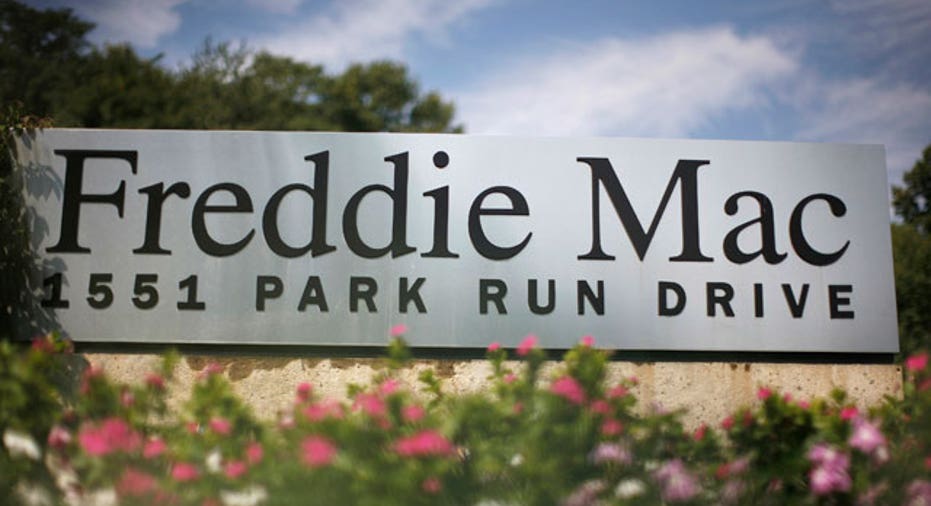 The Securities and Exchange Commission may try to claw back executive pay given by Fannie Mae and Freddie Mac to six former executives during the housing bubble years at issue in the agency's securities fraud lawsuits, sources close to the matter say.
Former Fannie Mae chief executive Daniel Mudd earned a total of about $16 million in cash pay and stock awards in the years the SEC says the alleged securities fraud took place. Former Freddie Mac chief executive Richard Syron earned $16.9 million in cash salary, bonus and stock awards during in the years the SEC says the alleged fraud took place.
Meanwhile, PNC Bank has put on administrative leave its chief risk officer named in the SEC charges, The Wall Street Journal reports. Enrico Dallavecchia was the chief risk officer at Fannie Mae from 2006-2008.
In other news, Fannie Mae and Freddie Mac tell FOX Business they will join the SEC in its suit against the six former top executives.  Because Fannie and Freddie have joined the SEC in its lawsuit against the six former executives, that likely means these former officials cannot access the companies' directors and officers insurance to cover their government fines.
That would be a far cry from what has happened in the past, where former officials including former Fannie chief exec Franklin Raines used company insurance last decade to cover their government fines after an accounting scandal blew up, involving inflated and manipulated earnings.
Fannie and Freddie say they have entered into a non-prosecution agreement, where the SEC will not seek enforcement actions against them.
Fannie and Freddie declined comment. The six former executives could not be reached for comment.
SEC enforcement director Robert Khuzami says in a statement that the six former Fannie Mae and Freddie Mac executives, three at each company, "materially" misled the markets, giving "false comfort" to investors by "perpetrating half-truths" that their loan books were not loaded with risky mortgages, when their businesses had "substantial" exposure to subprime loans that later failed.
The U.S. government placed Fannie and Freddie into conservatorship in the fall of 2008, later gave them an unlimited credit pipeline into the U.S. Treasury, which the two have since tapped, getting up to $185 billion in bailout help. Since then, taxpayers have footed their bills for more than $160 million in legal costs.
Among the fraud charges, the SEC alleges that Fannie Mae executives fraudulently reported that less than 10%, or $4.8 billion, of its single family loan portfolio were risky, subprime loans in 2006, when the actual number was an estimated $43 billion.
Moreover, the SEC says Fannie masked its exposure to subprime loans by redubbing them and not including them in their numbers it reported to investors. The risky mortgages were renamed as "expanded approval" loans, which were targeted at borrowers with weaker credit  histories.
Similarly, the SEC alleges that Freddie Mac told the markets it had "no subprime exposure" in 2006, when it actually had $141 billion in subprime loans, or 10% of its book of business at the time. That number grew to $244 billion by 2008, the SEC says.
In its suit, the SEC seeks financial penalties, disgorgement of gains with interest, permanent injunctive relief, and it also seeks to bar the six executives from serving on corporate boards.
This is not the first time the companies' officials have been in the dock. Fannie Mae and Freddie Mac were accused of accounting fraud in the past.
The SEC and Fannie's and Freddie's regulator, the Office of Federal Housing Enterprise Oversight,  won a $400 million penalty in 2006 from Fannie Mae over an accounting fraud that spanned 1998 to 2004.
Similarly, the SEC won a $50 million penalty from Freddie Mac in 2007 over an accounting fraud that spanned 1998 to 2002.
OFHEO later hit former Fannie Mae chief executive Raines and two other officials with a suit to recover some or all of the estimated $90 million in compensation given to Raines, pay that was based on inflated, manipulated earnings initially reported at $9 billion for the periods in question, when the corrected profits were $6.3 billion.
OFHEO later sought $110 million in penalties and $115 million in returned bonuses from Raines and the two executives. In April 2008, the three settled for less, and Raines got Fannie to cover part of his settlement with its company insurance.
OFHEO won just $31.4 million from the three, most of that coming from Raines. He later forked over $24.7 million in cash and stock options, including some $2 million in cash pay that was covered by Fannie's directors and officers insurance policy.