Facebook, Twitter See Biggest Debate Night Ever as Clinton, Trump Spar
The gloves came off during the second head-to-head matchup on Sunday night between Donald Trump and Hillary Clinton. The candidates sparred on a range of personal topics in what many on social media called a divisive, nasty, and contentious debate.
Clinton wasted no time hitting Trump on a tape released late last week in which the Republican nominee made lewd remarks about treatment of women. Within minutes of the debate's start, Clinton took aim at her rival's character, saying in previous political matchups with GOP candidates, she never doubted their fitness to lead the nation, but "Donald Trump is different," and the leaked tape "represents exactly who he is."  For his part, Trump said he was sorry for the comments he made more than a decade ago, calling it "locker room talk."
That exchange was one of the top three moments on social media, according to data compiled by both Twitter (NYSE: TWTR) and Facebook (NASDAQ:FB). Other significant moments included a quip by Trump that he disagreed with running mate Mike Pence's stance that the U.S. should prepare to use force against military targets in Syria; and Trump's assertion that if he were in charge, Clinton would "be in jail" for her handling of classified emails as secretary of state.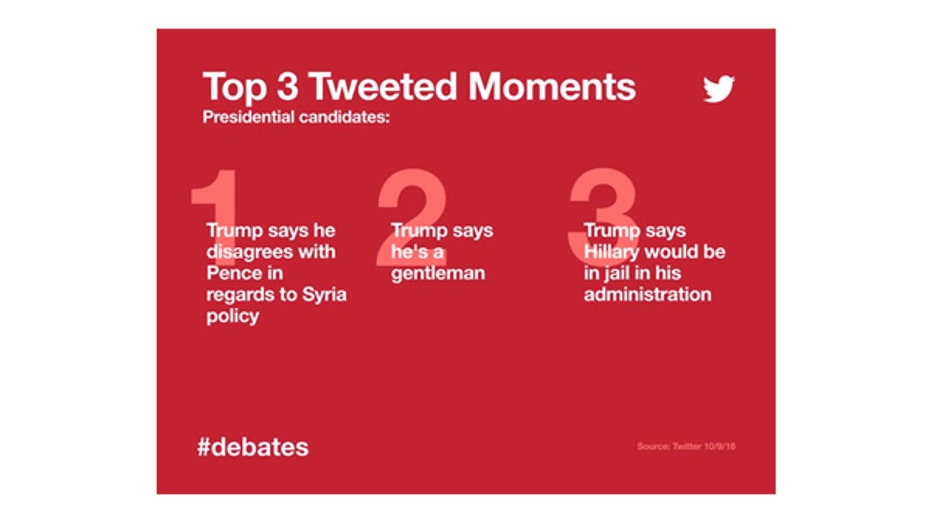 Throughout the 90-minute debate, social media users across the country flocked to their favorite platforms to show their support or outrage, express their opinions, and engage in debates of their own. The event proved to be a win for Twitter, which saw 30 million tweets sent on Sunday – the most tweeted day of the entire 2016 election.  The match up was also the most tweeted debate ever, as it amassed more than 17 million debate-related tweets as users favored conversations regarding terrorism, foreign affairs, the economy, health care and guns.
Over on Facebook, 19.8 million users generated more than 92.4 million debate-related likes, posts, comments and shares, making the town-hall debate the most talked-about on the social network ever. For comparison, the first presidential debate of the season amassed 18.6 million people generating 73.8 million likes, posts, comments, and shares. Topics of interest on Facebook differed a bit from chatter on Twitter as users favored content related to ISIS, Trump's leaked tape, taxes, government ethics, and health care.
As he has through the 2016 election, Trump dominated the conversation on social media throughout the debate. On Twitter, he garnered 64% of the conversation to Clinton's 36%, while on Facebook he took 76% of the chatter and Clinton saw 24%.
Over three social media platforms, including Twitter, Facebook and Instagram, Fox News was the most engaged news brand among its competitors, according to data compiled by Crowdtangle. It was  also the company's most engaged debate to date on Twitter and Instagram so far this election cycle.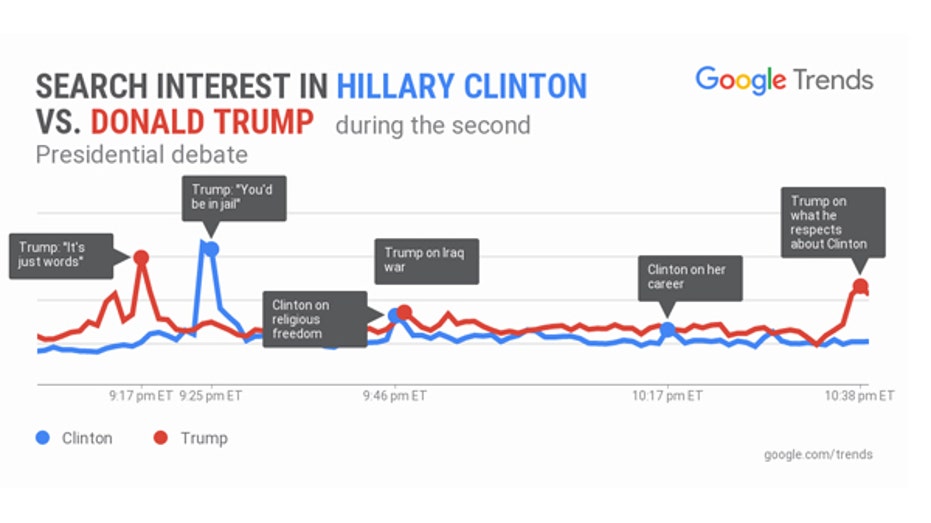 While some Americans took to social networks to converse about the debates, others turned to Google (NASDAQ:GOOGL) to fact check the candidates rhetoric. According to the search giant, the two candidates were tied in terms of search interest across Google while searches for the term "Trump won" were 95% higher than interest in "Clinton won."
The top trending search on Google was for the term "carried interest" after a conversation between the candidates over their tax plans. When questioned by an undecided voter from the audience about what specific tax provisions each would alter to ensure the nation's wealthiest pay their fair share, Trump said he would eliminate carried interest, a kind of capital gain, and lower the tax rate.  Clinton vowed not to raise taxes on Americans earnings less than $250,000 a year.