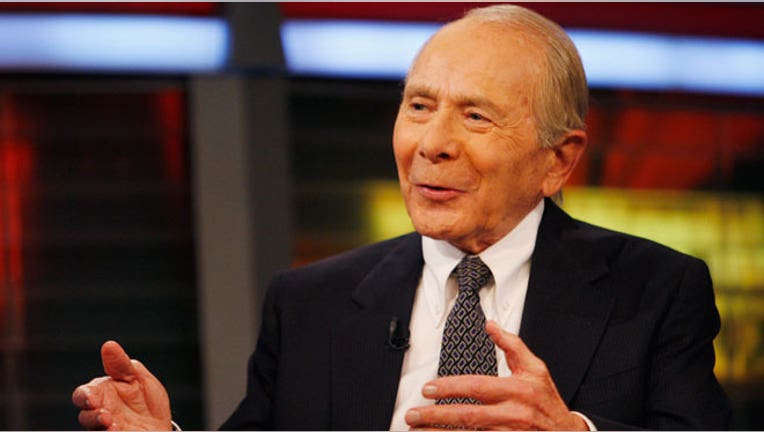 Former American International Group (NYSE:AIG) chief Hank Greenberg is promising both a court victory and a scorched-earth attack on the federal government as his much-anticipated civil case against the legality of the 2008 bailout of the big insurer begins Monday.
Greenberg, in a series of private conversations with friends and associates, has said he expects the federal claims court, which is currently hearing the case, to rule in his favor before the government appeals to the U.S. Supreme Court, where he says he will claim final victory.
The 89-year-old insurance titan was ousted from AIG in 2005 amid regulatory pressure, and remained one of the insurer's largest shareholders. In the subsequent years, AIG engaged in a series of risky transactions by insuring toxic housing-related debt held by the big Wall Street firms.
In 2008, the federal government bailed out AIG along with the big banks in an effort to save the global financial system. But in his lawsuit against the federal government, Greenberg said the terms given to AIG were far more onerous than those awarded to big banks, including a massive equity stake, effectively wiping out shareholder value and amounting to an illegal "taking" of the firm.
The government denies the charge and said the AIG board voted to accept the terms of the government's proposal for $182 billion in assistance in exchange for a 79.9% stake in the company.
Greenberg says those terms were all but forced on AIG by the three regulatory officials in charge of the bailouts: Former New York Federal Reserve President Tim Geithner, former Federal Reserve Chairman Ben Bernanke, and former Treasury Secretary Hank Paulson.
Greenberg told associates he is relishing the chance to have his attorney, David Boies, cross-examine each official during the trial, these people say. All three are on Greenberg's witness list, and over the past year each has given depositions to Greenberg's legal team.
Those depositions remain under court seal, but FOX Business has been the only news organization to review their contents. In them government officials appear at times perplexed by the unfolding financial crisis, and AIG's importance to the overall banking system.
AIG's insurance product—known as the credit-default swap—was held by the big banks to cover losses on billions of dollars in toxic housing-related debt. But AIG eventually ran out of money to cover its obligations, meaning firms like Citigroup (NYSE:C), Morgan Stanley (NYSE:MS), and Goldman Sachs (NYSE:GS) were facing mounting losses and insolvency were it not for the multiple bailouts including the assistance given to AIG.
For instance, in their depositions, both Geithner and Bernanke appeared to, at the time, have had little idea that the big banks under their watch had turned to AIG to insure debt that was becoming increasingly worthless as the financial crisis spread through the summer and into the fall of 2008.
In his deposition, Geithner, who later went on to become President Obama's Treasury Secretary conceded that during much of the financial crisis he personally "did not spend time…looking at AIG," In his deposition, he said he became focused on AIG after Lehman Brothers collapsed in mid-September 2008 while the financial collapse was raging.
A spokesman for Greenberg declined to comment; spokesmen for Geithner, Bernanke and Paulson also declined comment.
As first reported by FOX Business Greenberg has asked major Wall Street investors such as Home Depot (NYSE:HD) co founder Ken Langone, and hedge-fund trader Steve Cohen to finance his lawsuit, thus earning the right to a piece of any winnings. Greenberg is suing the government for as much as $50 billion.
During a March 2014 meeting with investors, Boies said progress in the case has been good. He quipped at one point that he didn't "want to pat himself too much on the back" for some of Greenberg's court victories, according to people with knowledge of the matter. Those included the judge's refusal to dismiss as well as the taking of testimony from top government officials including Bernanke's in February.
In his deposition, Bernanke provided a legalistic and at times confusing series of responses to questions posed by Boies. At one point, he told Boies "I did not think that Morgan Stanley, to my recollection, was on the verge of failure" in September 2008.
The former Fed chairman, now a distinguished fellow at the Brookings Institute, made that response after he was shown an email delivered to one of Geithner's deputies that stated Morgan Stanley alerted Federal Reserve officials the firm was about to become insolvent without more federal assistance and that another big Wall Street firm, Goldman Sachs, also believed it was about to implode if Morgan Stanley couldn't survive.
Such testimony might prove embarrassing to the former federal officials at the heart of the bailouts, but legal experts are mixed on whether it helps Greenberg's contention that the regulators sought to unfairly punish AIG shareholders.