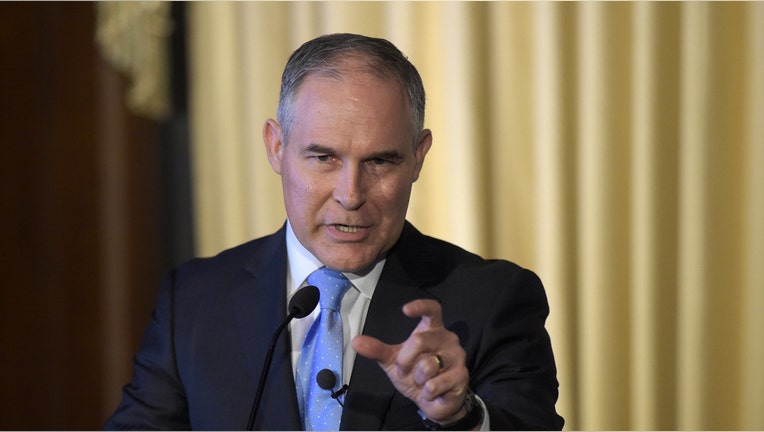 The head of the U.S. Environmental Protection Agency said on Monday he would sign a proposed rule on Tuesday to begin withdrawing from the Clean Power Plan, former President Barack Obama's centerpiece regulation to fight climate change.
"Here's the president's message: The war on coal is over," EPA Administrator Scott Pruitt told a gathering in the Kentucky coal-country town of Hazard.
More from FOXBusiness.com...
"Tomorrow in Washington, D.C., I'll be signing a proposed rule to withdraw the so-called Clean Power Plan of the past administration and thus begin the effort to withdraw that rule," he said.
The Obama administration created the rule in an effort to reduce pollution from power plants by 32 percent below 2005 levels by 2030. The utilities are the largest emitters of greenhouse gases blamed by scientists for climate change.
The effort to undo the rule is part of a broader plan by the administration of President Donald Trump to revive the U.S. coal industry and boost domestic fossil fuels production. The EPA now says the Clean Power Plan introduced by Obama in 2015 was illegal.
Pruitt said the Obama-era plan was "really about picking winners and losers" in the competition to generate electricity in the United States.
"Regulatory power should not be used by any regulatory body to pick winners and losers," Pruitt said. "The past administration was unapologetic. They were using every bit of power, every bit of authority to use the EPA to pick winners and losers on how we generate electricity in this country. And that's wrong."
The EPA has not decided whether it will replace the Clean Power Plan after it moves to repeal it, according to a draft of the proposal seen by Reuters on Friday.
The EPA said it has not yet determined whether or when it will propose a new rule to regulate emissions from existing power plants. But it said it would soon release what it calls an Advanced Notice of Proposed Rulemaking to solicit information on a potential replacement.
(Reporting by David Alexander; Editing by Tim Ahmann and Bernadette Baum)