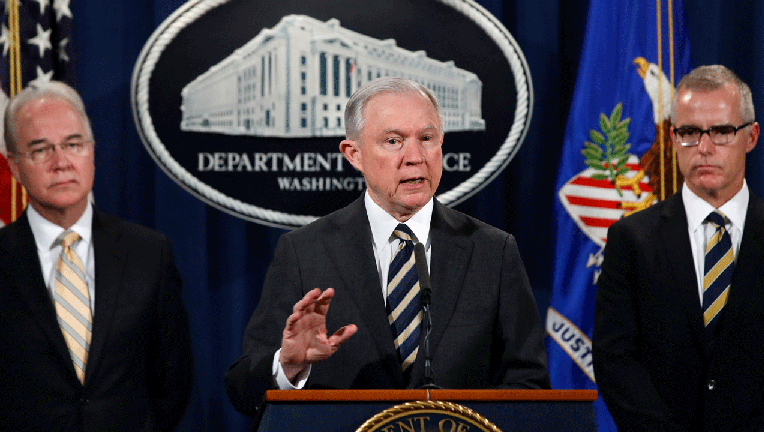 Hundreds of individuals were charged with health care fraud, including more than 100 doctors and health care professionals, for their role in stealing $1.3 billion from taxpayers, the Department of Justice announced Thursday.
In the largest ever health care fraud takedown, 412 individuals allegedly issued false billings of $1.3 billion. The defendants are accused of submitting claims to Medicare, Medicaid and TRICARE for medical prescriptions and medications that were never purchased or received by the consumer, in addition to treatments that were either unnecessary or never provided.
Among those charged, 115 were doctors or other licensed medical professionals. Additionally, investigators say 120 of the 412 charged unlawfully distributed opioids or other dangerous narcotics. Attorney General Jeff Sessions criticized the defendants Thursday for allegedly turning "their practices into multimillion dollar criminal enterprises."
"Their actions not only enrich themselves often at the expense of taxpayers but also feed addictions and cause addictions to start. The consequences are real: emergency rooms, jail cells, futures lost, and graveyards," Sessions said in a statement Thursday.
In one instance a fake rehab facility in Palm Beach, Fla., allegedly recruited drug addicts with monetary incentives in order to mask false medical claims of $58 million, according to a statement released Thursday.
In another case, a physician and a clinic owner in Texas are charged with giving unnecessary prescriptions of hydrocodone to patients in exchange for $300 in cash per visit. The clinic saw between 60-70 people per day.
More from FOXBusiness.com...
More than 2 million Americans are addicted to prescription painkillers, AG Sessions said in prepared remarks Thursday.
The Department of Health and Human Services has initiated suspension actions against 295 providers as a result of this effort.