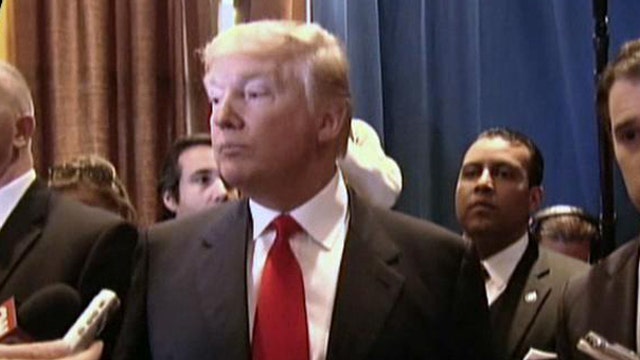 Exclusive: Billionaire Donald Trump is battling back big time against the $40 million lawsuit brought by New York State Attorney General Eric Schneiderman, which alleges the real-estate mogul, the Trump Organization and a former official of his real estate educational institute defrauded 5,000 students out of $40 million.
Trump's legal team tells FOX Business that the New York attorney general has "been trying to settle with us for six months, but we refuse. He offered $5 million to settle, but we won't settle for a school that has a 98% student approval rate."
The legal team also says that the attorney general has from the outset of his case "told many, including Ivanka Trump and [the] organization, that his case is weak, that it was going nowhere, but that he has to go through the process to appease people under him. The attorney general told us that 'Trump is a billionaire. He is a rich man. What is $5 million to him? He'll write the check because he doesn't want the bad press.' We don't respond to extortion or threats. This suit will be judged a tremendous mistake by the New York attorney general."
Another source close to the matter said: "I guarantee that if you went out and talked to Harvard grads, you would find some who are not happy. You don't hear about those students suing. We have refunded students' money by the millions of dollars. Even beyond the three-day money back guarantee. We have bent over backwards to give students their money back."
It is also incumbent upon students to check a school's offering documents and educational course materials, as they are often loaded with caveat emptor boilerplate disclosures.
When asked, the attorney general's office did not respond directly to the Trump Organization's comments, but instead emailed Mr. Schneiderman's comments on CNN's "New Day" with Chris Cuomo: "Prosecutors are all used to persons who commit fraud making wild accusations when they are caught. This is just an effort to distract from the substance of the case. The substance of the case, he has not rebutted in any way shape or form."
Mr. Trump launched the for-profit school, then called Trump University, in 2005 to teach the general public how to make money in real estate, and to deliver his expertise about the business world. The school has been inactive since 2010 due to these allegations.
New York State Attorney General Schneiderman filed the lawsuit against Mr. Trump and his for-profit investment school, Trump University, late last week, charging the real estate mogul, the school, and his school's former president with making false claims and engaging in illegal business practices, including that Trump allegedly personally handpicked instructors, that Trump University was run as an unlicensed educational institution from 2005 to 2011, and that Trump did not create the curriculum for any of the school's courses despite statements otherwise. The lawsuit seeks restitution of at least $40 million.
Since the suit was filed, Trump has counterattacked on Twitter, "Light weight NYS Attorney General Eric Schneiderman is trying to extort me with a civil law suit," he tweeted. The billionaire's tweets have also linked to a website that has more information about the school's 98% approval rating from students. Here are other tweets from Mr. Trump: