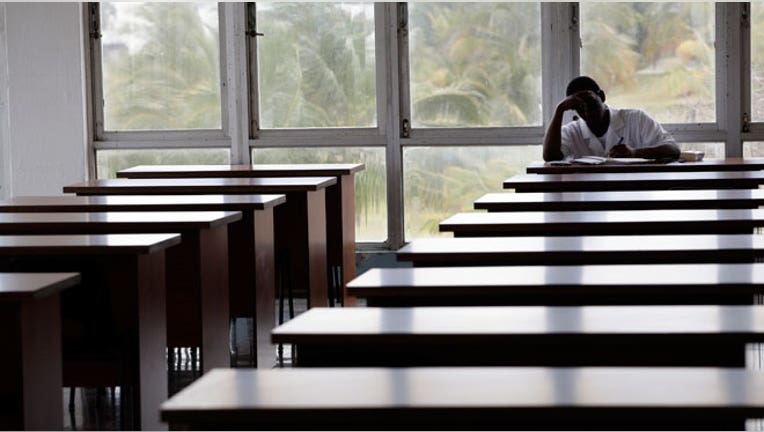 With states seeking to restore financial order, budget woes at public universities may be reaching a tipping point.
Lawmakers in South Carolina are pushing for a temporary shutdown of South Carolina State University, hoping to give the 119-year-old school a clean slate. In Ohio, where schools face the possibility of reduced funding, Gov. John Kasich is asking schools to make cuts. Other states such as Wisconsin also are looking for universities to slim down.
Today, students cover a larger portion of their attendance costs than taxpayers. Tuition collected by public colleges topped state funding by 2012, according to a Government Accountability Office report published in December.
The shift of cost responsibility has made attending college less affordable for students, and schools that don't counter reduced funding with cuts of their own can quickly dig themselves into a fiscal hole.
"State funding in general has not kept up with enrollment or increases in costs for higher education for quite a while," said Dr. Robert Archibald, an economics professor at the College of William & Mary.
Archibald added that S.C. State "could be the canary in the coal mine" for smaller institutions. Few, if any state schools have been forced to close their doors, putting S.C. State in uncharted territory.
Georgia moved to combine eight schools into four in 2013, bringing the system's total to 31 public colleges. Now the state plans to merge Georgia State University and Georgia Perimeter College next year as it continues to seek cost reduction through efficiencies. The move would make Georgia State the largest college in Georgia, beating the University of Georgia. Current enrollment at Georgia State is approximately 32,000, and Georgia Perimeter has 21,000 undergraduate students.
S.C. State has suffered under the weight of rising expenses and competition from the University of South Carolina and for-profit institutions. Schools across the country are in similar positions.
"This may be the beginning of a long list of stories like this," Archibald said.
A bill that would close S.C. State for up to two years and fire its entire staff passed two House subcommittees this week. However, the proposal has an uphill battle toward final approval. It must pass the state's full House and Senate before landing on the desk of Republican Gov. Nikki Haley.
The school has been criticized for failing to reduce costs amid declining enrollment. Roughly 3,000 undergraduate students are enrolled at S.C. State this year, down 800 compared to 2012, and just 14% of its freshmen graduate from S.C. State within four years.
School officials are fighting back, vowing to find another way to keep S.C. State operational.
"I want to make one thing clear. SC State will not close," Thomas Elzey, S.C. State's president, said in a statement, according to the Associated Press.
S.C. State has amassed $17.5 million in debt plus at least $70 million in outstanding bonds. If closed temporarily, S.C. State's debt would be shouldered by the state.
Last year, state legislators gave the green light to a second bailout for S.C. State. The plan called for $12 million in funding over three years, in addition to a separate $6 million loan that S.C. State is unable to repay this year as scheduled.
Frustration mounted when S.C. State sought another $6 million to pay off last year's loan. In total, the Orangeburg-based school was looking for $14 million out of South Carolina's 2015-16 budget.
"I'm shocked they would be allowed to get that far into debt," Archibald said.
In Ohio, Gov. Kasich created a task force to come up with ways to curb education costs for both schools and college students. The Republican's two-year budget includes a cap of 2% on tuition increases in 2016. Kasich also wants to freeze tuition rates in 2017.
Meanwhile, Republicans in the Ohio senate proposed a plan that would slash funding by at least 5% and force universities to lower tuition by the same amount.
Wisconsin Gov. Scott Walker, who is considered a top candidate for the Republican presidential nomination in 2016, offered a budget plan that lowers higher education funding by $300 million, or 13%, over two years.
Walker also wants to maintain a tuition freeze at the University of Wisconsin, which has ceased hiring across 26 campuses.
Archibald said universities, especially small institutions like S.C. State, can't expect to thrive without finding a niche and offering a competitive pitch to students.
"It used to be the case 30 or 40 years ago that with so few educational opportunities, a mediocre state university with a big subsidy and low tuition could fill its classes and go. I think those days are over because state subsidies have gone away, while tuition has gone up," he explained.
Funding for public colleges is one of the easiest areas for states to find savings. ("You can't charge the prisoners more," Archibald joked.) As a result, states are picking up a smaller portion of the tab, and students can expect to make up the difference when schools don't tighten their belts.
"Often, colleges and universities face a dilemma: do we increase our costs or lower our quality?" Archibald said. "S.C. State probably wants to maintain its quality, but if it's failing to attract students, then the school is in tough shape."
Colleges can expect more challenges ahead, given changing demographics in areas like the Northeast. A declining number of 18-year-olds spells trouble for universities that can't make the adjustment.
"It's going to be a difficult time for institutions that don't have a strong market niche," Archibald said.