China economic espionage 'top threat' to US commercial, military secrets
Chinese government engages in widespread economic espionage to boost China-based companies
Intelligence community leaders told members of Congress last week that China's use of economic espionage and other coercive tactics make it the leading threat to U.S. competitiveness as tensions between the two countries continue to rise.
Lawmakers on the House and Senate intelligence committees heard testimony from intelligence officials in both open and closed hearings last week after the release of the Office of the Director of National Intelligence's annual threat assessment, which noted that "China will remain the top threat to U.S. technological competitiveness, as Beijing targets key sectors and proprietary commercial and military technology from U.S. and allied companies and institutions."
FBI Director Christopher Wray told the House panel that the "Chinese government has the biggest hacking program in the world, bigger than that of every other major nation combined" and has "stolen more Americans' personal and corporate data than every nation, big or small, combined." 
DNI HAINES DEEMS CHINESE COMMUNIST PARTY 'LEADING AND MOST CONSEQUENTIAL THREAT TO US NATIONAL SECURITY'
In particular, Wray referenced the widespread use of TikTok, which is owned by China-based parent company ByteDance, and the 2017 cyberattack on Equifax, one of America's largest credit reporting agencies, that was carried out by four hackers allegedly backed by the Chinese military, as examples of that strategy. By accessing mass quantities of Americans' personal information, the Chinese government is able to manipulate that data to find vulnerabilities, Wray said.
"If you look at the Chinese government's gobbling up of information and data, and then the use of AI and other tools, ultimately supercomputing and things like that, to marshal all that data to conduct targeting for espionage, targeting for IP theft, targeting for all the things that I and others on this panel have been calling out about the Chinese government – data is the coin of the realm," Wray told senators during his testimony.
SENATE'S BIPARTISAN RESTRICT ACT WOULD BLOCK TECH PRODUCTS LIKE TIKTOK MADE IN ADVERSARIAL COUNTRIES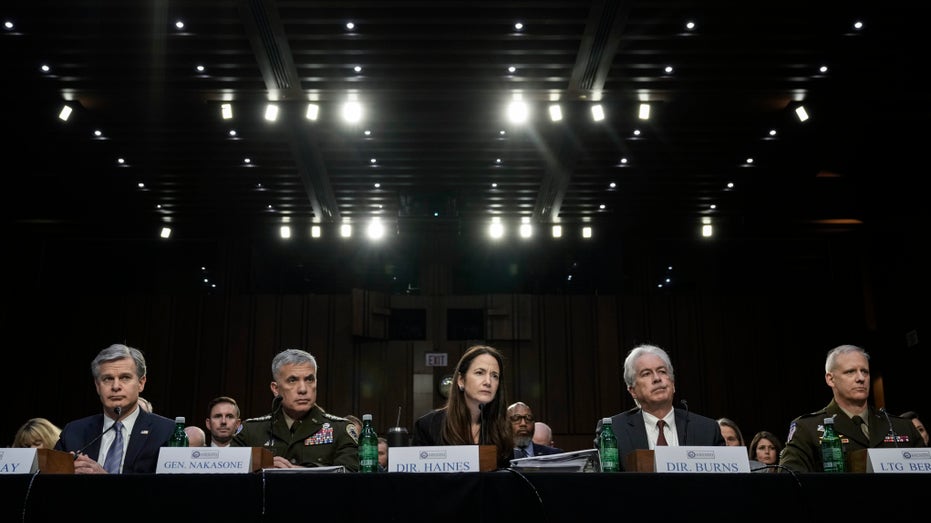 The report said the Chinese Communist Party (CCP) "uses a variety of tools, from public investment to espionage to try to advance its technological capabilities, protect domestic firms from foreign competition, and facilitate these firms' global expansion."
Economic espionage often targets U.S. defense contractors. For example, last November, a Chinese intelligence officer was sentenced to 20 years in prison for espionage targeting trade secrets held by GE Aviation and a French aviation firm. In another recent case, a former GE Power employee was sentenced for conspiring to steal trade secrets on China's behalf.
HOUSE PANEL ON CHINA ECONOMY: 'SINGLE GREATEST THREAT TO AMERICA'S GLOBAL STANDING
Another tactic often used by the CCP is requiring companies looking to do business in China to transfer technologies and intellectual property to their China-based counterparts as a condition of that access. That has led the U.S. to increasingly impose export controls on critical technologies that have significant IP.
"Semiconductors, artificial intelligence, advanced computing, quantum computing, biotechnology, biomanufacturing, these are some of the most important areas that we have concerns about," Director of National Intelligence Avril Haines told senators.
GET FOX BUSINESS ON THE GO BY CLICKING HERE
The threat assessment said, "China uses its vast market and control over critical supply chains as tools to force foreign companies and to coerce foreign countries to allow the transfer of technologies and intellectual property."
As of 2020, Wray said the FBI was "opening a new China-related counterintelligence case about every 10 hours. Of the nearly 5,000 active FBI counterintelligence cases currently underway across the country, almost half are related to China."