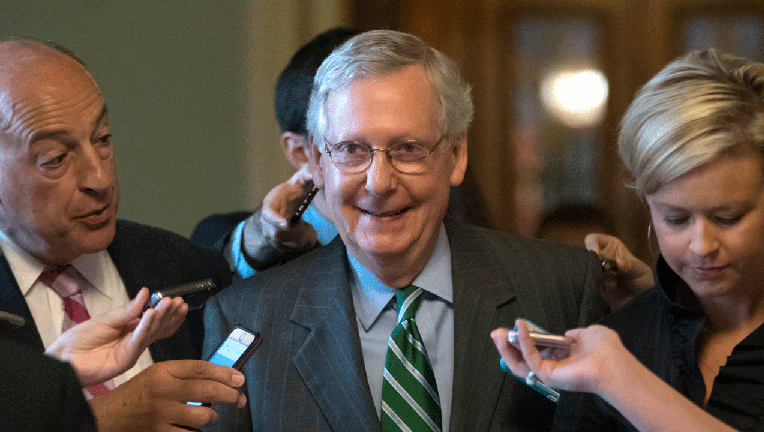 The Congressional Budget Office said Monday the Senate's bill to repeal and replace the Affordable Care Act will do more to decrease the federal deficit and insure Americans than the American Health Care Act, which narrowly passed the U.S. House of Representatives last month.
The CBO estimates the Senate's draft legislation will reduce the federal deficit by $321 billion and result in an additional 22 million uninsured Americans over the next decade.
Last month the CBO said the U.S. House of Representatives' version of the bill would reduce the federal deficit by $119 billion—a whole $202 billion less than the Senate draft—and it was estimated the House bill would result in a loss of coverage for 23 million people over the course of the next decade. A large portion of the savings from the Senate version would come from changes to Medicaid.
The Senate bill would result in a total of 49 million uninsured Americans by the year 2026, compared with 28 million under a continuation of the current law, the CBO forecasts. Under the new proposal, it is important to note that many Americans would also opt out of coverage, as it eliminates the individual and employer mandates. In 2018, an estimated 15 million could forego coverage if the penalty is removed, the agency says.
The Senate released its version of the health care bill on Thursday and Senate Majority Leader Mitch McConnell (R-Ky.) said it could be put up for a vote as early as this week. So far, five GOP senators have come out in opposition to the legislation, including Senators Rand Paul (R-Ky.) and Ted Cruz (R-Texas), but others are said to have been waiting for the CBO score to make a final decision. In order for the bill to pass the chamber, Republicans can only afford to have two senators vote against the bill.
While the White House said Monday President Donald Trump spoke with several of the senators who voiced concerns about the bill, including Sen. Paul, Sen. Johnson (R-Wis.) and Sen. Cruz, he insists Republicans have received no help or outreach from across the aisle, claiming Democrats have been nothing but "obstructionist." On Monday he mulled the option via Twitter of letting the ObamaCare death spiral continue.
Republican Senators are working very hard to get there, with no help from the Democrats. Not easy! Perhaps just let OCare crash & burn!

— Donald J. Trump (@realDonaldTrump) June 26, 2017