Casino Mogul Sheldon Adelson Tells Trump to Dial It Down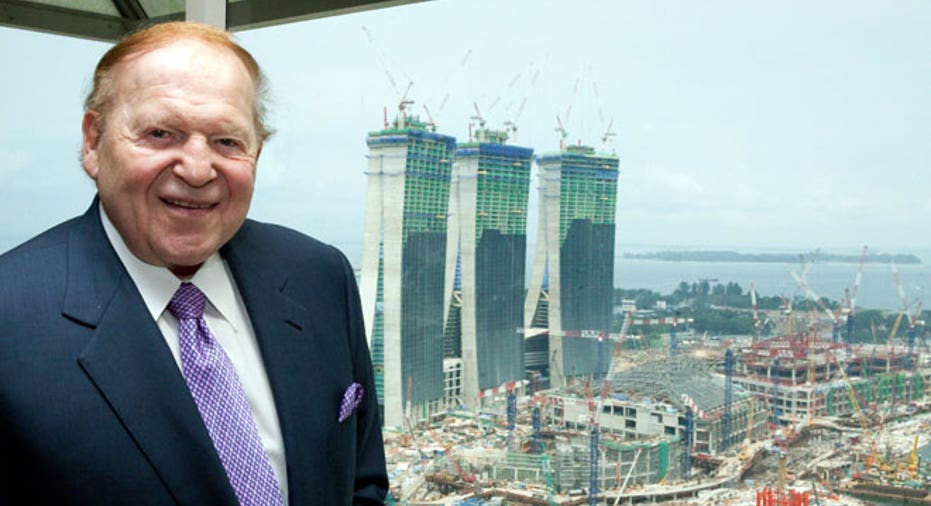 Sheldon Adelson is nearing his wits end with Donald Trump.
The billionaire casino magnate, who once promised Trump's campaign $100 million in contributions, recently sent an e-mail to Trump advising the GOP candidate to stop attacking Republicans he has feuded with during the increasingly contentious presidential run, and lay off what Adelson considers counter-productive attacks on the media, according to two people with direct knowledge of Adelson's note.
Instead, these people say, Adelson wrote in the e-mail that Trump should focus on major political issues that he believes could help him narrow what appears to be a growing polling gap with his Democratic rival Hillary Clinton, such as the slow-growing U.S. economy under the watch of her old boss, President Obama, and these embarrassing disclosures about the Clinton campaign and Hillary Clinton's dealings with major banks found in a recent WikiLeaks document dump.
It's unclear if Trump, as he's preparing for tonight's third, and final presidential debate hosted by Fox News in Las Vegas, has responded to Adelson's e-mail. Recent polls show Trump trailing badly against Clinton, particularly in so called battleground states. Adelson, usually a prolific GOP contributor, has also expressed his opinion of the Trump campaign, including his feuds with major GOP leaders like Speaker of the House Paul Ryan, by refusing to open his checkbook.
Adelson has only contributed $10 million to the Trump campaign, and continues to focus his efforts on aiding GOP candidates in Senate and House of Representatives races.
"Adelson is doing what everyone is doing—he's running away from Donald Trump," said Democratic political consultant Hank Sheinkopf. "If the polls are right, no one wants to be around a dead body or a losing candidate."
It's unclear if Adelson has plans to give any additional contributions to support the Trump campaign. About 40 supporters of Trump plan to meet with the candidate Wednesday afternoon in Las Vegas at the Trump hotel; Adelson is expected to attend the event.
A Trump spokeswoman didn't return an e-mail or call for comment. A spokesman for Las Vegas Sands Corp., the holding company for Adelson's far-flung casino operations, also didn't return a call or e-mail for comment.
Adelson's relationship with Trump has hit rough patches in the past. Even after suggesting he could raise $100 million for the Trump presidential effort, Adelson has told people he disagreed with Trump's erratic campaign style and frequent attacks on GOP establishment figures who have taken issue with Trump's anti-immigration position and critiques of free-trade agreements.
They also fretted that Trump missed opportunities to attack Clinton, President Obama's former secretary of state during the Benghazi terrorist attack.
For a time though, it seemed that the GOP donor establishment was lining up behind Trump as he began to poll evenly with Clinton in many polls and started campaigning in a more deliberate manner, often reading from a prepared script in his speeches, and refraining from making controversial statements that have caused him problems in the past, such as his criticism of a judge involved in a private lawsuit over his Mexican heritage.
But Trump soon reverted back to his initial free-wheeling form. After losing the first debate to Clinton, he went on an extended attack against a former Miss Universe who is a Clinton supporter, and then began to attack the media for being too cozy with the Clinton campaign, while deriding the election itself as being rife with voter fraud and "rigged" against him.
In recent weeks Trump's campaign has been blindsided by additional controversies, including the release of an audio recording of Trump making crass, sexually provocative statements about women, and the accounts of a series of women who alleged they were sexually assaulted by Trump, which he has denied.
In the wake of these disclosures, many GOP leaders and some fundraisers have turned their back on their nominee. To date, Trump has raised just $200 million, compared to more than $500 million raised by the Clinton campaign.
Adelson's growing angst over Trump's campaign, according to people the casino executive has spoken to, seems more focused on what he believes is Trump's inability to focus on sound advice from donors and political consultants that could minimize the controversies that keep sidetracking his campaign, and have contributed to his growing slide in the polls.
"Trump doesn't listen to anyone—not even his family or Steve Bannon," Adelson told one associate who spoke to FOX Business in reference to Trump's new campaign manager.
"I like Trump less and less," Adelson said, according to this person.