Boehner: White House Has No Real Plan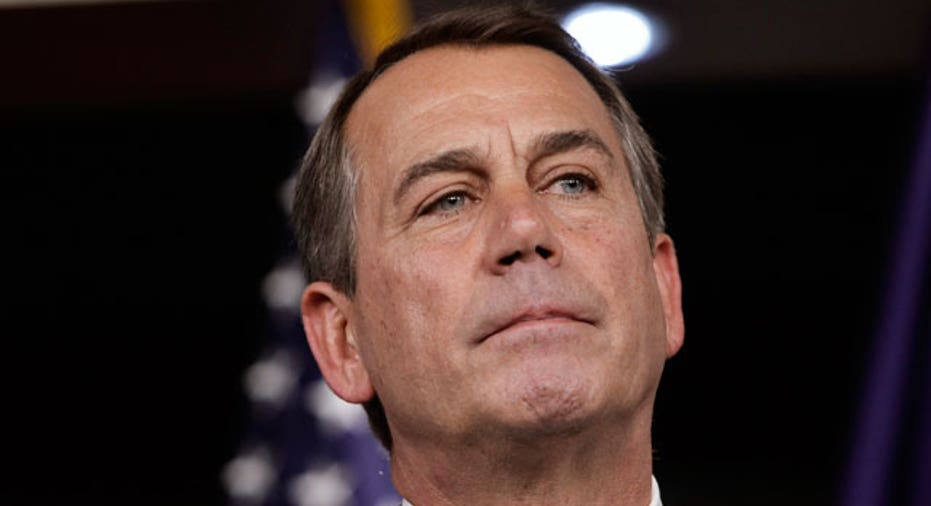 The top Republican on Friday said President Barack Obama and Democrats had still not put a serious deficit plan on the table, underscoring the acrimony plaguing negotiations to avert a government default.
"They've been unwilling to put a real plan on the table. Without serious spending cuts ... this problem is not going to be solved," House of Representatives Speaker John Boehner said after a meeting of House Republicans.
Obama suspended budget negotiations for Friday, telling congressional leaders to come up with a "plan of action" on how to unblock talks meant to cut deficits and avert a U.S. debt default.
Congress must raise the $14.3 trillion limit on America's borrowing by August 2 or the government will run out of money to pay its bills. Republicans insist on steep spending cuts as part of the deal, but talks have broken down over a sharp divide on taxes.
Obama, who had vowed to meet top lawmakers every day until a deal is reached, gave top Democrats and Republicans until Saturday morning to reconsider their positions in the high-stakes negotiations.
He will hold a news conference Friday at 11 a.m. EDT while awaiting feedback on separate meetings on Capitol Hill of the Republican and Democratic caucuses.
The debt negotiations may resume over the weekend.
"It's decision time. We need concrete plans to move this forward," Obama said on the fifth straight day of debt negotiations Thursday, according to a Democratic official.
The Republican members of the House, which include conservative members who are adamantly opposed to raising the debt ceiling, met for more than 90 minutes on Friday morning.
They agreed to vote next week on a "cut, cap and balance" proposal that would require steep discretionary cuts in the coming fiscal year, cap spending as a percentage of gross domestic product and amend the Constitution to require a balanced budget.
Republican leaders said it would pass the House, but it will not likely clear the Democratic-led Senate.
Financial markets are starting to worry that Republicans and Democrats are too far apart to reach a major budget agreement by August 2, when the United States would run out of money unless the cap on government borrowing is raised.
Ratings agencies Moody's and Standard & Poor's have signaled they may cut the gold-plated U.S. credit rating if the borrowing limit isn't raised and bills are not paid. Even if the United States does not default, its rating will be under pressure if negotiators do not agree to long-term deficit reduction.
Failure to seal a deal by then would cause turmoil in global financial markets and could force the United States into another recession.
Obama, who is running for re-election in November 2012, has rejected the idea of a stopgap or short-term agreement that would require the debt ceiling to be raised again next year.
Republicans are pressing for at least $1 in spending cuts for every $1 that the debt ceiling is lifted, and say the White House needs to get serious about reducing spending to properly address the debt problem.
Democrats are open to certain cuts but want some tax increases and other revenue-builders to be included in any deal so that the burdens of the austerity are shared.
One alternative remained on the table: Senate Republican leader Mitch McConnell's plan that would give Obama the authority to raise the debt ceiling on his own. The White House has said that is not its preferred option.