'Bigly,' Treatment of Women, Foreign Policy Top Searches of Final 2016 Debate
Presidential candidates Donald Trump and Hillary Clinton were more focused on the issues in their final debate matchup of 2016 Wednesday night. But while there was less mudslinging and a little more substance and policy discussion than usual, there was still plenty for the American public to talk about on social media.
Throughout the night, Internet-users took to Google (NASDAQ:GOOGL) to fact check the candidates. According to the search giant, Trump garnered 70% of the search interest compared to Clinton's 30%. The top-trending searches included Trump's stance on Iraq, his use of what sounded like the word "bigly," the situation unfolding in Aleppo, second amendment issues, and the North American Free Trade Agreement (NAFTA).
In the final minutes of the debate, Google also reported a 330% spike in search interest for early voting, and lot of questions about the status of Trump's relationship with Russian President Vladimir Putin. Meanwhile, interest in Wikileaks jumped above searches for emails when it came to questions surrounding Clinton's scandals.
Social Media Debate Engagement
It wasn't just living-room televisions Americans were glued to on debate night. Second screens like tablets, notebooks, and cell phones helped social-media users engage in real time as they reacted to comments on the debate stage.
As the conversation swelled on Twitter (NYSE:TWTR), so did the candidates' follower counts. Clinton added more than 13,000 new followers on Wednesday night, while 6,000 users began tracking Trump.
Early in the night, the candidates clashed on Trump's treatment of women; it became the most-tweeted moment of the evening. The topic has been a sore spot for the Trump campaign in the two weeks following a leaked audio tape of Trump lewdly describing how he interacts with women, in addition to allegations from women who have come forward saying they were mistreated or harassed by the Republican candidate.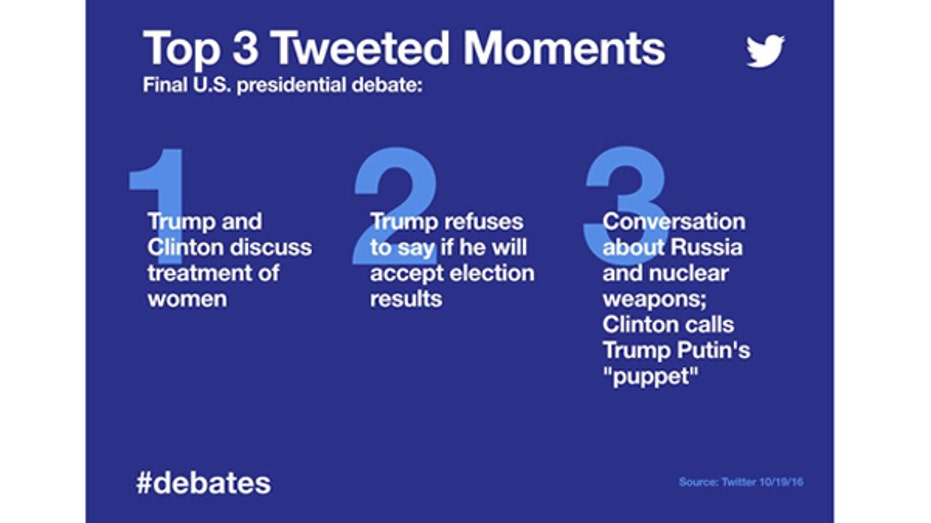 Twitter users were particularly interested in a moment in which moderator Chris Wallace asked Trump whether he would accept the outcome of the election, the candidate responded, "I will look at it at the time. I'm not looking at anything now."
Clinton responded by saying Trump's remarks were "horrifying," and that "every time Donald thinks things are not going in his direction, he claims whatever it is, is rigged against him." Trump's remarks came just hours after his daughter Ivanka told the media, during an appearance at a women's summit in Laguna Niguel, her father would support the election's outcome – even if it meant conceding to the Democratic nominee.
That exchange became the second-most talked about moment on Twitter, followed by comments from Clinton calling Trump Putin's "puppet."
Over on Facebook, users focused on a clash between Wallace and Trump on the candidate's comments in the second debate that Aleppo had "basically fallen." After a lot of cross talk, Trump said that the situation is a "disaster…a humanitarian nightmare," blaming Clinton for what he said was the nation's alignment with Russia and Iran.
Other notable moments included Trump telling his opponent she had terrible instincts and bad judgment, and calling the FBI and the Department of Justice "disgraceful" for their handling of the probe into Clinton's use of a private email server during her tenure as Secretary of State.
While Trump seemed to dominate interest on both social platforms, data from the companies show the candidate split of the conversation overall were nearly even. On Facebook, Trump carried 56% of the chatter to Clinton's 44%; on Twitter the split was 59% to 41% in favor of Trump.
Facebook also noted that 17.8 million users generated 79.9 million likes, posts, comments, and shares throughout the night. Those figures were down from both the first and second general-election debates which garnered as many as 19.8 million people generating more than 92.4 million likes, posts, comments and shares.