Biden to square off with McCarthy at White House as debt limit crisis looms
Meeting comes about a week after Treasury secretary said US may run out of money by June 1
President Joe Biden will sit down with all four Congressional leaders at the White House on Tuesday as the country's financial markets anxiously watch to see if Washington can break through partisan gridlock on the U.S. debt limit in time to avoid a potentially catastrophic default.
It will be the first time Biden meets with House Speaker Kevin McCarthy, R-Calif., House Minority Leader Hakeem Jeffries, D-N.Y., Senate Majority Leader Chuck Schumer, D-N.Y., and Senate Minority Leader Mitch McConnell, R-Ky., all together since they all took their current roles.
And it comes a little more than a week after Treasury Secretary Janet Yellen warned that the federal government could run out of money to pay its debts as early as June 1.
"The most realistic thing that can some out of Tuesday's meeting is agreement to increase the debt along with spending caps for at least two years. This has been part of almost every debt limit bill passed in the last 10 years," Paul Winfree, of the Americans For Prosperity advisory board and former Trump administration budget policy director, told Fox News Digital.
HOUSE PASSES MCCARTHY'S DEBT CEILING BILL BY TWO VOTES; FOUR REPUBLICANS VOTE AGAINST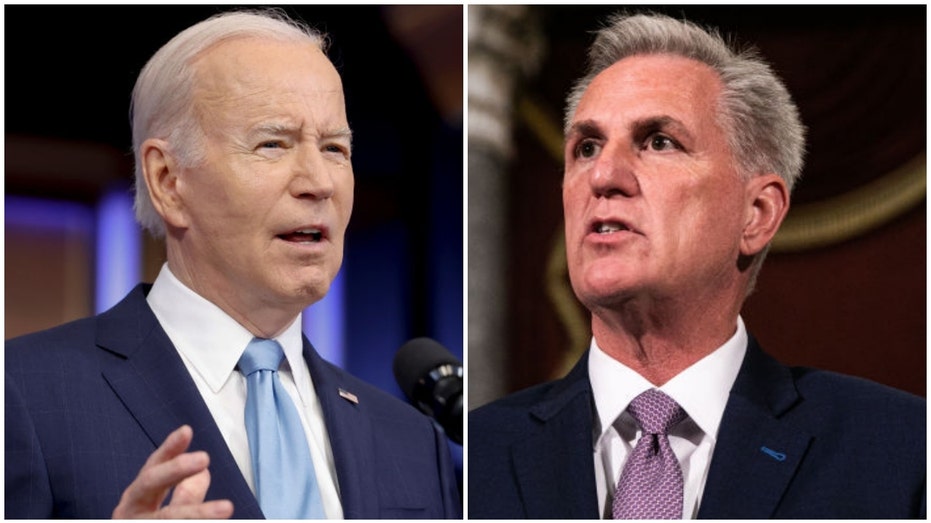 All eyes are expected to be on McCarthy and Biden as the main players in the political stalemate. McCarthy and the vast majority of congressional Republicans are refusing to allow a "clean" debt limit increase, insisting on pairing it with future spending cuts as Democrats argue that raising the borrowing limit is an obligation of the federal government rather than a point of negotiation.
McConnell has firmly pledged to take a secondary role, deferring to McCarthy and his chamber's recently passed Limit, Save, Grow Act. The legislation is designed to raise the U.S. debt limit through March 2024 or by $1.5 trillion while also enacting spending cuts that could reduce the outflow of federal dollars by $140 billion to $180 billion from this fiscal year to the next. 
SENATE REPUBLICANS, INCLUDING MCCONNELL, SAY DEBT LIMIT FIGHT IS BETWEEN MCCARTHY AND BIDEN
Schumer has dubbed the bill, "The Default on America Act," and said it would be dead on arrival in the Senate. Democrats have also said that the GOP's proposed cuts would gut critical agencies like the Department of Veterans Affairs, something Republicans have denied.
But on the other side of the aisle, 43 GOP senators – including McConnell – signed onto a letter over the weekend to ensure that Schumer will not have the 60 votes necessary to move a clean debt ceiling hike through the upper chamber.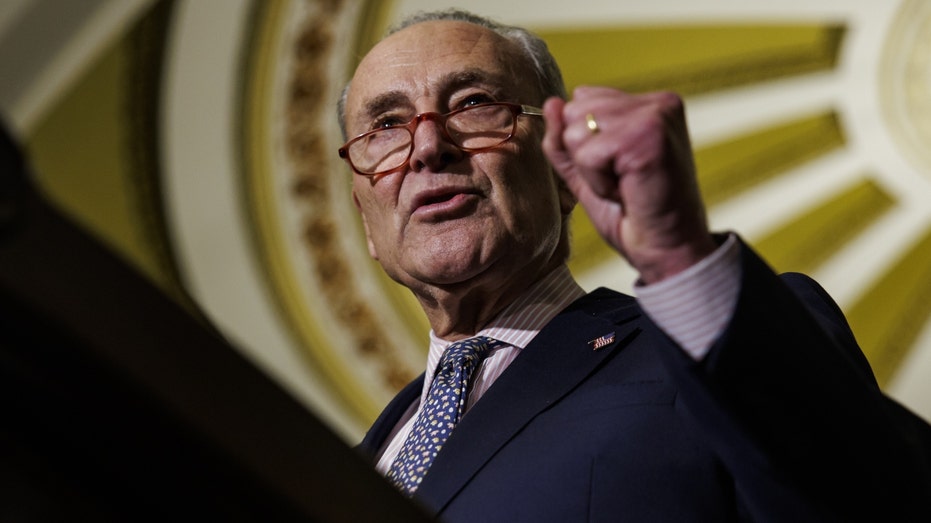 "Mike Lee's letter is extremely important because it proves that there is not a path in the Senate that doesn't involve the House majority's position on spending and budget reforms," Winfree said. "And the path through the House includes [fiscal year] 2022 spending levels for next year, allowing for modest growth in every following year." 
"This is an opportunity for the Congress and the White House to do something meaningful that would improve the economy … the bill passed by the House is a good step in the right direction," he said.
MCCARTHY AGREES TO MAY 9 MEETING WITH BIDEN TO RESOLVE DEBT CEILING STANDOFF
Cutting back to fiscal year 2022 levels is the cornerstone proposition of McCarthy's spending cuts, and a source familiar with debt limit talks argued it would be fair to assume that it would be the basis for any negotiation. It's not unreasonable to assume Republicans would also offer to lift that cap by whatever COVID-19 emergency funds were clawed back by the House GOP's bill as well, the source said.
"If I am McCarthy [or] I'm advising Biden on this … I tell them, 'Let's start with FY 2022. And then, ultimately, let's play with gains on [COVID-19 emergency fund] rescissions to make sure that we get enough Democrats in both the House and the Senate to get an eventual deal done,'" the source said.
But it's not clear how many of the other measures, including rescinding Biden's student loan forgiveness program and repealing IRS funding granted in the Inflation Reduction Act, could be cut from a bill without losing support from the sizable conservative flank in his conference.
Republican Study Committee Chair Kevin Hern, R-Okla., sent a letter to colleagues after the bill was passed to call on them to "safeguard the reforms in this package and memorialize its contents in law."
Hern told Fox News Digital on Monday, "We are just a few weeks away from a catastrophic disaster and Republicans are still the only ones who have done anything to stop it. Speaker McCarthy has a united party behind him – Biden has nothing but lies."
And while Fox News Digital's source believes a default will ultimately be avoided, they said the "most realistic" result from the meeting would be little more than a commitment for further action.
"The most important thing that can come out of [the meeting] is some agreement, by all parties, that … things need to get done," the source said.