Biden administration awards $2 billion loan to EV battery recycling company as US plays catch-up: report
EV battery recycling company awarded loan on a conditional basis.
The Biden administration awarded a $2 billion green energy loan to a Nevada company that recycles electric vehicle batteries, according to reports.
Recycling venture Redwood Materials, which was founded in 2017 by Tesla former chief technology officer Jeffrey "JB" Straubel, secured the $2 billion conditional loan from the Energy Department's Advanced Technology Vehicles Manufacturing program, according to the Associated press.
Jennifer Granholm, the energy secretary, made the announcement in Nevada at Redwood's facility, along with Gov. Joe Lombardo.
REDWOOD MATERIALS JOINS ELECTRIC VEHICLE, BATTERY TREK TO SOUTH CAROLINA
"This region is leading the way to a broader story of what is happening in the country," the energy secretary said.
During the announcement, Granholm referenced a map of 80 battery companies expected to expand or open in the U.S., in response to Biden's 2021 infrastructure law and climate law he signed in 2022.
One of the major goals of the Biden administration is for the U.S. to establish an electric vehicle supply chain of its own and getting battery recycling operations in place are expected to help move the president toward an even bigger goal of moving away from gas-powered vehicles to counter climate change. The United States would also need to substantially increase lithium mining. The US is currently home to just one lithium mine operation, in Nevada. By most estimates, China controls about 60% of the world's lithium mine operations and manufactures more than 70% of the world's lithium batteries. 
ELECTRIC FORD F-150 LIGHTNING PRODUCTION INCREASED WITH THIRD SHIFT
The Energy Department said the conditional commitment demonstrates an intent to finance the project, but several steps remain before the loan can be approved, according to the AP.
In December, Redwood Materials set up shop in South Carolina's growing community of electric vehicle and battery manufacturers.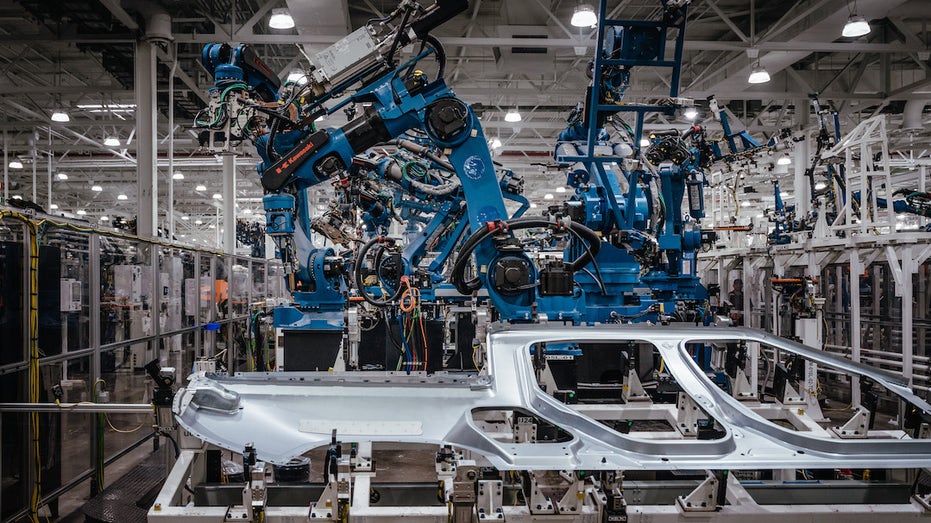 The company said it is planning to build a $3.5 billion battery materials campus in Ridgefield that will recycle, refine and remanufacture cathode and anode materials such as nickel, cobalt, lithium and copper.
HYUNDAI LAUNCHING ELECTRIC VEHICLE SUBSCRIPTION PROGRAM FOR $699 PER MONTH
Anode and cathode components, which make up most of an EV battery's cost, are not yet produced in North America.
Several companies have announced plans to make anode and cathode components in North America by mid-decade, to take advantage of incentives built into the U.S. Inflation Reduction Act.
The Ridgefield facility aims to begin recycling late next year and ramp up component manufacturing capacity to 100 gigawatt-hours by 2025 — enough to supply battery materials for more than a million electric vehicles, the company said.
GET FOX BUSINESS ON THE GO BY CLICKING HERE
The Ridgefield facility is expected to supply battery materials to Ford Motor and SK On in Kentucky, Toyota Motor in North Carolina and Volvo and Envision AESC in South Carolina.