Holiday travel tips: How to save on airfare
Thinking about visiting friends or relatives for Thanksgiving and Christmas? If you plan on flying, you might want to book your ticket soon.
While prices have started out much higher this year compared to last, fares have begun to drop, as the "sweet spot" for booking holiday travel – Halloween – nears. The cost of airfare is likely to change, on average, more than 100 times between now and Thanksgiving, and more than 150 times between now and the Christmas holiday season. Typically, ticket prices increase as those days near.
"One of the things from the airline's point of view is that they know people are going to travel for these holidays," Patrick Surry, chief data scientist at Hopper, a mobile app that uses big data to predict and analyze airfare, told FOX Business. "It's not like you're going to skip Thanksgiving for a few extra dollars on your plane ticket."
Here are the best times to book a seat on an airline and the best ways to save on airfare this holiday season, according to Hopper.
Thanksgiving
For customers traveling for the Thanksgiving holiday and looking to save the most money, the best day to leave is the holiday itself – Thursday, Nov. 22 – and return Wednesday, Nov. 28. Passengers who don't want to travel on Thanksgiving Day should travel on Monday, Nov. 19, which is the next-cheapest day to fly.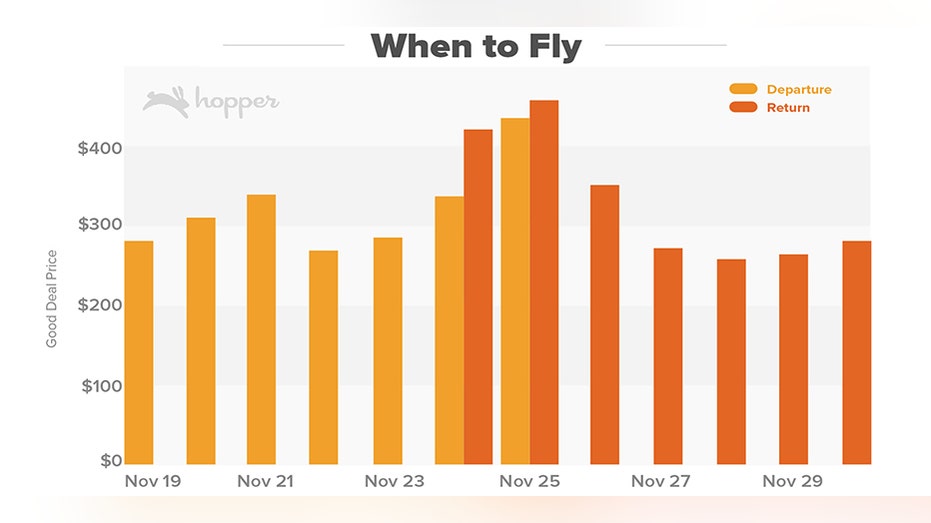 The best day to book travel for the Thanksgiving holiday is before the week of Halloween, as prices will start to spike in November. Flyers last year were able to find the best deals in late September.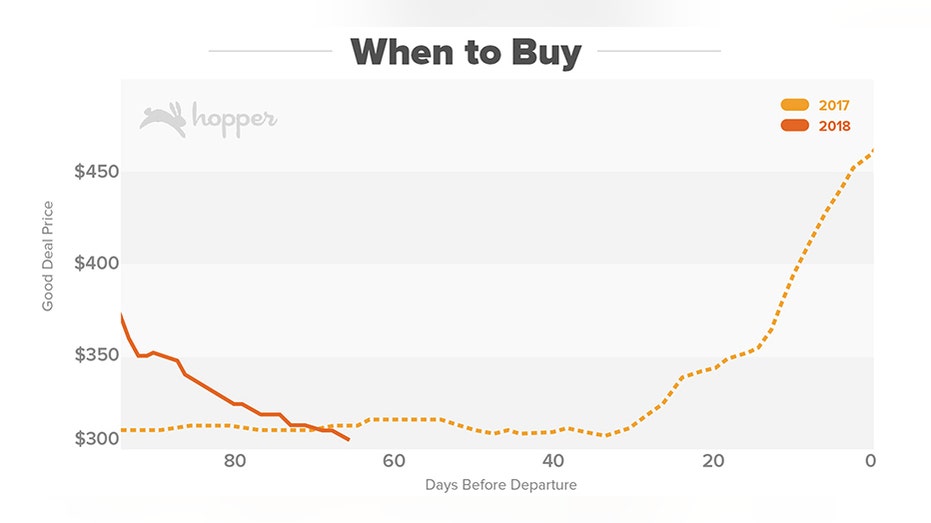 Hopper predicts the average ticket price will change 102 times between now and Thanksgiving. That number could be even greater (170) if traveling to a more popular destination like Los Angeles, New York and Orlando, Florida. Conversely, Charlotte, North Carolina, will have the fewest price changes before the holiday.
The top three most popular destinations for Thanksgiving 2018 are Los Angeles, New York and Newark, New Jersey. The current average for a round-trip flight for the Thanksgiving holiday is $288.
Christmas
Since flight prices for Christmas are inclined to rise at a steadier rate than for Thanksgiving, customers should book their flights for the holiday before they choose their ticket for Turkey Day travel, according to Hopper.
Flyers can save the most money by departing on Tuesday, Dec. 18 and returning Thursday, Jan. 4. Those looking to return prior to the New Year can find the next cheapest day to return on Thursday, Dec. 27.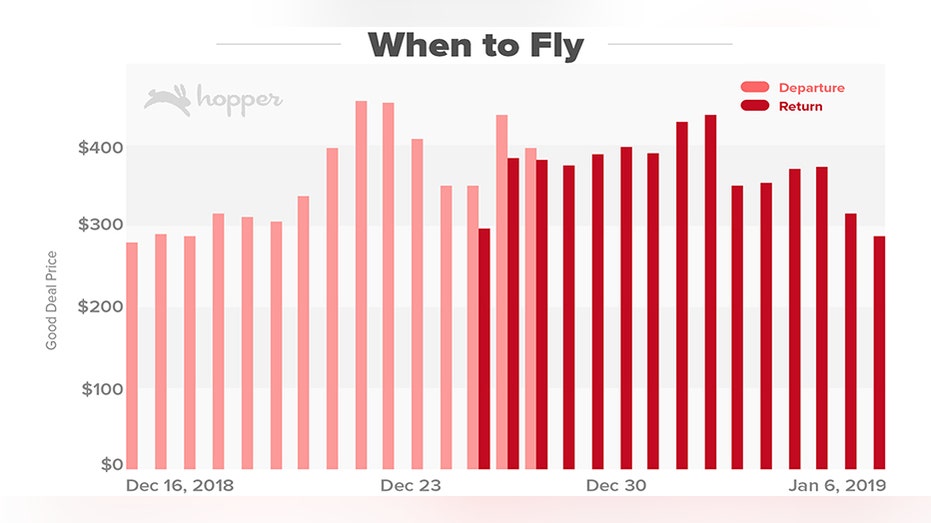 The average ticket price for a flight between now and Christmas will change 152 times, according to Hopper, which will increase to 250 times if a popular destination is selected. The routes with the most price changes before Christmas are Los Angeles; Fort Lauderdale, Florida; and Orlando, Florida.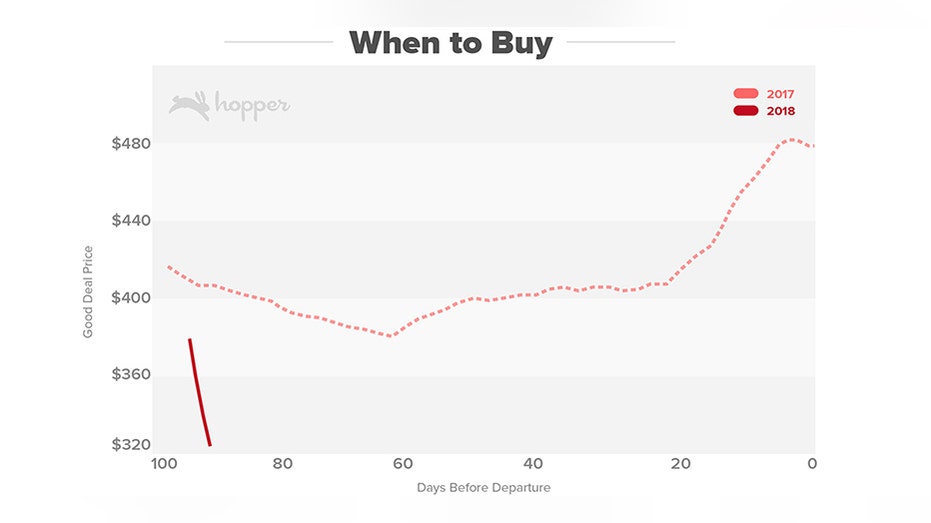 Charlotte is also the city with the fewest price changes for Christmas flights during the same period.
The top three most popular destinations for Christmas travel are the same as Thanksgiving: Los Angeles, New York and Newark. Prices for domestic flights this Christmas currently average $320 round-trip, which is down nearly 15 percent from last year.
Booking last minute?
If you're a traveler who ends up booking a flight last minute, not all hope on finding a decently-priced ticket should be lost. Since tickets are already expensive during the holidays, customers probably won't be paying much more if they book closer to the date of the flight, according to Surry.
"There's a little bit less of a penalty than for a less-popular time of year when the last-minute tickets are getting sold to a business-type traveler," Surry said. "But they do start increasing a lot – $3 or $4 a day in the last few weeks before travel typically. The less you can put it off the better."