Consumer credit increased by nearly $5 trillion
Here's how to pay down debt like credit cards and student loans quickly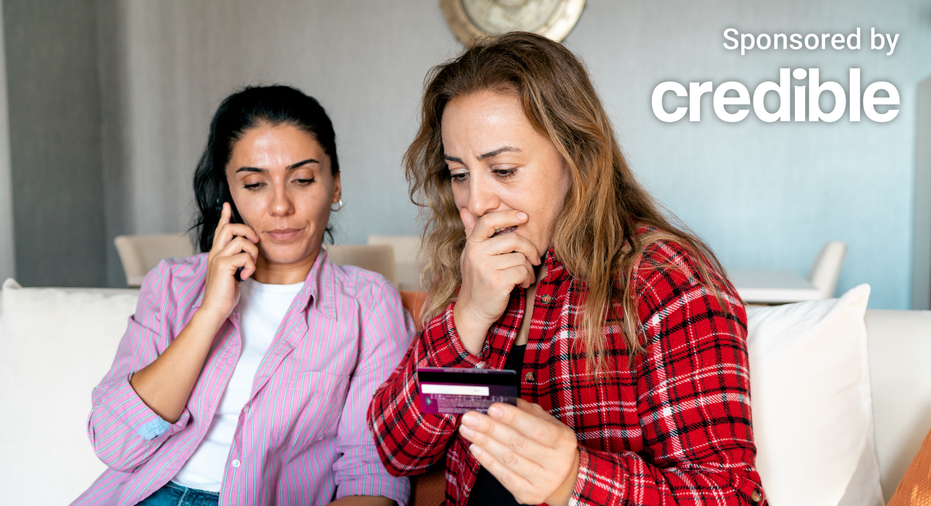 Total consumer credit increased at an annual rate of 2.5% in July to reach about $4.98 trillion, according to the latest data by the Federal Reserve. Revolving credit including credit cards increased at an annual rate of 9.2%. Nonrevolving credit such as personal loans increased at an annual rate of 0.2%. 
"Revolving credit growth remains high despite the modest drop," Curt Long, the NAFCU's vice president of research and chief economist, said in a post. "This is prompting fears that stresses may arise at the household level due to greater borrowing in a higher interest rate environment."
However, there remains a significant disparity across interest rates when it comes to credit cards and personal loans. 
The average credit card interest rate as of the second quarter of 2023 was 20.68%, according to the Fed report. That represented an increase from 15.13% in the second quarter of 2022. Meanwhile, the average personal loan interest rate is 11.48%, according to the most recent data by the Federal Reserve Bank of St. Louis. 
Still, consumers have been turning to credit cards amid high inflation. In fact, Americans depend on credit cards more than ever. Two in five American credit card holders said they have never been more reliant on their credit cards than now, according to a survey by Quicken. And 38% said they'd likely need their credit cards to cover expenses they weren't using these for.
Even though many Americans are resorting to credit cards to make ends meet amid the heightened cost of basic goods, many believe they'll struggle to pay off the added debt. More than a third (35%) of Americans said they will likely max out at least one card before the end of 2023, the Quicken survey said. 
"Our research shows an economic divide that is widening among Americans – there is a large group of hard-working people who are still struggling financially," Quicken CEO Eric Dunn said in a statement. "I'm troubled by the compounding problems facing this group – many of them are living paycheck to paycheck and relying on credit cards they may not be able to afford."
If you're struggling with high-interest credit card debt, you could consider paying it off with a personal loan at a lower interest rate, which could lower your monthly payments. Visit Credible to speak with a personal loan expert and get your questions answered. 
CREDIT CARD DEBT SURPASSES $1 TRILLION FOR AMERICANS: NY FED
Americans weigh credit cards to manage student loan payments
Outstanding student loan debt increased to about $1.76 trillion in the second quarter of 2023, according to the Fed report. That marked an annual increase from about $1.74 trillion.
And this October, millions of borrowers will see their first student loan bill after a three-year pause on federal student loan payments. For 33% of Americans, that would increase monthly debt obligations by at least $1,000 per month, according to a survey by Empower. 
That sharp jump is pushing 32% of borrowers to consider using credit cards to cover student loan payments. 
The average federal student loan debt balance is $37,718, according to research by EducationData.org. And this is how Americans across generations expect to manage student loan debt, according to the Empower survey. 
26% of Americans said they're very likely to delay buying a home once payments restart, including 30% of millennials, 24% of Gen Z and 23% of Gen X
37% of Gen Z said they may trade in their car
38% of millennials and 49% of Gen Z said they'd likely consider moving in with roommates
To help borrowers manage upcoming student loan payments, President Joe Biden has announced federal initiatives such as the Saving on A Valuable Education (SAVE) plan, an income-driven repayment (IDR) plan that could lower monthly payments to zero for many borrowers. 
But if you hold private student loans, you won't benefit from any federal student loan programs. You could consider refinancing your loans to a lower rate, which could help you lower your monthly payments. Visit Credible to compare your options without affecting your credit score. 
HERE'S HOW TO LOWER YOUR MONTHLY STUDENT LOAN PAYMENTS
How to pay down debt quickly 
Even though Americans have collectively amassed more than $1.7 trillion in debt, there are many ways to pay down debt quickly. Here are some examples. 
Personal loans: A personal loan can help consumers pay off debt ranging anywhere from a couple of hundred dollars to a couple of hundred thousand dollars. And while credit card interest rates can hover above 20% today, personal loan interest rates could be as low as 4.60%. Personal loans are often paid off with fixed monthly payments called installments. The repayment term can last as long as five years. 
Balance transfer cards: People with significant amounts of credit card debt can opt for balance transfer cards. These allow consumers to transfer credit card balances to a new card that typically offers a grace period in which the balance takes on no interest. This allows cardholders to pay off their balances by making monthly payments with zero interest. These payment terms can last up to a year. 
Student loan refinance: Those with private student loans could refinance their debt into a new loan with a lower interest rate, which could reduce monthly payments. And while private student loan interest rates can be as high as 16.2%, according to data by BestColleges.com, student loan refinance rates can be as low as 4.85%.
If you're ready to pay off high-interest debt with a personal loan at a lower interest rate, you could visit the Credible marketplace to get your personalized rate in minutes. 
NEARLY HALF OF AMERICANS SAY INCOME IS NOT KEEPING UP WITH INFLATION: TRANSUNION
Have a finance-related question, but don't know who to ask? Email The Credible Money Expert at moneyexpert@credible.com and your question might be answered by Credible in our Money Expert column.