Americans consider using credit cards to afford student loan payments: survey
Some Americans consider taking on a second income to afford student loan payments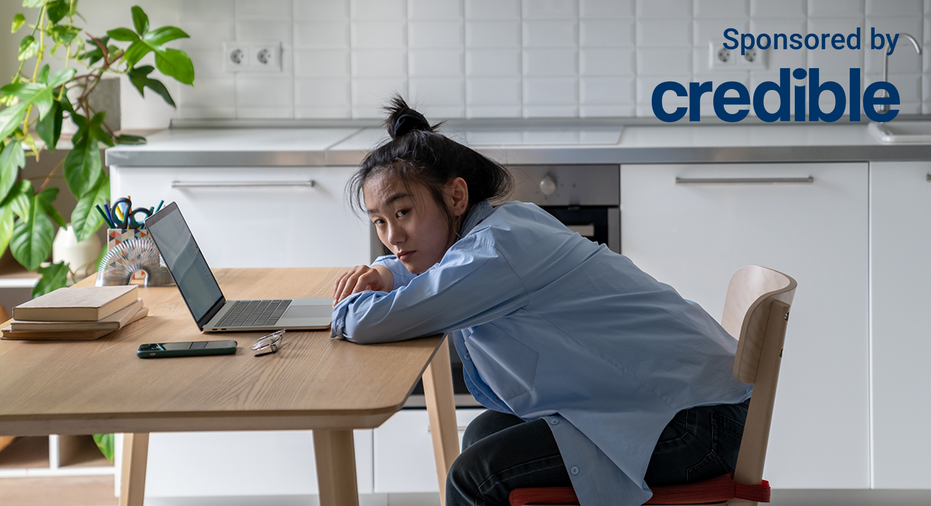 Many Americans are bracing for the impact of resuming student loan payments in October, with 33% expecting their monthly debt obligation to spike by $1000 a month, according to a recent survey by Empower.
The additional payment may push 32% of Americans with student loan debt to take on more credit card debt at a time when balances are growing, the survey said.
Besides taking on more debt, 38% of millennials and 49% of Gen Z said they were likely to consider moving in with roommates to absorb the additional cost of student loan payments, according to the survey. While 37% of Gen Z respondents also said they may have to trade in their car. 
Additionally, 1 in 5 Americans said they would likely have to take on a second income to afford the payment.
"Anyone who's had a hefty expense removed from their budget can attest to the challenge of squeezing it back into their monthly cash flow," Empower said in its survey. "It can sting, and it requires tradeoffs. Such is the reality now faced by the 43.8 million federal student loan borrowers whose debt has been put on forbearance since early 2020 as part of pandemic-relief measures."
If you have private student loans, refinancing at a lower interest rate could help you reduce your monthly payments and repay your loans faster. Credible can help you find your personalized interest rate without affecting your credit score.
THESE TWO FACTORS COULD BE DRIVING YOUR CAR INSURANCE COSTS UP
Many used breaks to pay off credit card debt
Nearly one third (31%) of Americans said they spent the money they would have allocated to student debt payments to pay down credit card debt, save up for discretionary spending and build up their emergency savings, according to the survey.   
Millions of federal student loan borrowers had their debt payments and interest rates paused for over three years under the Department of Education's COVID-19 student loan forbearance program – the CARES Act. 
Roughly 34% to 76% of borrowers will likely miss their first required federal student loan payment, according to a recent VantageScore report. The average credit score could take a hit of between one and nine points.
In June, the Supreme Court upended President Joe Biden's plan to cancel up to $10,000 in federal loans per borrower making less than $125,000 a year (couples making less than $250,000) and up to $20,000 per borrower for those who used Pell Grants in college, eliminating about $441 billion in outstanding student debt. 
If you hold private student loans, you won't be enrolled in a federal income-driven repayment plan, but you could refinance your loans to a lower rate. Visit Credible to compare options from different lenders without affecting your credit score.
MORE STUDENTS TURNING TO FEDERAL AND PRIVATE STUDENT LOANS TO FINANCE COLLEGE: SURVEY
Income-driven repayment plans may help reduce debt
Borrowers should prioritize investigating the several updated repayment plans and expanded student loan forgiveness programs offered by the Department of Education. Check out the options available at studentaid.gov. 
For example, some student loan borrowers may get major relief under Biden's recently announced Saving on a Valuable Education (SAVE) plan. 
The income-driven repayment (IDR) plan could lower borrowers' monthly payments to zero dollars or save those who make payments at least $1,000 a year, the White House said in a statement.  
That means that for those earning $32,800 a year or less, which translates to roughly $15 an hour, their monthly payment would drop to $0 immediately.  
The program promises at least $1,000 a year savings for borrowers earning above that threshold compared to other IDR plans.
Additionally, borrowers with an original balance of $12,000 or less will receive forgiveness of any remaining balance after making 10 years of payments, with the maximum repayment period before forgiveness rising by one year for every additional $1,000 borrowed.  
"You may want to refinance with a private company if you're able to lower your interest rate for a more manageable monthly payment," Empower said. "Look into plans with the lowest fixed rates, and consider avoiding refinancing into an adjustable rate."
Borrowers with private student loans could find relief by refinancing to lower their monthly payments. Visit Credible to find your personalized interest rate without affecting your credit score. 
HOMEBUYERS ARE FINDING BETTER DEALS IN THESE CITIES, SURVEY SAYS
Have a finance-related question, but don't know who to ask? Email The Credible Money Expert at moneyexpert@credible.com and your question might be answered by Credible in our Money Expert column.