Thanksgiving Day shopping frenzy tops record with $4.1B spent
Shoppers weren't slowed down at all by their huge turkey feasts.
Shoppers on Thursday weren't slowed down one bit by their huge turkey feasts.
Consumers spent a staggering $4.2 billion online on Thanksgiving, a 14.5 percent from last year and a record high, according to new figures published by Adobe Analytics on Friday. This marks the first time that Thanksgiving shopping has surpassed $4 billion.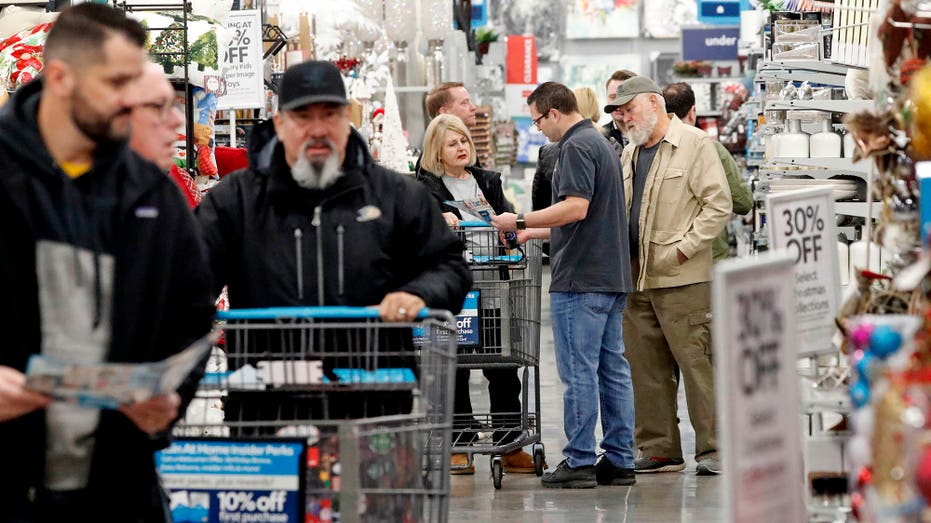 In total, e-commerce behemoths saw a 244 percent boost in sales on Thanksgiving, while smaller retailers experienced a 61 percent jump.
Phones played a huge role in the spike in Turkey Day shopping: Overall, nearly half of the revenue -- 44.9 percent -- stemmed from people's smartphones, a 24.4 increase over last year.
GET FOX BUSINESS ON THE GO BY CLICKING HERE
"Thanksgiving ... has fast become a favored day by consumers for accelerating their holiday spending and shopping efforts," Jason Woosley, vice president of commerce and platform at Adobe, said in a statement. "Don't expect the momentum to slow down anytime soon."
Black Friday sales are on track to hit $7.4 billion; as of 9 a.m. ET on Friday, shoppers already spent $600 million online, representing a 19.2 percent increase from last year.
BLACK FRIDAY SMART TV BUYERS SHOULD TAKE THIS FBI CYBERSECURITY ADVICE
The full holiday season -- which is six days shorter than is typical, because Thanksgiving fell on the fourth Thursday in November, the last possible date it could be -- is expected to bring in $143.7 billion in online spending. That's a 14.1 percent increase compared to 2018.
Boscov's, the largest family-owned department store chain in America, saw "very healthy" sales increases on Thursday evening and Friday, CEO Jim Boscov told FOX Business.
The company, which has more than four-dozen stores across the mid-Atlantic, has worked hard to shield shoppers from rising costs, a result of the billions of dollars stemming from the U.S.-China trade war.
"So much of the year's business is done in these few weeks" that it's important to limit price increases in the period as much as possible, Boscov said. Some of the levies could be avoided by placing orders before they took effect, he said, and suppliers sometimes absorbed the impact if their profit margin was sufficient.
"We push back as hard as we can," Boscov said. "There are a few instances where we've seen prices go up a little bit, but we're resisting it. We know that every customer is conscious of price, and the last thing we want to do is pass something extra on to the customer."
More than half of consumers said they already began shopping, making almost a quarter of purchases, according to a survey released by the National Retail Federation and Proper Insights & Analytics.
"This is further evidence that the holiday season has grown far beyond the period between Thanksgiving and Christmas," NRF President and CEO Matthew Shay said in a statement.
CLICK HERE TO READ MORE ON FOX BUSINESS
James Langford contributed to this report