Coronavirus Phase 4 stimulus could be done piecemeal, GOP package coming Monday: Mnuchin
White House negotiators have been working with Senate Republicans on "technical issues" in the package this weekend, Mnuchin tells host Chris Wallace
Treasury Secretary Steven Mnuchin told "Fox News Sunday" that a Republican version of a coronavirus Phase 4 stimulus bill will be introduced Monday.
"This is all about kids and jobs," Mnuchin said. "This is our focus, and we want to make sure something gets passed quickly, so that we deal with the unemployment, and all the other issues like Paycheck Protection Plan, tax credits, rehire people and money for schools."
White House negotiators have been working with Senate Republicans on "technical issues" in the package this weekend, Mnuchin told host Chris Wallace. The updated stimulus package comes after the $1 trillion proposal fell through just days before.
PELOSI DRAWS LINE IN STIMULUS TALKS, SAYS HOUSE WON'T ACCEPT SHORT-TERM EXTENSION OF UNEMPLOYMENT BENEFITS
He also suggested that some thornier issues could be kicked down the road to a Phase 5 or 6 bill.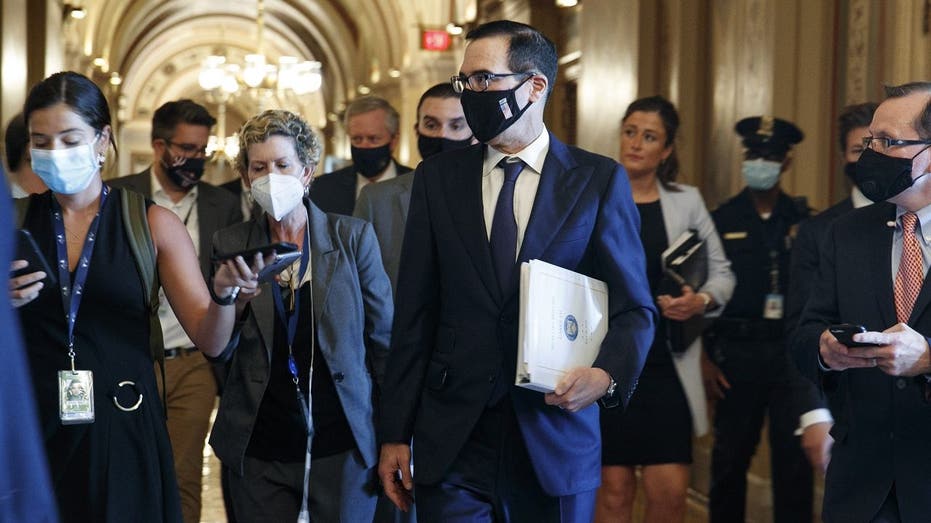 "Within the trillion-dollar package, there are certain things that have a timeframe that are a bigger priority, so we could look at doing an entire deal, we could look at doing parts," Mnuchin said.
Higher-priority issues, he said, are expiring unemployment benefits giving more money to people at home than at work and liability protection for schools and universities that the administration wants to reopen.
MNUCHIN, KUDLOW IN EPIC CLASH OVER NEXT STIMULUS PACKAGE
"We can move very quickly with the Democrats on these issues," the Treasury secretary said. "We've moved quickly before, and I see no reason that we can't move quickly again. And if there are issues that take longer, we'll deal with those as well."
The White House and Senate Republicans were racing to regroup after plans to introduce a $1 trillion virus rescue bill collapsed last week amid GOP infighting over its size, scope and details. It was expected to bring $105 billion to help schools reopen, new money for virus testing and benefits for businesses, including a fresh round of loans, tax breaks and a sweeping liability shield from COVID-related lawsuits.
MORE THAN 1.4M AMERICANS FILED FOR UNEMPLOYMENT BENEFITS LAST WEEK
Mnuchin is pushing for a federal unemployment benefit that pays people around 70 percent of their lost wages, instead of extending weekly unemployment bonus of $600, which Republicans say provide a disincentive to return to work.
He assured reporters on Capitol Hill Saturday that President Trump will "absolutely" support the GOP package.
The round of stimulus will tap into the trillion to a trillion and a half still left to pump into the economy, tacking onto the $3 trillion that has already been passed.
CLICK HERE TO READ MORE ON FOX BUSINESS
The Associated Press contributed to this report.