TikTok's newest trend 'deinfluencing': A hoax, or a tool to combat overconsumption?
One social media user said she laughed when she first encountered the trend
"Deinfluencing" is taking over TikTok and many see the trend as an authentic contrast to the commercialized ads produced by social media stars who encourage their followers to buy products they are getting paid to promote, but some critics see the trend as simply another form of influencing. 
Deinfleuncers discourage people from buying products that have typically seen widespread social media exposure and popularity, arguing they aren't worth the hype. Amid inflation and a looming economic turndown, many users have gone viral for encouraging consumers to spare their wallets and keep their hard-earned cash. 
The #deinfluencing hashtag on TikTok has garnered over 180 million views in recent weeks, which many viewers and TikTok creators see as a positive way to combat controversy surrounding false advertising and inauthenticity on social media. 
HOW TIKTOK'S 'HOT BEST FRIEND' ALIX EARLE EARNS LUCRATIVE BRAND DEALS, CAUSES PRODUCT SALES TO SKYROCKET
One TikTok creator, @artistrybyhan, said she was "lowkey enjoying the deinfluencing trend" and took to the platform to share all the products she would not be buying, "no matter how much she sees them on TikTok."
She went after popular beauty brands like Dior, Charlotte Tilbury and Anastasia Beverly Hills.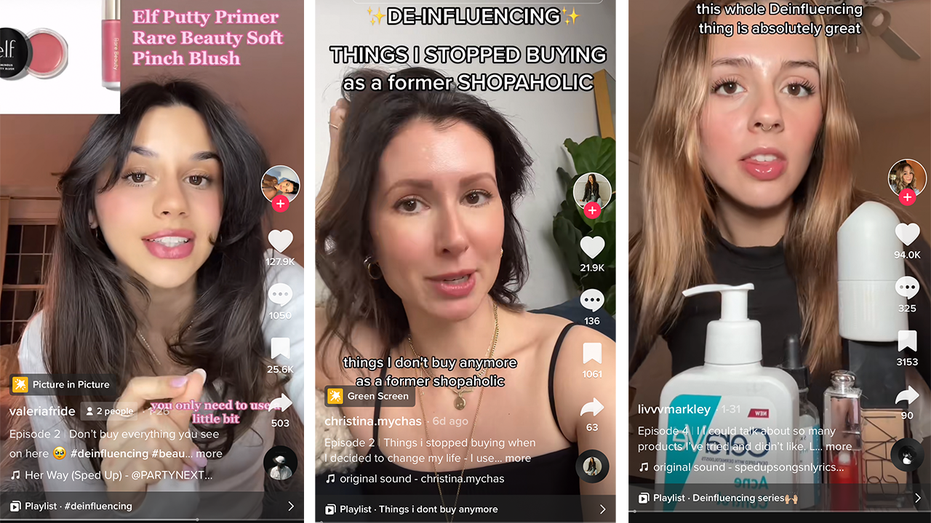 "I have blushes from small businesses for like 10 pounds, and they are beautiful, they are gorgeous, and I would much rather buy from them than give my money to Dior," she said of the brand's Backstage blush. "Plus, they're not cruelty-free."
Some users pushed back against cult-favorite brands, like Kim Kardashian's shapewear and clothing brand, Skims, which TikTok creator @thethrifythinker, criticized in a recent video, slamming the celebrity for her purported unethical business practices. 
"I don't know why anyone's still buying from Skims when there are so many better, ethical and sustainable alternatives, and they're literally the same price point as well," she said. "There are literally so many brands that need your support more than a billionaire who doesn't pay her workers when they work overtime."
TOP JUSTICE DEPARTMENT OFFICIAL WARNS AGAINST USING TIKTOK: 'WE NEED TO BE VERY CONCERNED'
Kahlea Nicole Wade, a brand collaboration coach and content creator on TikTok, told Fox News Digital that when she first saw the deinfluending trend she laughed. 
"The majority of what it has become is kind of a hoax in my opinion" she said. "I think originally it started very innocent and the overall point of deinfluencing was kind of telling people what products not to buy to avoid overconsumption and really to save money because TikTok is known for creating these viral videos of trending products."
In another take on the trend, TikTok creator, @overcoming_overspending made a 4-minute-long video of things that "social media convinced us are normal but aren't."
"The overconsumption on this app is absolutely wild, and I want you to know that if your life does not look like the lives of the influencers that you see on this app, it is okay," she said in the video. "There is absolutely nothing wrong with you. There is nothing wrong with your life."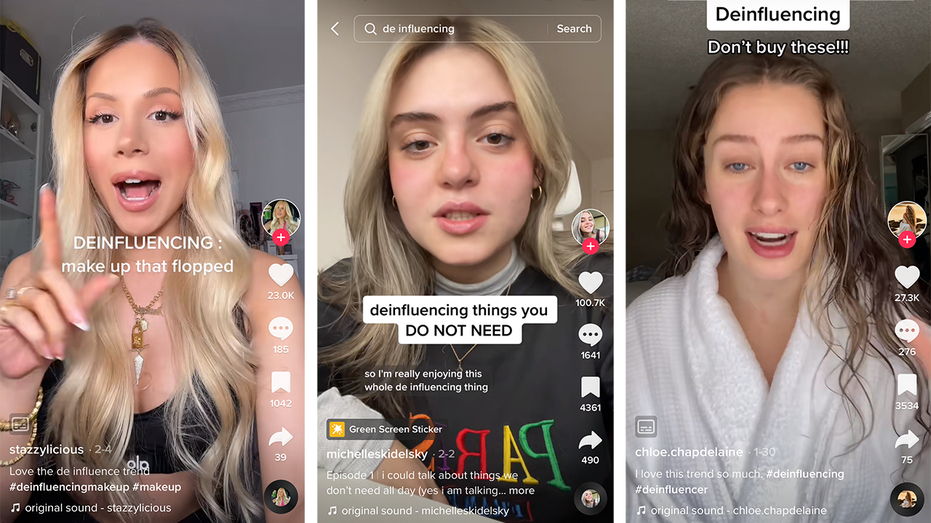 Sustainability-focused TikTok creator @impactforgood_ has made a name for herself through her deinfluencing videos that criticize the phenomenon of "overconsumption."
"I love the deinfluencing trend because TikTok is literally the most wasteful app I've seen in my whole entire life, but it's great because this trend brings a lot of awareness to the overconsumption that this app produces and I feel like thousands of people all of a sudden don't want to contribute to that overconsumption anymore," she said. 
Although, Wade said she believes the trend is simply just another form of influencing. 
BEAUTY INFLUENCER ACCUSED OF STEALING AFTER USING HAIR PRODUCT DESIGNED FOR BLACK WOMEN
"The problem that I've seen is telling people what not to buy is influencing just as much as telling people what to buy is," she said. "I've seen a lot of videos start with like, 'Hey, don't buy this,' but as the video goes on, it turns into, 'This product wasn't worth the hype, but this product is.' Any of that kind of verbiage or promotion is still influencing because it's still encouraging people to get a certain product."
She admits that the deinfluencers might not be promoting a trending product, but the new product that they endorse instead becomes the latest must have item flying off the shelves. 
"I think people are really drawn to the deinfluencing trend because it's more so focused on true authenticity, true honesty, because you know someone isn't getting directly paid to talk about a product, but I don't think deinfluencing is the right word unless you're truly going into a video and saying these products were not worth the hype or not worth the money, period," Wade said. "No recommendations or suggestions."
Courtney Spritzer, the Co-Founder & CEO of Socialfly, a New York-based social media agency, said she sees the deinfluencing trend as a stark, but positive contrast to popular content TikTok has seen in the past like "TikTok Made Me Buy It" videos that touted viral products made famous through rave review videos on the app.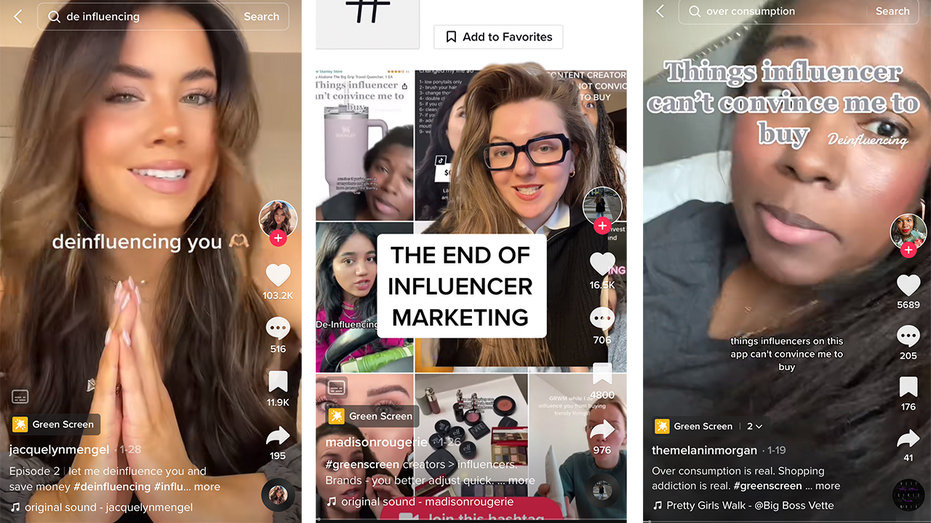 "'Deinfluencing' provides a more holistic view of certain products and services, enabling social media users to make more informed purchasing decisions," Spritzer said. "In a world where positive posts inundate our feeds, 'deinfluencers' have a unique opportunity to build deeper trust with their followers."
"For brands, we predict an even bigger impact on sales and awareness from great reviews, as positive, genuine content will stand out from the rest," she added. "That said, brands will be held to a higher standard than ever and will need to move beyond quick trends, and create products and services that actually move people."
Wade agreed that what people are really craving is authenticity and honesty, but she said she is worried about the ways brands could co-opt the trend. 
"I can't say I would be surprised if a brand hops on this trend from that angle and says, 'We want you to create a deinfluencing video that showcases what not to buy,' which is maybe one of their competitor's products and instead promotes their product," she said. "I could totally see that happening, [but] I haven't seen it yet."
CLICK HERE TO GET THE FOX NEWS APP
"There's a line that's been drawn in the sand, I would say since 2020," she added. "People aren't falling for the same tricks they used to in influencer marketing. I just think the future is going to be how can we find that integrity? Where can we create that honesty and authenticity? The deinfluencing trend is really well intentioned, but it's just still coming back to influencing, which is what people are sort of having a problem with."