LARRY KUDLOW: The public agrees with Trump's policies
Kudlow goes after Bidenomics and its 'untruths'
In just a few moments, we're going to review Former President Donald Trump's recent NBC interview. When he had the chance – when he was able to break through the noise – Mr. Trump was able to outline a future agenda, much of it on the economy.   
He talked about getting inflation and interest rates down, especially by reopening the spigots for liquid gold, a.k.a. oil and gas, a.k.a. fossil fuels. One of his key points that gets overlooked is selling Liquefied Natural Gas, or LNG, to Europe and Asia. Even at lower prices with increased production, there'd be a revenue windfall for the U.S. – a windfall that could lead to reducing the federal debt burden and perhaps also the federal tax burden.   
Mr. Trump also thrashed Joe Biden's policies on electric vehicles, including electric trucks. He emphasized his economic successes, both pre-pandemic and post-pandemic and frankly, the public agrees with him.   
Joe Biden's economic approval is hovering around 35%. Donald Trump's economic approval runs at nearly 60%. The subject of Bidenomics wasn't specifically raised in the NBC interview, but let me fill in some blanks. Recent articles by former CEA chairs Kevin Hassett and Tyler Goodspeed and EJ Antoni from the Heritage Foundation all make important points about the absolute failure and the untruths regarding Bidenomics.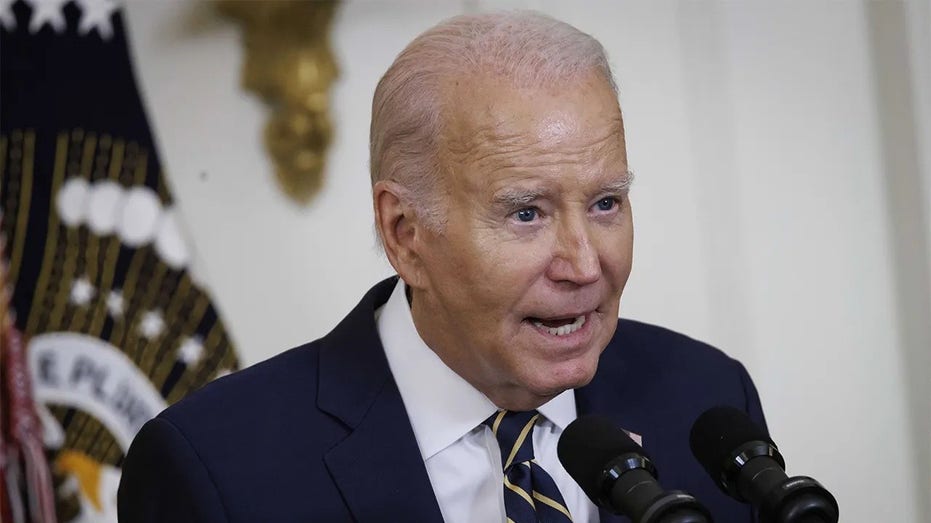 ELECTRIC AIR TAXI COMPANY JOBY AVIATION ANNOUNCES FACTORY IN DAYTON, OHIO, TO KICKSTART 'NEW ERA' IN FLYING 
President Joe Biden brags about manufacturing, where actual production on a year-over-year basis has dropped five consecutive months, plus the ISM manufacturing survey's been under 50 for 10 straight months. That's a clear future recession signal. Workers' real wages have declined nearly 3% during the Biden presidency. They rose by 7% under former President Trump.  With the latest CPI report, the level of inflation has gone up nearly 17% – groceries 20%, energy 38%, gasoline 52%.   
President Biden keeps bragging that he's cutting the budget deficit by $1.7 trillion – which is his infamous Bottomless Pinocchio – and this fiscal year '23, which ends this month, the deficit is expected to exceed $2 trillion.  Go figure.  Biden keeps blaming Trump's tax cuts for higher deficits and debt, but here in the NBC interview, the former president does set the record straight by pointing out that tax revenues went up even as tax rates went down under his administration.  Did anyone ever say "Laffer Curve?" 
Meanwhile, federal spending under Joe Biden is hovering near 25% of GDP, compared to less than 21% pre-pandemic under Trump. And, in fact, CBO spending estimates are running roughly $1 trillion above pre-Biden estimates.   
CLICK HERE TO GET THE FOX NEWS APP  
Finally, real median household income increased under Trump pre-pandemic by over $5,000, while falling $4,000 under Biden. Poverty data has ratcheted up sharply from 7.8% under Trump to 12.4% under Biden.   
For Black Americans, poverty has gone from 11.3% to over 17%. For Native Americans from 12.4% to 23.2%. For female-headed households from 11.7% under Trump pre-pandemic to 22.6% recently under Biden. No matter how much President Joe Biden denies these factoids, the public knows better. Save America. Please retire Mr. Biden.  
This article is adapted from Larry Kudlow's opening commentary on the September 18, 2023, edition of "Kudlow."