LARRY KUDLOW: Hunter Biden might finally face accountability
Hunter Biden's child support case could uncover financial records
So, Hunter Biden may finally be held accountable by a female judge deep in the Ozarks. The courthouse for Hunter's paternity lawsuit is located in Batesville, Arkansas, which, according to Wikipedia (pardon the phrase), 'serves as a regional manufacturing and distribution hub for the Ozark Mountain region and Northeast Arkansas.'  
I don't know folks if you've ever seen the wonderful TV series 'Ozark,' but it seems like it's a long way from Bel Air, California. Hunter Biden, welcome to Middle America.  Remember Obama's phrase— 'they cling to their guns or religion?' Well, Hunter, you've arrived.  
As you may know, folks, Hunter is vacationing in the Ozarks all because he's trying to cut down on his monthly payment to Lunden Alexis Roberts in child support for a 4-year-old daughter named Navy Joan Roberts.  She's the grand-daughter that President Joe Biden won't acknowledge. In fact, Hunter wouldn't acknowledge her either, but the truth came out in a DNA test a while back.  
LARRY KUDLOW: BLINKEN ENGAGED IN THE WORST SORT OF LYING POLITICS
Hunter is pleading poverty because he no longer owns a Porsche, which his lawyer Brent Langdon claimed was repossessed. Now, Hunter drives an unspecified car given to him by Hollywood lawyer Kevin Morris, who I guess owns the Bel Air mansion Hunter is now living in. Whether there's rent or it's just a gift, both the car and the mansion are taxable events. Just saying.  
Like most things about Hunter Biden, this story revolves around his laptop computer. The most famous electronic device on the planet. Go to any country, particularly those involved in American foreign policy, and they'll all know about Hunter's laptop computer.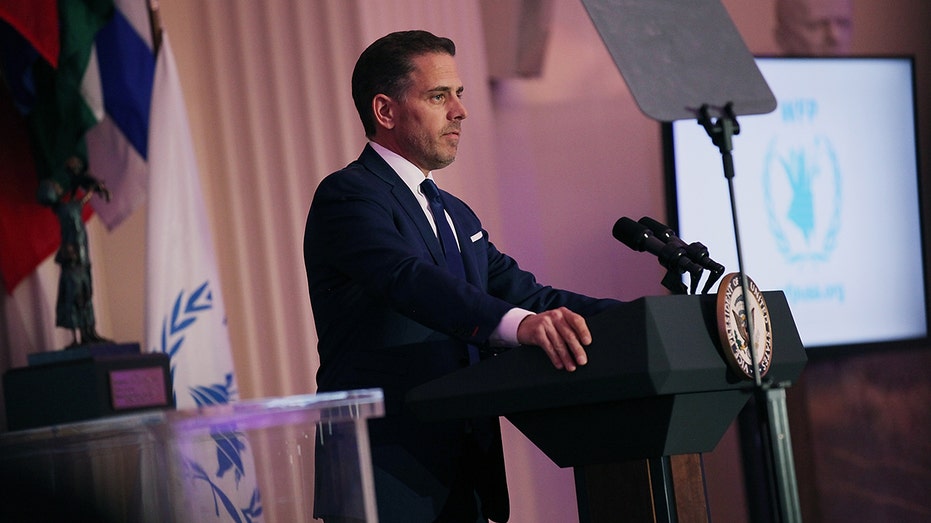 But the problem for Hunter is that to this day he has never acknowledged that he owns the Hunter Biden laptop that was found in a repair shop in Delaware. Judge Holly Meyer wants him to admit that he owns it, because she has a lot of important questions about his financial position.  
Hunter's mistress' lawyer— a fellow named Lancaster— wants to know about Hunter's art value, his salary, and employment for the past five years. Any funds from estates or foreign persons, or domestic persons or family members. Wants to know a reason from a promissory note from the aforementioned Hollywood celebrity lawyer Kevin Morris, and the defendants also want any documents regarding business with Chinese firms.  
Oops!! Bingo!! That's what we all want to know, isn't it?! The Chinese firms. You've got this BHR company— which is an offshoot of the Bank of China— which set up a Chinese investment company in which Hunter was a partner. And then there's Rosemont Seneca, and then there's Skaneateles. We'd all also like to know whether there's any Ukrainian money in Hunter's wallet from the Burisma natural gas company, where Hunter was also a partner.  
So far, because AG Merrick Garland is allegedly — I underscore, allegedly — slow-walking the Hunter Biden investigation being run by Delaware-based U.S. attorney David Weiss, a probe that's lasted almost five years, no one knows the information that the Ozark judge is asking for.  
But those Ozark people are a lot smarter than you think, folks. They know what to look for. Even if all those slick 'legalistas' up north can't seem to pull out the information. In fact, this Judge Holly Meyer may be the most important jurist in the country. And she is asking for discovery to be completed by May 23rd, just a couple of weeks from now.  
All of which leads me to one final point. 
That point is the current Secretary of State Antony Blinken, who quarterbacked the phony fraudulent gang of 51 former senior intelligence officers who wrote a letter denying the existence of Hunter's laptop, which, as I said, has become the most famous computer on planet Earth.  
Blinken was a Biden campaign dirty tricks political operative who concocted a lie to bail out Joe Biden for the second debate with President Donald Trump and the rest of the campaign. Former DNI director John Ratcliffe has just called for Blinken's resignation or even impeachment for his role in creating the fraudulent, lying letter.  
At this point, everyone acknowledges that Hunter Biden's laptop exists. It existed then, there was no Russian disinformation, but it was Antony Blinken disinformation. Basically, a cheap dirty trick. For which he should've never been appointed to the most senior office in the land.  
 CLICK HERE TO GET THE FOX NEWS APP 
I wonder if anyone's ever asked Blinken if it was, in fact, Hunter Biden's laptop computer? But, in a couple of weeks, the Ozark judge Holly Meyer is very likely to ask Hunter Biden in court if it was his laptop computer. 
And she may well follow that up with some questions about his finances.  
Think of that. Smart in the Ozarks.