Yellen: Rate Rise May be Appropriate 'in Coming Months'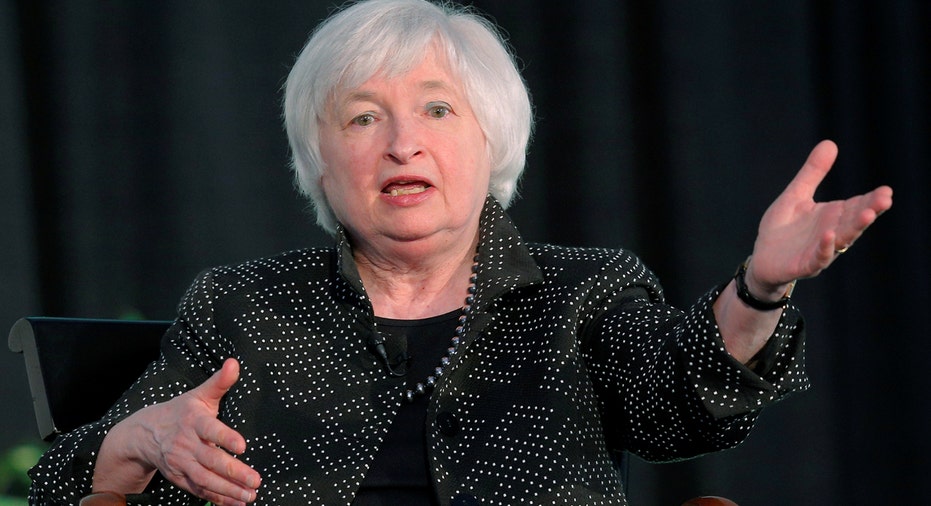 Federal Reserve Chief Janet Yellen said a move to raise interest rates may be appropriate "in the coming months."
Her remarks came Friday during a question-answer period at Harvard in Cambridge, Mass. ahead of her acceptance of the school's lifetime honorary achievement award, the Radcliffe Medal.
Yellen didn't shy away from commenting on current monetary policy, which has been a hot topic for Wall Street recently after minutes from the central bank's April meeting revealed policymakers adopted a much more hawkish tone than they had in the first three months of the year.
The Fed chief said that while the U.S. economy has been slow to recover from the financial crisis, "a great deal of progress" has been made. She cited the decline in the unemployment rate, which peaked at 10% and has since fallen back to 5% and the creation of nearly three million jobs over the last year.
"More generally the labor market by almost any metric you could use to evaluate it is really improved, labor force participation has moved up over the last year, which is an encouraging…I definitely think we've madea  lot of progress," she explained.
Still, Yellen cited areas in the economy that still need to see improvement and have been slow to recover. She pointed specifically to the number of workers who would like full-time jobs but can only find part time as being "unusually high," a lack of significant pickup in wages given the robust level of job creation in recent months, and inflation that continues to fall below the central bank's 2% target.
Further, she said economic growth has been "remarkably slow," averaging to about 2% for the last several years. Because of that, productivity growth, or the level of output per worker in the labor force, also continues to run low.
"Over the last five years, productivity growth has averaged only 0.5% per year and that's a really very miserable pace in historical context. Since productivity growth ultimately determines the pace of improvement in living standards in society as a whole, that's a serious  and negative development," Yellen said.
Still, Yellen said despite weak growth in the first quarter, which was Friday revised up to an annualized pace of 0.8%, economic indicators appear to be mostly positive.
Recent data, including consumer sentiment and retail sales, have shown consumers are gaining more confidence as the market and global economic tumult from the first quarter subsides, though savings rates still remain elevated. Meanwhile, figures on the housing mark have indicated a strong spring selling season is underway, as home sales data have jumped to multi-year highs.
However, weak spots still persist including low levels of durable-goods orders that exclude jet and transportation orders, while import prices and wholesale inflation drag.
Without a significant disruption in positive economic gains, Yellen said higher interest rates would be appropriate soon.
"We'll continue to monitor incoming data and also we'll assess risks to the outlook, but it's appropriate for the Fed to gradually and cautiously increase our overnight interest rate over time and probably in the coming months such a move would be appropriate," she said.