Yellen: I 'don't believe' we'll see another financial crisis in our lifetime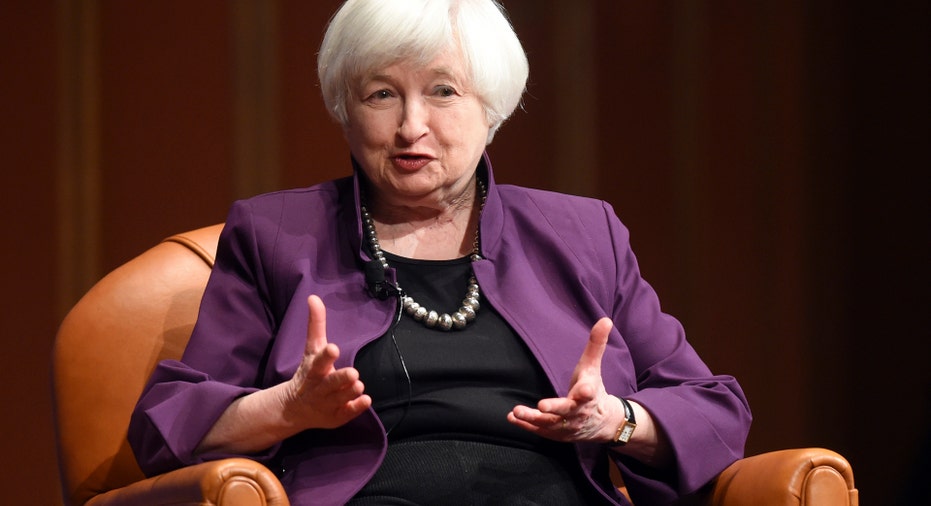 Federal Reserve chief Janet Yellen on Tuesday said thanks to a number of safeguards enacted in the wake of the 2008 financial crisis and subsequent Great Recession, she doesn't "believe" another financial crisis is looming on the horizon.
"Will I say there will never, ever be another financial crisis? No, probably that would be going too far. But I do think we're much safer and I hope that it will not [happen] in our lifetimes and I don't believe it will," she said.
Yellen's remarks came during a question-answer session in London with Lord Nicholas Stern, president of the British Academy, to discuss global economic issues. Yellen said the architecture of the financial system has changed in ways that has made it safer for all parties involved, citing a number of factors including the Fed's annual stress testing practices that simulate a crisis-like situation including significant swings in the stock market, a decline in home prices and a decline in the unemployment rate.
Last week, the first of two stress testing rounds showed 34 of the biggest U.S. banks like JPMorgan Chase (NYSE:JPM), Goldman Sachs (NYSE:GS) and Morgan Stanley (NYSE:MS) have the financial strength to survive the next global recession. The second round of results, called the Comprehensive Analysis and Review (CCAR), scrutinize bank's capital planning processes and are due out June 28 after Wall Street's closing bell.
Yellen said while the financial system is "much safer and much sounder," the Fed and other institutions are "doing a lot more" to look for possible risks that may not be readily apparent or not subject to strict regulation.
The Fed chief's comments come amid a move by President Donald Trump to ease onerous business regulations on American corporations under the Dodd Frank financial reform act enacted in the wake of the worst financial crisis since the Great Depression.  At the same time, some in the market worry stock-price valuations have become too rich – especially those of big-name technology companies including Google parent company Alphabet (NASDAQ:GOOGL), Amazon (NASDAQ:AMZN) and Facebook (NASDAQ:FB), all of which have hit record-high levels this year as the broader market has rallied on the back of Trump's promises for business-friendly policies like lower taxes and less regulation.