Will Popeyes Louisiana Kitchen Start Sizzling Again?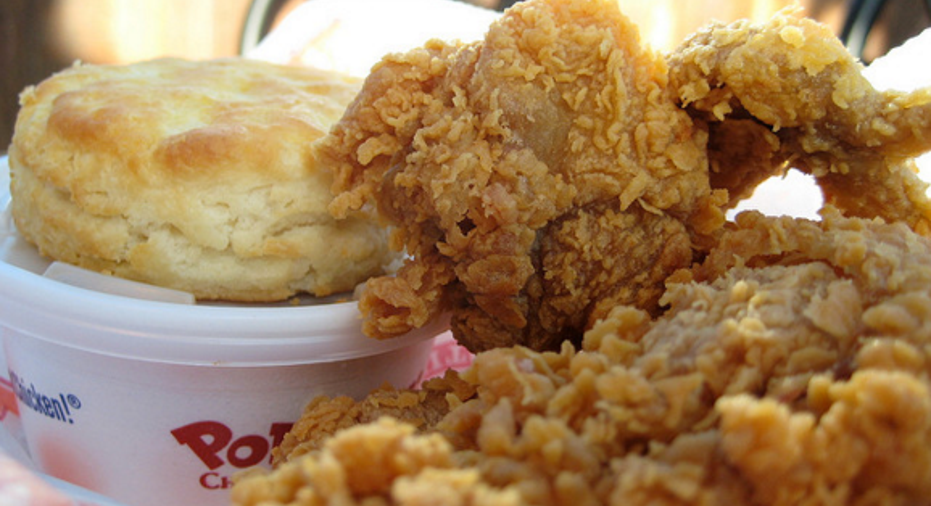 Popeyes' "Louisiana Fast" slogan and value proposition has played a part in the company's strong growth. Source: Popeyes.
Shares of quick-service restaurant Popeyes Louisiana Kitchen are down nearly 10% on a one-year basis. You can't blame the stock for taking a pause, however. Shares of the company are up nearly 250% in the past five years alone. A 2012 decision to embark on an aggressive domestic remodeling program has literally paid dividends in both domestic franchise sales and profitability levels.
After reinvesting money in the business, Popeyes management decided to return cash to shareholders. In 2014, the board of directors approved the company to buy up to $100 million in shares. This year the company repurchased $62 million of shares, following $40 million in repurchases last year. Wall Street appears to be bullish on the chicken restaurant's path forward, with the median price target from analysts surveyed by Thompson Reuters currently at $64.50 per share, more than 23% above today's current price.
Let's discuss Popeyes' fourth-quarter reportThe growth story hit a snag in the company's recently reported fourth quarter. Investors were somewhat spooked after reporting a lower-than-expected rise in global same-store sales of 2.8%. The domestic number of 2% was particularly low when compared with the 5.6% growth the company produced in U.S. sales last quarter.
Image source: Flickr/jwalsh.
Unlike other chicken quick-service restaurant Bojangles Chicken n' Biscuits , which had specific reasons for its poor quarterly same-store-sales figure, blaming its anemic 0.6% comps on flooding issues, Popeyes only credited "temporary competitive challenges" for sluggish sales. Overall, Popeyes grew revenue 3.7% in the quarter to $59 million, missing analyst expectations of $60.95 million. The company did beat consensus adjusted earnings-per-share estimates of $0.40 by reporting $0.41.
Perhaps just as worrisome was the company's guidance. In 2016, the company expects global same-store-sales growth in the range of 2%-3%, much lower than the 5.7% clip the company has provided over the past four years. It's highly possible Popeyes management is being very conservative, but when combined with the 2.8% same-store growth total the company produced, you can understand nervous investors.
Restaurant growth is on schedulePopeyes has a goal to grow the number of restaurants from 2,539 total systemwide units (franchised and non-franchised) to 4,000 in the next seven to 10 years. Last year, the company opened 219 new units, growing its total restaurant count 9.4%. With nearly 70% of all of Popeyes' domestic stores in only 11 states, many of which are in the South, the company has an opportunity to strategically enter new markets.
Restaurant expansion should allow the company to continue to grow its market share in the chicken QSR segment. Management boasted that the company now has 25.5% market share, with fast-food website QSR reporting that the company trails privately owned Chick-Fil-A and Yum! Brands' KFC. Earlier this month, KFC U.S. President Jason Marker offered a mea culpa of sorts by introducing its Colonel Quality Taste Guarantee and retraining program in an attempt to win back lost market share from Chick-Fil-A, Bojangles, and Popeyes.
Popeye's is in the midst of a tremendous run. I'm willing to look past the recently reported fourth quarter and expect the growth story to continue.
The article Will Popeyes Louisiana Kitchen Start Sizzling Again? originally appeared on Fool.com.
Jamal Carnette has no position in any stocks mentioned. The Motley Fool recommends Popeyes Louisiana Kitchen. Try any of our Foolish newsletter services free for 30 days. We Fools may not all hold the same opinions, but we all believe that considering a diverse range of insights makes us better investors. The Motley Fool has a disclosure policy.
Copyright 1995 - 2016 The Motley Fool, LLC. All rights reserved. The Motley Fool has a disclosure policy.