Will Greece's Austerity Plan Pass?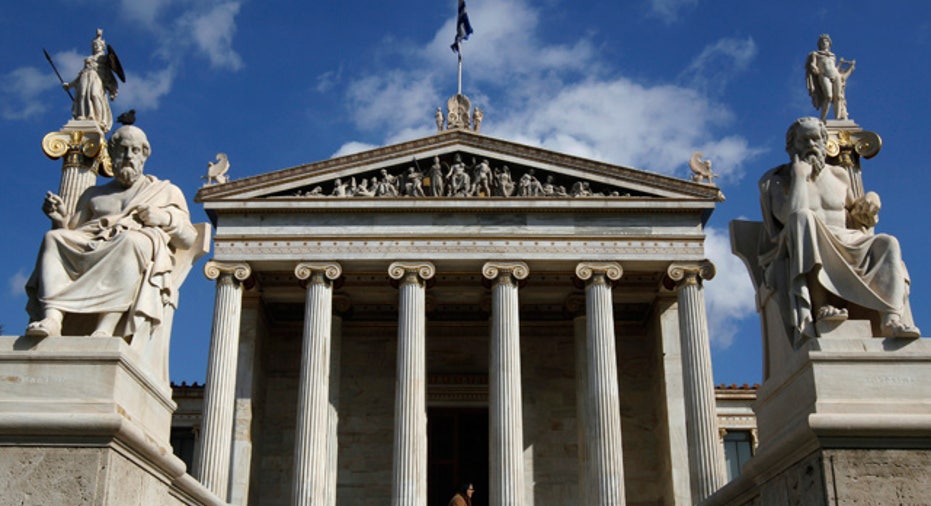 Greece's government faces an electorate vehemently opposed to austerity measures which must be passed in parliament next week to avert default, but progress is being made in persuading banks to take part in a second bailout.
An opinion poll on Friday put Greece's conservative opposition -- which is refusing to support the plan -- 2.1 points ahead of Prime Minister George Papandreou's PASOK party and showed three quarters of Greeks were opposed to the raft of tax hikes and spending cuts that will hit them hard.
European Union leaders meeting in Brussels promised more money to help Greece stave off looming bankruptcy, provided its parliament enacts the debt-cutting plan, finalised in fraught last-minute talks with international lenders.
"We have agreed that there will be a new programme for Greece on which the Greek parliament will have to vote next week," German Chancellor Angela Merkel told reporters at an EU summit in Brussels.
If parliament does not pass the measures, the EU and International Monetary Fund have said they will not release a vital 12 billion euro funding tranche and Athens will run out of cash within days.
Papandreou, who won a confidence vote this week with 155 votes in the 300-strong parliament, has ditched his former finance minister and appointed party rival Evangelos Venizelos to sell the five-year plan to his party and a sceptical public.
Venizelos, a bull-necked party baron, said on Thursday the new draft laws, the mid-term plan and a separate implementation law will be approved by parliament by June 30.
But in a sign of the uncertainty around the vote, one deputy from the ruling PASOK party said he will vote against the mix of higher taxes, spending cuts and state selloffs.
"Shops are shutting down every day and we are taking anti-growth measures," said party maverick Thomas Robopoulos, a car dealer from Greece's second city, Thessaloniki, and one of the few businessmen in parliament.
"I will take the floor in parliament and try to convince them to do something. Let's form a national unity government. Papandreou can't make it on his own," he told Reuters.
The main opposition New Democracy party has said it will vote against the mid-term plan though its leader Antonis Samaras has said the party would support some measures. It agrees with the government on privatisations.
A German finance ministry spokesman said the euro zone expected not just the government to carry the measures but that broad consensus was needed.
GETTING BANKS ON BOARD
Greece accepted a package of 110 billion euros of EU/IMF loans in May 2010 but now needs a second bailout of a similar size to meet its financial obligations until the end of 2014, when it hopes to return to capital markets for funding.
The euro zone wants Greece's private bondholders to roll over as much as 30 billion euros of sovereign debt as part of a new package of emergency support for Athens.
There is a growing list of banks prepared, in principle, to take part in a voluntary rollover scheme although no details of how this scheme would work have been finalised yet.
The Spanish government has asked banks and insurance companies to roll over Greek sovereign debt during the next five years, a source close to the matter told Reuters on Friday.
That follows indications that Greek, Italian and Belgian financial institutions were willing to roll over Greek bonds when they reach maturity along the lines of the 2009 Vienna Initiative, where banks agreed to maintain their exposure to central and eastern Europe in the aftermath of the financial crisis.
Sources told Reuters on Wednesday that financial authorities in Germany, France and the Netherlands had also started discussions with banks and insurers.
Any scheme must be voluntary, otherwise it risks being classified by credit ratings agencies as a default, or at least a "credit event", which could have widespread repercussions for European and global markets -- something EU policymakers say they are determined to avoid.
Rating agency Fitch has said even a voluntary rollover will be classified as a default as far as it is concerned.
At the EU summit in Brussels, Papandreou promised to push through radical economic reform after Venizelos clinched agreement with EU and IMF inspectors on extra tax rises and spending cuts to plug a 3.8 billion euro funding gap.
But Greeks continued their now daily protests against the measures which many feel unfairly punish ordinary people.
"These measures are unfair and undemocratic," said 63 year-old artisan Filippos Vlatis. "They should put these bailout terms to a referendum. This country needs new people in government, in parliament, in the civil service."
Employees at Greece's dominant electricity producer PPC , which is slated for privatisation next year, were on rolling 48-hour strikes for a fifth day on Friday. The union opposes plans to sell a 17 percent stake in the firm and said the labour action will lead to power cuts.
The government has agreed with the so-called EU/IMF/ECB "troika" a five year austerity plan worth 28.4 billion euros.
On Thursday, Venizelos announced additional measures including extra spending cuts, lowering the minimum income tax threshold and imposing a special "solidarity levy".
"Many thought the change of guard at the finance ministry would have helped the weak income groups and those who consistently pay their taxes in the final version of the medium-term austerity package," said Ethnos, a centre-left daily that is normally supportive of the government.
"Unfortunately, these hopes were dashed."
Economists say even a second bailout plan for Greece may buy its government only a few months' respite and most expect Athens will have to default or write down its debt eventually.
Five-year credit default swaps (CDS) on Greek government debt increased 32 basis points to 2,055 bps, according to data monitor Markit. This means it costs 2.055 million euros to protect 10 million euros of exposure to Greek bonds.