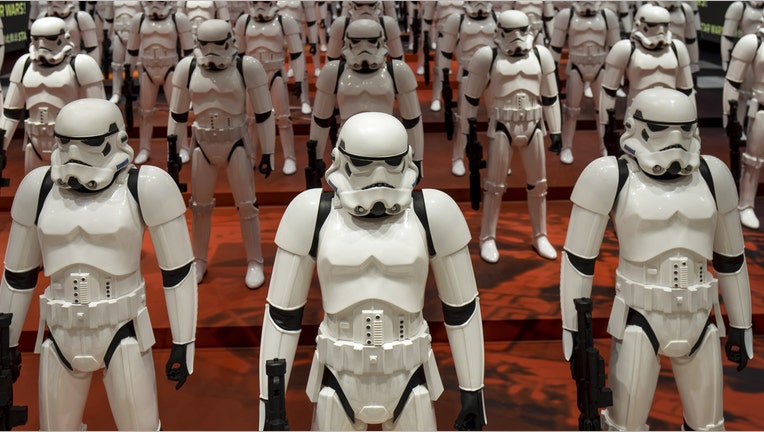 Think of the cord-cutting phenomenon as a rain cloud hovering above the Walt Disney Company's (NYSE:DIS) "Star Wars" parade. Concerns about ESPN's dwindling subscriber base are dragging an otherwise robust outlook for Disney as the company prepares to announce its first quarter earnings results after the market close on Tuesday.
"Star Wars: The Force Awakens" has outperformed lofty box office expectations, taking in more than $2 billion globally and $900 million in the United States since its December release. It currently ranks as the third-highest grossing film of all time, behind only James Cameron's historical epic "Titanic" and sci-fi thriller "Avatar."
First quarter projections remain strong even as analysts temper their expectations for Disney, which finds itself at the center of the media world's struggle to keep consumers from abandoning their cable packages in favor of cheaper "skinny" bundles and streaming services.  Disney's stock price fell to about $90 this week from a November high of about $120, despite efforts by CEO Bob Iger and others to reassure investors about its media division's prospects.
Disney is expected to report earnings per share of $1.45 for 1Q 2016, up from $1.27 for the same period one year ago, according to consensus estimates. Total revenue is projected to jump 10.2% to $14.75 billion, up from $13.39 billion in sales in 1Q 2015.
ESPN, the flagship brand of Disney's largest segment, has lost about seven million paid subscribers since its 2013 peak of 99 million. Given estimates that ESPN generates more than $6 per subscriber, analysts are identifying cord-cutters as a key area of concern.
Wells Fargo Securities (NYSE:WFC) reduced its expectations for Disney's Media Networks division due to the subscriber losses and worse-than-anticipated ratings for ESPN's broadcasts of the NCAA football playoffs. The firm expects segment revenue to increase about 6% year-over-year to $6.2 billion, down from an early estimate of 8.4% growth.
Wells Fargo also reiterated its "Hold" rating for Disney and acknowledged the company had an "exceptional studio quarter," thanks in no small part to "The Force Awakens."
"We still believe Disney is a premium brand with potential upside from Star Wars, but given some deceleration in cable combined with a somewhat rich valuation, we like the stock just a bit less at these levels," Wells Fargo analyst Marci Ryvicker wrote in a recent note.
Stifel Nicolaus lowered its price target for Disney from $110 to $130 in January, noting the gap between the company's "Star Wars"-driven success in its Studio and Consumer Products segments and its struggles in the Media Networks division. However, the firm maintains a "Buy" rating for Disney heading into the earnings announcement and projected EPS of $1.51 in 1Q, above consensus.
"While the most recent quarterly MVPD subscriber numbers showed a slowing rate of subscriber disconnects, the structural issues/concern clearly remains," Stifel Nicolaus analyst Benjamin Mogil wrote in a Jan. note.
Analysts have long speculated that ESPN will eventually turn to a "direct to consumer" offering to reduce its reliance on cable packages. But with no clear solution to ongoing subscriber woes, the cord-cutting debate will continue to shadow investor optimism regarding Disney's "Star Wars" and "Marvel" franchises.