Wall Street Stabilizes Following Intense Retreat; Treasury Yields Make Modest Comeback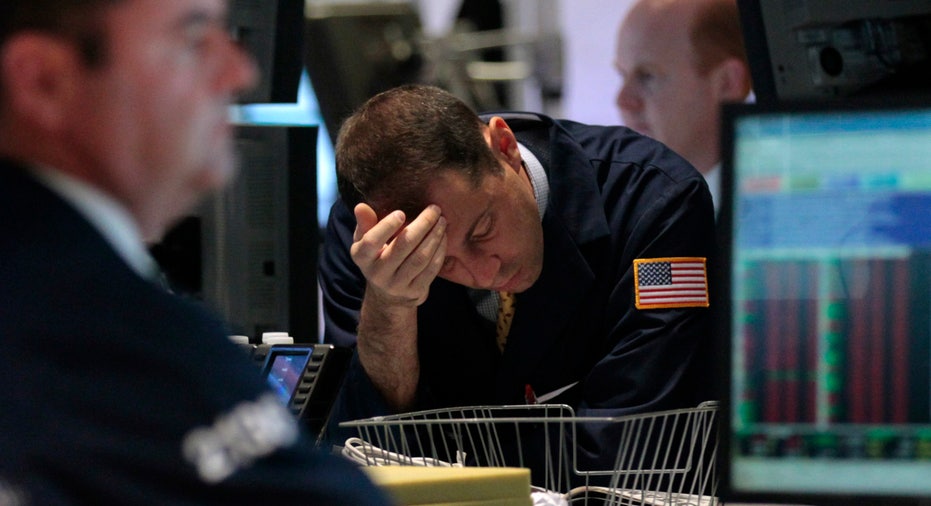 FOX Business: The Power to Prosper
The markets shifted between modest gains and losses on Friday morning in trading that bears little resemblance to the intense selling seen over the past two sessions, while yields on safe-haven Treasuries made a slight comeback.
Today's Markets
As of 9:55 a.m. ET, the Dow Jones Industrial Average rose 6 points, or 0.06%, to 10,740, the S&P 500 gained 3.5 points, or 0.31%, to 1,133 and the S&P 500 climbed 10.9 points, or 0.46%, to 2,467.
The markets were in search of direction; indeed, more than half of the 30 Dow components were recently in the green -- led by Bank of America (NYSE:BAC) and Caterpillar (NYSE:CAT).  Blue chips like Hewlett-Packard (NYSE:HPQ) and DuPont (NYSE:DD) still faced substantial losses.
In a sign of the relative calmness, Treasury yields climbed slightly after hitting historic lows earlier in the session. The benchmark 10-year's yield was recently 1.745%, up from its close of 1.725%.
The major market averages have taken a beating this week, indeed the broad S&P 500 has plunged 7.1% in the last four trading days alone, while the Nasdaq has shed 6.4% over that time frame.  The Dow has been down for two-straight days, tumbling 5.9% in the worst two-day rout since the financial crisis in 2008.
Market participants have been reacting to renewed concerns that the global economy is careening off course, and that policymakers broadly aren't taking enough steps to stem the fall.  In particular, the euro zone sovereign debt crisis has been seen as a significant destabilizing factor amid fears a default by a country like Greece could send shockwaves that could paralyze the financial system.
The Group of 20 major economies, including the United States, European Union and China, issued a statement late Thursday saying that it stands committed to "take all necessary actions to preserve the stability of banking systems and financial markets as required."
While European markets pointed higher as a result, they quickly fell back into the red, as did U.S. stock futures.  There is a concern that policymakers' statements have often not translated into action, analysts say.
Additionally, the European Commission said Friday that there is no big push to recpitalize European banks, which goes counter to a report on Thursday by the Financial Times that it would move to aid struggling mid-tier European banks.  The EU has already provided nearly $600 billion in support to the embattled banking sector there.
Euro zone banks, particularly French ones like BNP Paribas and Credit Agricole, have seen their share prices plummet over worries that a sovereign default would severely damage their capital position.
The race out of risky assets wasn't limited to equities: commodities across the board have taken considerable selling pressure.  Crude has fallen more than 7% in the past two days, and is down another 92 cents, or 1.1%, to $79.58 a barrel in early trade. Oil is now at its lowest level since Aug. 9.
Gold, which has tumbled 3% in the past two sessions, dipped another $48.70, or 2.8%, to $1,692 a troy ounce.
Corporate News
Hewlett-Packard (NYSE:HPQ) ousted Leo Apotheker as its chief executive, putting former eBay (NASDAQ:EBAY) CEO Meg Whitman in his place.  Apotheker had been strongly criticized during his time running the computing giant.
Foreign Markets
The English FTSE 100 dipped 1.7% to 4,954 and the German DAX fell 1.7% to 4,954.
In Asia, the Chinese Hang Seng fell 1.4% to 17,669 and Japanese markets were closed for a holiday.