Wall Street Shrugs Off Economic Woes, Ends in the Green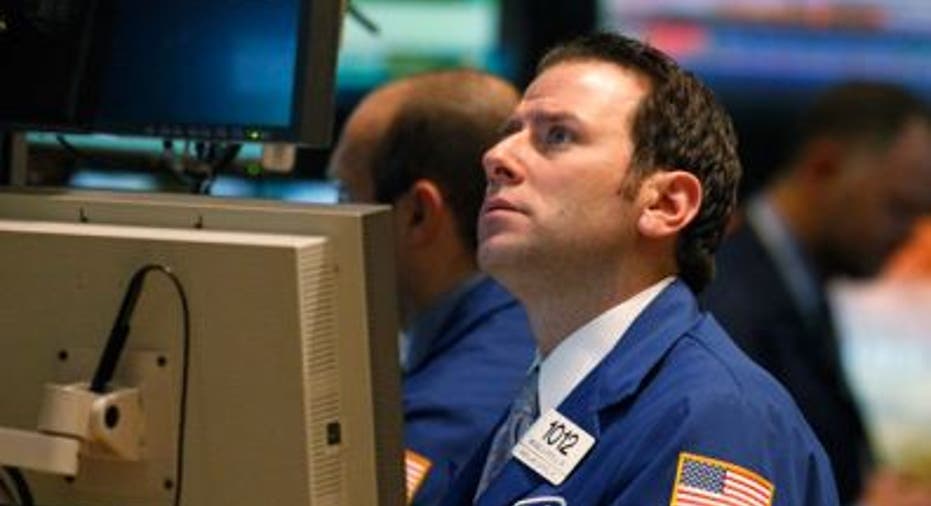 FOX Business: The Power to Prosper
The markets overcame a much weaker-than-expected consumer confidence reading and closed with gains for the third-straight day, leaving the Dow just points shy of being in break-even territory for the year.
Today's Markets
The Dow Jones Industrial Average climbed 20.1 points, or 0.18%, to 11,560, the S&P 500 rose 2.8 points, or 0.23%, to 1,213 and the Nasdaq Composite gained 14 points, or 0.55%, to 2,576. The FOX 50 was up 0.92 point to 875.
The blue chips have jumped 3.9% in the last five days alone, although the recent uptrend has been insufficient in entirely cutting heavy losses the markets took during the beginning of the month.  In fact, the Dow would have to rally more than 500 points on Wednesday to close the month out on even footing. However, the blue chips are a mere
The industrial sector, including Dow components Caterpillar (CAT: 89.83, +1.68, +1.91%) and Boeing (CAT: 89.83, +1.68, +1.91%), posted the biggest gains on the day. Materials shares like Freeport-McMoRan Copper (FCX: 46.61, +0.80, +1.75%), and energy companies like Halliburton (HAL: 43.43, +0.62, +1.45%) outperformed significantly as well.
Utilities like Consolidated Edison (ED: 56.32, -0.01, -0.02%), however, lagged behind.
There is a heavy flow of economic data set to be released this week, ending with the highly-anticipated monthly employment report due on Friday.  Economists expect the unemployment rate remain stuck above 9%, with the economy adding roughly 93,000 jobs.
The Conference Board's gauge of consumer confidence tumbled to 44.5 in August from 59.2 the prior month -- far weaker than the reading of 52 economists forecast.  Confidence is now at its lowest level since April 2009, and took its biggest fall since October 2008 -- the height of the financial crisis.
"The survey data highlight how the increasingly downbeat news flow on both sides of the Atlantic in terms of stalling economic recoveries, debt worries and the lack of clarity on any course of remedial action from policymakers is causing consumers to retrench further," Chris Williamson, chief economist at Markit, a financial data firm, wrote in a research note.
Consumer's confidence in the economy is generally seen by analysts as a major factor in how consumers make buying decisions.  While companies that sell directly to consumers like Target (TGT: 50.96, -0.38, -0.74%) and Ford (F: 10.87, -0.06, -0.55%) can be most affected by these data, consumption is a major factor in broader economic growth.
The S&P/Case-Shiller home price gauge for 20 major cities fell 0.1% on a seasonally-adjusted basis in June, while economists expected no change in price.  Without seasonal adjustments, prices were up 1.1%, topping forecasts of a gain of 0.6%. A high supply of houses, coupled with still tepid demand and tough lending conditions have weighed heavily on the market for homes during the economic downturn.
"The imbalances built up in the housing market are still in play," trading firm BTIG said in a note to clients. "We do not see a sustained increase in housing demand until inventories are reduced and prices begin a more sustained move upwards."
Minutes from the last Federal Open Market Committee meeting showed most policymakers believe the economy's trajectory has sufficiently softened to warrant additional economic stimulus  The group mulled several options, including the concept of explicitly tying interest rate policy to the unemployment rate -- something the Federal Reserve has never attempted before.
The dollar jumped 0.58% against a basket of world currencies, while the euro slumped 0.77% against the greenback.
Energy markets were higher despite a strengthening dollar.  Light, sweet crude rose $1.63, or 1.9%, to $88.90 a barrel.  Wholesale RBOB gasoline soared 9 cents, or 3.1%, to $3.00 a gallon.
Gold, generally seen as a safe-haven asset, has leaped to record highs and then fallen significantly from them this month.  The precious metal  jumped $38.20, or 2.1%, to $1,830 a troy ounce.
Prices at the pump were stable overnight, but have risen since last week.  A gallon of regular costs $3.61 on average nationwide, up from $3.71 last month, but well higher than the $2.68 drivers paid last year, according to the AAA Fuel Gauge report.
Corporate News
Barnes & Noble (BKN: 14.14, +0.14, +1.00%) posted a quarterly loss of 99 cents a share, wider than the 94 cents analysts projected.  The bookseller's sales came in at $1.4 billion, also missing estimates of $1.46 billion.
Foreign Markets
Markets in the U.K. were closed on Monday, opening for the first day of the week on Tuesday.  The English FTSE 100 jumped 2.7% to 5,269, the French CAC 40 rose 0.18% to 3,159 and the German DAX slid 0.46% to 5,644.
In Asia, the Japanese Nikkei 225 jumped 1.2% to 8,954 and the Chinese Hang Seng leaped 1.7% to 20,204.