Wall Street Drenched in Red Ink: Nasdaq Crumbles 5.2% Amid Euro, Economic Tension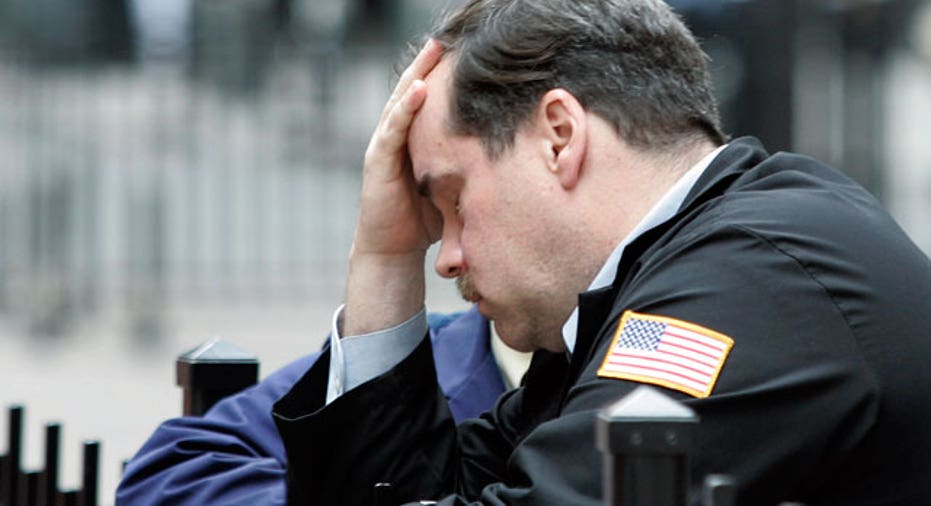 FOX Business: The Power to Prosper
Nervous traders darted out of equities and flocked into safe-haven assets on heightened euro zone sovereign debt and global economic tensions, launching the markets deep into negative territory.
Today's Markets
The Dow Jones Industrial Average plummeted 420 points, or 3.7%, to 10,991, the S&P 500 slid 53.2 points, or 4.5%, to 1,141 and the Nasdaq Composite tumbled 131 points, or 5.2%, to 2,380. The FOX 50 plunged 32.7 points to 828.
Energy and materials stocks like Halliburton (NYSE:HAL) and U.S. Steel (NYSE:X) took the strongest beating. However, the selloff was broad, with industrials such as General Electric (NYSE:GE) and most other sectors coming under intense selling pressure as well.
In a sign of the uncertainty in the markets, safe-haven assets rallied. Gold jumped $28.20, or 1.6%, to $1,822 a troy ounce, settling at a record high. The benchmark 10-year treasury rallied, with the price soaring over $100, and the yield slumping to an all-time low below 2%.
Volatility was quite high on the day. Indeed, the VIX, often referred to as a gauge of fear, spiked 36%.
The economy has come squarely back into focus with a heavy stream of economic data released on Thursday. Morgan Stanley also warned the global economy is "dangerously close to a recession" and cut its global economic growth outlook significantly. Goldman Sachs also pared back its forecast of economic growth.
Manufacturing in the Philadelphia area contracted sharply in August.  The Philadelphia Federal Reserve's gauge of manufacturing activity came in at -30.7, far short of expectations of 3.7.  Reading above 0 point to expansion, while those below 0 indicate contraction.
A number below the -20 level is "rare outside of a recession" and poses a "very worrying development" for policymakers who are working to keep the economy afloat, according to economists at Barclays Capital.
The markets are being driven lower "not only be the euro zone ... but also a relentless release of domestic data that speaks to both an underlying inflationary environment and anemic if not stagnant growth here in the U.S." Peter Kenny, managing director at Knight Capital Group said in a note to clients.
Wall Street has also been paying close attention to the sovereign debt crisis in Europe for several months.  The fears peaked last week when reports suggesting certain large European banking institutions may have issues gaining access to sufficient capital sparked massive selloffs and volatility.
A report on Thursday by The Wall Street Journal saying the Federal Reserve is very concerned about major European banks facing significant funding difficulties rekindled those fears.  The Fed was also worried that the crisis on the other side of the Atlantic could spillover into the U.S. banking system, according to the report.
Major European financial services companies like Societe Generale, Barclays (NYSE:BCS) and UBS (NYSE:UBS) took sizeable losses on the news.
Earlier this week, French President Nicolas Sarkozy and German Chancellor Angela Merkel failed to quell market concerns after a summit failed to produce a specific solution to address sovereign debt concerns in the 17-member European Union.
Energy Markets Sell Off 
Energy markets were under pressure amid economic concerns and a stronger dollar.  Light, sweet crude plunged $5.20, or 5.9%, $82.38 a barrel.  Wholesale RBOB gasoline dipped 9 cents, or 3%, to $2.78 a gallon.
In currencies, the euro fell 0.72% against the U.S. dollar, while the greenback climbed 0.6% against a basket of world currencies.
Data Deluge
Initial claims for unemployment benefits rose to 408,000 last week, from a revised 399,000 the prior week, coming in higher than the 400,000 economists forecast.  Claims have been hovering about the 400,000-mark for weeks, which has led market participants to question the strength of the recovery in the jobs market.
Companies are firing at the slowest pace since the financial crisis in 2008, but hiring still remains too slow to "put a real dent in the unemployment rate," according to Peter Boockvar, managing director at Miller Tabak + Co.
Prices at at the consumer level climbed 0.5% in June -- a much faster pace than the 0.2% economists estimated. Excluding the more volatile food and energy components, the so-called core level was up 0.2%, which came in line with forecasts. Prices are up 3.6% from last year, or 1.8% on the core level.  A report on Wednesday on producer prices came in above expectations on the core and headline levels.
U.S. existing home sales fell 3.5% in July from June to an annual rate of 4.67 million units. Economists had been expecting a 3.8% increase to a 4.9 million-unit rate.
Corporate News
Hewlett-Packard (NYSE:HPQ) is mulling spinning off its PC business and is in discussions to buy British software firm Autonomy, the company said on Thursday.
Coca-Cola (NYSE:KO) is investing $4 billion in China over the next three years as it looks to profit on what it calls the largest and fastest-growing consumer market in the world.
Noble Energy (NYSE:NBL) unveiled plans to buy half of Consol Energy's (NYSE:CNX) stake in the Marcellus shale formation for $3.4 billon.
Foreign Markets
The English FTSE 100 tumbled 4.5% to 5,092, the French CAC 40 plummeted 5.5% to 3,092 and the German DAX plunged 5.8% to 5,603.
In Asia, the Japanese Nikkei 225 slumped 1.3% to 8,943 and the Chinese Hang Seng slid 1.3% to 20,016.