Wall Street Charges Higher, Adds Third Day to Winning Streak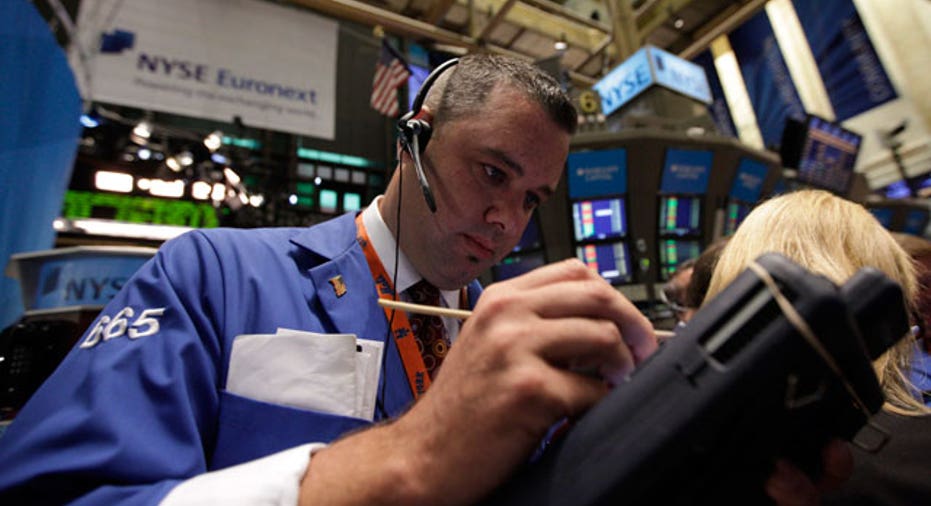 FOX Business: The Power to Prosper
Wall Street added a third day to its winning streak after upbeat economic and retail sales data, coupled with continued optimism that European authorities are taking steps to tackle the region's debt crisis, boosted traders' sentiment.
Today's Markets
The Dow Jones Industrial Average rose 183 points, or 1.7%, to 11,123, the S&P 500 gained 20.9 points, or 1.8%, to 1,165 and the Nasdaq Composite climbed 46.3 points, or 1.9%, to 2,507.
The Dow has tacked on 468 points in the last three sessions alone, a stark contrast from heavy losses experienced in the sessions leading up to the rally.  The gains come just a day before the much-awaited monthly employment report that may cause substantial volatility on Friday.
Energy futures have surged across the board. Oil soared $2.91, or 3.7%, to $82.59 a barrel Thursday, posting a nearly 10% gain over the past two sessions alone.  Wholesale RBOB gasoline spiked 12 cents, or 4.6%, to $2.69 a gallon. Gold, meanwhile, jumped $11.60, or 0.71%, to $1,653 a troy ounce.
Materials and energy shares both got a substantial boost from the rally in commodities.  Financials were among the best performers on the day after Treasury Secretary Timothy Geithner said he doesn't expect the situation in Europe to create another credit crunch like the country experienced after the fall of Lehman Brothers.  Indeed, Morgan Stanley (NYSE:MS), Bank of America (NYSE:BAC) and Citigroup (NYSE:C), which had been beaten down severely, all zoomed higher on the day.
Retailers posted a strong performance as well.
Retail sales climbed 5.1% last month, according to a survey by Thomson Reuters, topping expectations of a 4.6% increase.  Retailers like Target (NYSE:TGT), which reported same-store-sales increases of 5.3% compared with estimates of 3.9%, successfully utilized promotions to sell excess back-to-school inventory, as companies ramp up for the key holiday buying season.  Macy's (NYSE:M) posted sales gains of 4.9%, also topping estimates of 4.4%.
Treasury yields have been clawing their way back from historic lows as investors have come back into equity and commodities markets.  The benchmark 10-year note recently yielded 1.993% from 1.895%. Volatility fell 3%, as tracked by the VIX after dropping more sharply in the previous session.
More Upbeat Labor Market Data
The Labor Department's weekly jobless claims report showed claims rose to 401,000 last week from 395,000 the week prior. Economists expected a larger rise to 410,000 for the week. This report comes ahead of the highly-awaited monthly employment report, which, economists anticipate, will show the unemployment rate sticking above 9%.  A batch of relatively encouraging data released recently, however, has raised hopes that the jobs report could beat expectations.
Wall Street has closely followed developments on the euro zone's deepening sovereign debt crisis, which in recent weeks has put pressure on many European banks.
The European Central Bank's held interest rates steady at 1.5%, as was widely expected by economists.  However, it came as somewhat of a disappointment after some analysts suggested the central bank would take stronger-than-expected measures to fight strengthening economic headwinds.
Separately, the Bank of England held rates steady at 0.5%, a historically-low level, as was widely expected. The BoE also unveiled a 75 billion pound stimulus program aimed at blocking the country from the region's sovereign debt crisis, which was well received by the markets, sparking a European rally. In fact, the Euro Stoxx 50, an index that tracks euro zone blue chips, jumped 3.2% to 2,249 on the day.
The European Commission said early Thursday it would make proposals for recapitalizing banks there.  Analysts expect officials may implement a system wherein they trade lower quality assets tied to sovereign debt for higher-quality assets.
German Chancellor Angela Merkel also noted later in the day that banks should first attempt to utilize national channels for liquidity before any considerations would be made to tap the euro zone rescue fund, called the European Financial Stability Facility.
The euro changed course and gained 0.9%, while the greenback fell 0.32% against a basket of world currencies.
Corporate News
Apple (NASDAQ:AAPL) co-founder Steve Jobs died at the age of 56.  Jobs was widely considered to be the visionary behind the company's revolutionary products, and its transformation into the world's most valuable technology company.
Foreign Markets
The Euro Stoxx 50 jumped 3.2% to 2,249, the English FTSE 100 soared 3.7% to 5,291 and the German DAX climbed 3.2% to 5,545.
In Asia, the Japanese Nikkei 225 rose 1.7% to 8,522 and the Chinese Hang Seng leaped 5.7% to 17,172.