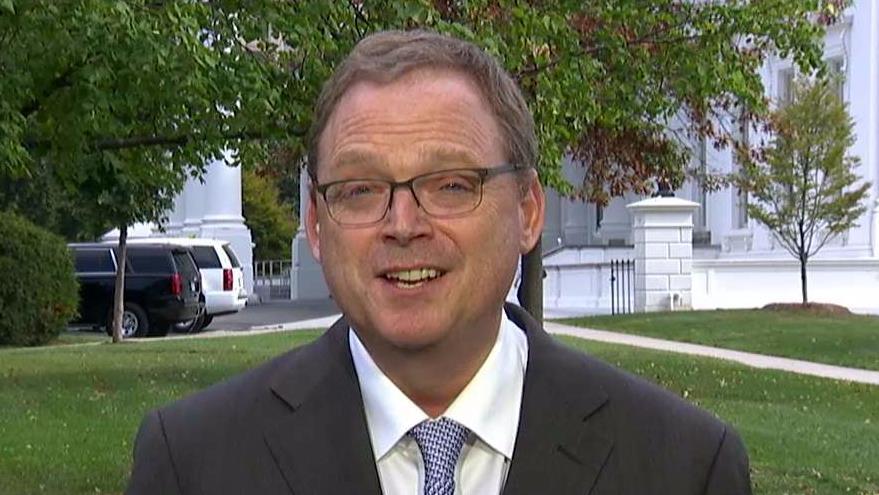 The destruction in the wake of two deadly hurricanes left two economic-powerhouse states with mounds of rebuilding to do -- but it also temporarily crippled the U.S. economy, a trend that experts say is unlikely to persevere.
On Friday, the Labor Department said the 33,000 jobs shed in September was the first loss in seven years, ending the longest stretch of job growth on record. Many experts have attributed that skew to the damage wreaked by Hurricane Harvey, which hit primarily Texas in early September, and Hurricane Irma which plowed through Florida in mid-September.
President Trump's economic advisor Kevin Hassett told FOX Business' Trish Regan Friday that he estimated the impact of the hurricanes cost the country about 200,000 jobs, but that a more accurate glimpse into the job markets could probably be found in the October, November or December reports.
"The good news is that there are pockets of the country that are so hot, that people are starting to be drawn back into the labor force," he said on 'The Intelligence Report.'
Manufacturing optimism has hovered near record highs since President Trump's victory in the 2016 presidential election, according to the most recent National Association of Manufacturers survey. More than 87% of respondents thought the GOP's tax reform plan would address their current concerns with the tax system.
Republicans have made the manufacturing sector a lynchpin in their efforts to overhaul the United States' tax code. House Speaker Paul Ryan (R-Wis.), Senate Majority Leader Mitch McConnell (R-Ky.) and the president have traveled to different factories around the country to advocate for the plan's potential benefits for corporations and workers, which includes reducing the corporate tax rate from 35% to 20%.
That reduction, White House officials said, will boost workers' pension plans through a rise in stock prices, in addition to creating jobs and attracting investment.
"We've got to have a better economy than we've had, than we inherited from President Obama," Hassett said. "And that's why now need to give this optimism some hope by passing the president's policy."