Trump's SEC Pick Clayton Gets Warren Tongue Lashing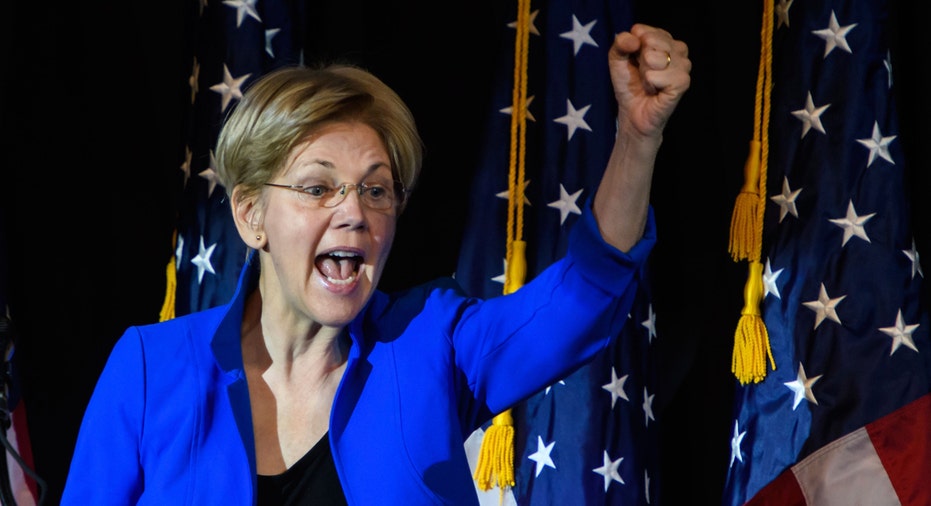 President Donald Trump's pick to head the Securities and Exchange Commission, white collar lawyer Jay Clayton, faced an aggressive line of questioning from Wall Street watchdog Senator Elizabeth Warren (D-MA) during his confirmation hearing before the Senate Banking Committee Thursday.
The Democratic Senator from Massachusetts took a thinly veiled jab at President Trump during the hearing, suggesting he chose Clayton in order to make it easier for Wall Street's bad actors to run free.
"If President Trump wanted to make sure that the SEC would have a hard time in going after his Wall Street friends, you would be the perfect SEC chair," she said without giving Clayton an interruption-free chance to respond.
Under ethics rules, for the first two years of his tenure Clayton would be forced to recuse himself from cases involving former clients. As Warren cautioned, that includes a multitude of big banks.
"Your recusal problem seems to be even more severe than [former SEC] Chair [Mary Jo] White's," Warren concluded.
Clayton's extensive experience with the world's biggest financial firms served as both a source of support and criticism on Capitol Hill Thursday. Clayton is currently partner at renowned law firm Sullivan and Cromwell, and his past clients have included Deutsche Bank (NYSE:DB), Goldman Sachs (NYSE:GS), UBS (NYSE:UBS), Volkswagen, Bill Ackman's Pershing Square Capital Management and Valeant Pharmaceuticals (NYSE:VRX). His wife also works for Goldman Sachs, though she has committed to leaving the role if her husband is confirmed.
Warren said recusals pose a problem because it would leave the commission, which is currently comprised of Democrat Kara Stein and Republican Michael Piwowar, in a deadlock, prohibiting action. Republicans, she said, "favor weaker enforcements," while Democrats favor stronger ones.
"Holding Wall Street firms accountable is a major job of the SEC's mission and the SEC chair needs to be able to participate in those enforcement actions…Not on the sidelines when former clients and Wall Street firms are able to skate free…that raises a very serious concern about your nomination," Warren stated in summary.
While Clayton didn't have an opportunity to respond to Warren directly, he was able to react when Senator Rounds (R-SD) took the floor and forfeited a portion of his time so the lawyer could respond to Warren's monologue.
"Much of the enforcement activity of the commission as I understand is driven by the enforcement division and the oversight of the enforcement division. I have every confidence that that will continue and that any recusals that I have to do will not impact that," Clayton countered. He also pushed back on Warren's accusations that Republicans are "lax" on enforcement. "I do not see it that way. I think sometimes people of different parties have different enforcement priorities. But I would not say Republicans are lax on enforcement," he said.
Additionally, Clayton addressed the issue of bipartisan deadlock in the event of his recusal, stating the biggest strength he would bring to the position is his ability to build a consensus. When pressed on potential business conflicts within the Trump administration, Clayton promised he would be "committed to showing no favoritism to anyone."
Clayton is expected to win the confirmation vote handily.