Trump Starts Review of Obama-Era Fuel-Economy Rules, Putting Electric Cars in Doubt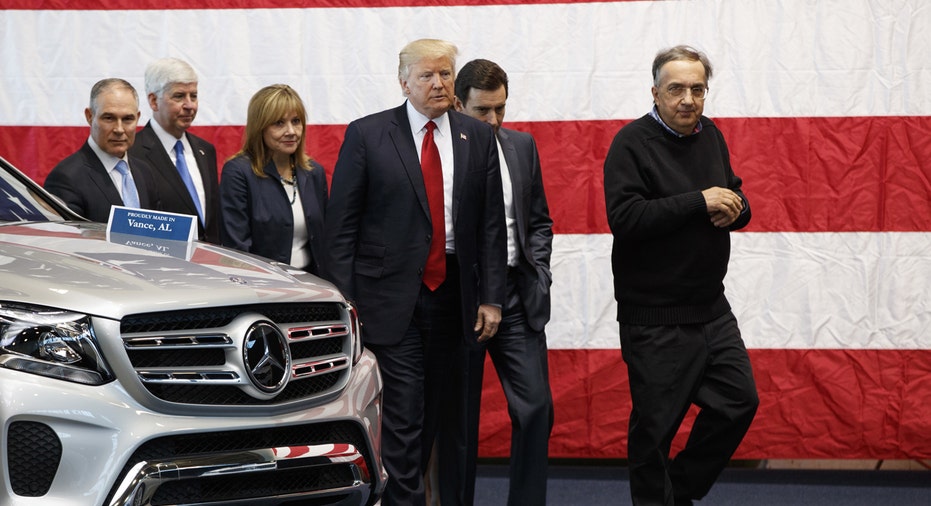 Updated
President Donald Trump visited Detroit Wednesday to announce a re-evaluation of the Obama administration's aggressive fuel-economy rules, a move that may slow investment in electric cars.
The president met with automotive executives Wednesday at the American Center for Mobility in Ypsilanti, Michigan. The meeting included the CEOs of General Motors (NYSE:GM), Ford (NYSE:F) and Fiat Chrysler (NYSE:FCAU), as well as top executives from Toyota (NYSE:TM), Honda (NYSE:HMC) and others.
In a speech to industry workers, Trump said he will review fuel-economy rules and other regulations to "protect and defend your jobs [and] your factories." Trump also said another "very big announcement" related to the auto industry will come next week.
Industry executives argue that the Obama-era CAFE targets are too stringent, and they had urged the Environmental Protection Agency under the previous administration to consider easing its rules amid lower gas prices and surging demand for SUVs and pickup trucks—trends which the automakers said made meeting the miles-per-gallon targets even more difficult.
The rules set for governing vehicles from the 2022 to 2025 model years were due to undergo a midterm review in 2017, with a final determination expected in April 2018. But the Obama administration quickly moved to lock in CAFE standards about a week before Trump took office. Automakers hit back at the EPA over its decision and wrote a letter to Trump asking for a full review.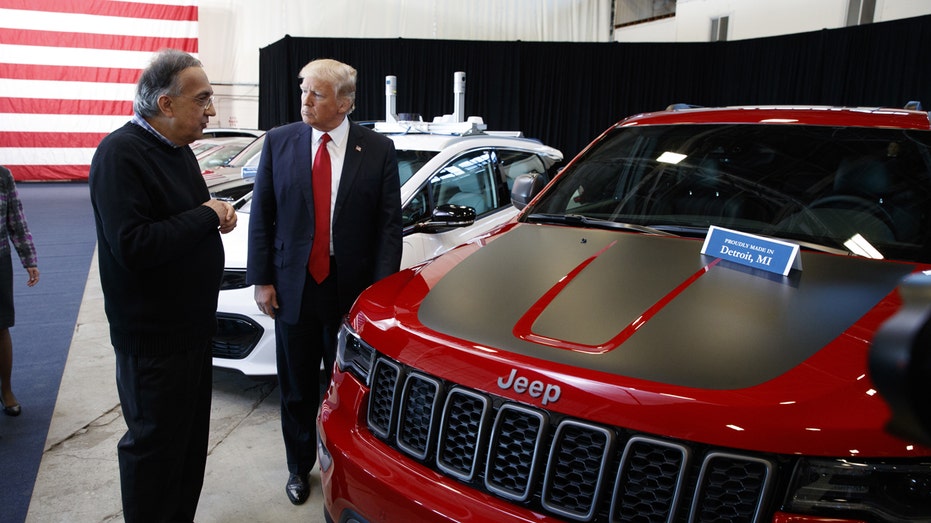 "By restarting this review, analysis rather than politics will produce a final decision consistent with the process we all agreed to under 'One National Program' for GHG and fuel economy standards," said Mitch Bainwol, president  and CEO of the Alliance of Automobile Manufacturers, a trade group representing most major automakers in the U.S.
The Association of Global Automakers, which represents international car companies, said it looks forward to a review that "accounts for the needs of American consumers without locking in a prejudged outcome."
In order to comply with the increasingly strict federal emissions standards, automakers invested in developing electric vehicles, despite limited consumer demand. If the Trump administration ultimately agrees to adjust CAFE standards, manufacturers will be faced with a choice: Do they focus as much energy and money on electric cars?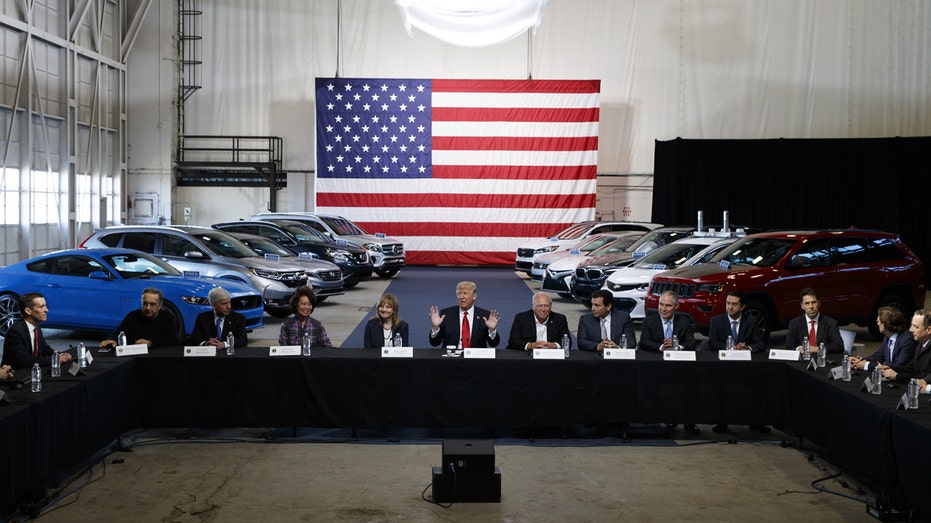 Under current CAFE standards, vehicles from model-year 2016 won't meet the fleetwide fuel-economy targets, based on industry projections released by the National Highway Traffic Safety Administration. That's the first time new cars, trucks and SUVs will fall short.
Meanwhile, hybrid and plug-in electric vehicles continue to account for a small portion of U.S. sales. Hybrids were 2.14% of February auto sales, according to data compiled by HybridCars.com. Plug-in electric cars earned a market share of less than 1%.
Jack Nerad, Kelley Blue Book's executive editorial director and executive market analyst, said relaxing fuel-economy targets will likely steer automakers away from heavy investments in alternative powertrains.
"I think what's going on with fuel prices has made it very difficult for car companies to sell highly fuel-efficient vehicles. So no matter what they do with vehicle development, it's like leading a horse to water. [Electric cars] are not what's popular now," Nerad told FOX Business.
Still, automakers continue to pursue advanced technologies like electric and self-driving vehicles, as the industry seeks to stay ahead of global consumer trends.
"We remain absolutely committed to our electrification strategy," a Ford spokesperson wrote in an email.
While electric vehicles and fuel-efficient small cars have struggled to generate demand, SUVs and crossovers are surging. Utilities now dominate the market, comprising about 63% of U.S. sales. Also, automakers have improved fuel-economy numbers for larger vehicles like crossovers, making the segment even more enticing over other models.
The costs associated with electric-vehicle technology are another challenge for manufacturers. Fiat Chrysler CEO Sergio Marchionne once said car shoppers should not to buy Fiat's electric model because the company lost money on every sale.
"[Manufacturers] want nothing more than to make vehicles that people actually want to buy," Nerad said. "The vexing problem for manufacturers is they would have to sell a certain percentage of highly efficient vehicles in order to sell the cars that they make money on."
Gas prices, at their current levels, "give people the feeling that they can be comfortable buying a large SUV or a pickup truck," he added.
The current CAFE standards call for a fleetwide average of 54.5 miles per gallon by 2025, reflecting a 56% bump from the 2017 target of 35 mpg.
Ticker
Security
Last
Change
Change %
GM
GENERAL MOTORS CO.
35.23
-0.91
-2.52%
F
FORD MOTOR CO.
12.43
-0.41
-3.19%
FCAU
n.a.
n.a.
n.a.
n.a.
Consumers Union, a policy arm of Consumer Reports magazine, criticized the Trump administration's decision to reopen the CAFE rulebook.
"The EPA finalized the standards after a thorough study of costs and benefits," said Shannon Baker-Branstetter, policy counsel for Consumers Union. "The standards already take the cost into account, and the record shows that they are a reasonable, cost-effective approach to improving fuel efficiency and lowering consumers' expenses."
EPA Administrator Scott Pruitt said the CAFE review will "help ensure that this national program is good for consumers and good for the environment."
"We will work with our partners at [the Department of Transportation] to take a fresh look to determine if this approach is realistic," he said in a statement.