Trump administration wants conservative goals in health-care fix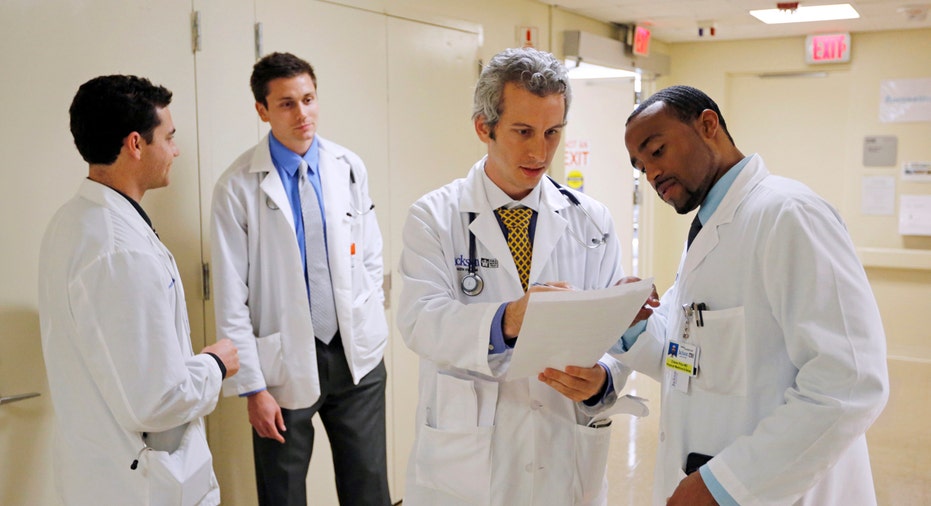 The Trump administration wants any congressional plan to shore up the Affordable Care Act markets to include conservative goals, such as letting insurers charge higher premiums to older people, according to a memo reviewed by The Wall Street Journal. 
The memo encourages lawmakers to pass measures including allowing insurers to charge older people five times as much as younger people, expanding access to health savings accounts and increasing the amount of money that people can contribute to them, as well as supporting a permanent congressional appropriation for subsidies to insurance companies who decrease deductibles and copays for lower-income consumers in exchange for explicit exclusions on abortion coverage by those insurers.
The Affordable Care Act currently restricts insurers to charging older buyers three times as much as younger ones, which has checked premiums for 50-somethings and 60-somethings compared with what they might have been otherwise, but which some insurers contend have increased premiums for healthier 20-somethings and 30-somethings to the point that they don't want to buy coverage, forcing premiums up across the board.
Federal courts are still wrestling with questions over whether insurer subsidies for low-income buyers' cost-sharing are lawful without an explicit congressional appropriation in the 2010 health law. After months of wrangling, President Donald Trump instructed his administration to stop paying the subsidies, and some insurers that had counted on the subsidies said they would have no choice but to further raise premiums.
The memo is clear that Mr. Trump's administration will back lawmakers if they opt to fund the payments, but that the administration sides with conservatives insisting that such a move include shields on abortion coverage. Executive orders signed by the Obama administration restrict the ways in which federally subsidized insurance can cover abortion; antiabortion activists have argued that such steps are insufficient unless they are codified.
The administration also wants any ACA stabilization plan to allow for the renewal of short-term plans that don't comply with the health law, so these plans can operate more like traditional insurance. And it wants to block funding from organizations that may have a role in abortion insurance coverage or procedures.
"Although congressional efforts to provide taxpayer money to prop up the exchanges is understandable, any such efforts must also provide relief to middle-class families harmed by the law and protect life," according to a copy of the memo provided by a Capitol Hill staffer.
That timing is critical, because the legislation would have to pass before insurers set their 2019 rates, which occurs as early as May in some states.
Since the failure of a GOP push to fully repeal the ACA several months ago, Republicans and Democrats have been working on a package that would help bolster the ACA markets.
Health-care analysts warn that without such a package, premiums will rise quickly and insurers could flee the individual market.
Republicans have insisted any such plan must also include goals sought by conservatives, such as increased state flexibility in implementing the ACA.
The White House memo says a stabilization plan should include changes to health-savings accounts, which are tax-free accounts used by consumers who have insurance policies with high deductibles. These changes could include raising the amount that people can contribute to the accounts or allowing people to use the plans for chronic conditions before hitting their deductible.
Lawmakers of both parties had hoped to insert a stabilization package in a broad spending bill this month, but House Republicans have pushed for additional changes that limit funding to organizations that provide or cover abortions, an idea sharply opposed by Democrats.
An ACA stabilization plan would restore billions of dollars in subsidies that insurers were getting to help pay for subsidies for lower-income consumers. President Donald Trump ended those payments, which has caused premiums to rise for many people on the individual market who don't get subsidies.
Some Democrats on Tuesday criticized the Trump administration stipulations, a sign that disagreements may be difficult to bridge before a vote on the spending bill. "I certainly hope the president and Republican leaders won't once again sabotage an opportunity to undo some of the damage they've done by choosing to play politics with women's health and making last-minute, harmful demands," said Sen. Patty Murray (D., Wash.).
Democrats want any plan to expand and increase federal tax credits and subsidies provided to lower-income consumers to help them afford premiums, and they've sought a restoration of funding for ACA outreach that the Trump administration cut.
They also want to stop a proposed rule that would loosen restrictions on short-term health plans that don't provide the same consumer protections as ACA compliant plans.
Write to Stephanie Armour at stephanie.armour@wsj.com and Louise Radnofsky at louise.radnofsky@wsj.com